Page 2 of 4
Fear Factory
In just its third year, Fear Factory has already staked a claim as one of the best haunts around. Converted from an abandoned cement factory and covering an entire city block, Fear Factory makes use of every asset available to induce a scream; they want you to make a full night out of visiting the haunt.
There's a free "zombie bus" that takes visitors to and from The Gateway parking lot, and the show starts immediately once you're inside the huge iron gate. Lurkers and hidden torture chambers make even the long walk from the front fun. The industrial/steampunk-themed waiting maze is impressively designed. With live music and ghouls lurking about, there's no shortage of entertainment.
Fear Factory's greatest asset also leads to one of its main faults. It's huge, expansive, well laid-out and made up incredibly well, but there were a few stretches inside where no one was around. It seems like no expense was spared in the creation of the sets, but the experience could have used a few more actors.
Highlight: Incredible sets. The production designer does a fantastic job of knowing when to exploit something, how to create an entire environment and when to let the natural creepiness of an abandoned building do its job.

666 W. 800 South, open Monday-Saturday except Oct. 14-16 through Nov. 2, $15-$35, free VIP upgrade when purchased online. FearFactorySLC.com

Frightmares at Lagoon offers several Halloween attractions with different levels of terror, from "not scary at all" to "absolutely too scary for kids." 375 N. Lagoon Drive, Farmington, 801-451-8000, through Oct. 30, times vary by attraction, $29.95-$45.95. LagoonPark.com


Haunted Hollow
has more than 13 acres of outdoor terror with underground dungeons and swamps. 1550 S. 1900 West, Ogden, open Wednesday-Saturday through Oct. 26, also Oct. 28-31, see website for times, $20.
HauntedUtah.com
Haunted Forest
leads you through five acres of haunted woods and the Psycho Manor. Interstate 15, Exit 276, American Fork, open Monday-Saturday through Oct. 31, see website for times, $20.
HauntedUtah.com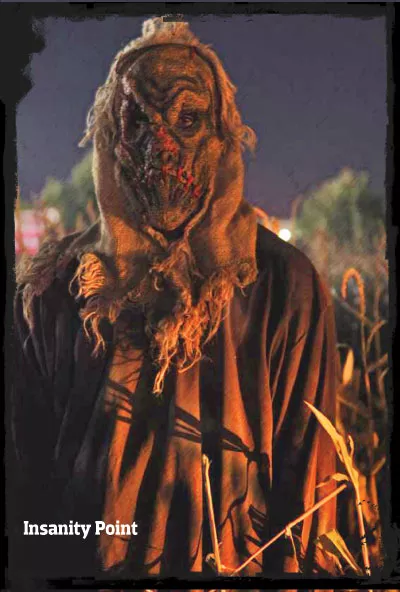 Insanity Point
at Cornbelly's at Thanksgiving Point offers eight scary attractions on various "scream" scales, including Hayloft Horror and the haunted Cornophobia corn maze; some are open only at night while others have less-scary daylight options. 3003 N. Thanksgiving Way, Lehi, 801-768-2300, $15.95.
InsanityPoint.com
Anguish Asylum
offers every terrifying scenario you could dream up, including a jungle featuring "real" snakes and spiders, a funeral parlor, a chainsaw maze, a gas chamber and even the unspoken trauma of, yes, birth. 1200 Towne Center Blvd., Provo, 801-367-7376, $18-$20.
AnguishAsylum.com