Page 3 of 4
Little Witches
By Aimee Cook O'Brien
Whether you and your kids are into witches, zombies, the Grim Reaper or fairy princesses, here are a few options that are less focused on major scares.
Halloween fun began in mid-September at Gardner Village (1100 W. 7800 South, West Jordan, 801-566-8903, GardnerVillage.com). There's a scavenger hunt for kids, and witch-themed vignettes are placed throughout the grounds until the end of October. These larger-than-life witches are typically animated and make for great photo ops. Adults can return for nightly witch-themed dinner theater (prices vary) or for Witches Night Out (Friday & Saturday, Oct. 11, 12, 25 & 26), a free event for women 18 and older (wear your witchiest attire) that features drawings, dancing, food, activities at the Gardner Village shops and a nightly parade.
That fancy witch costume can see more use at the Witches Tea Party at Ogden's Union Station (2501 Wall Ave., Ogden, 801-393-9890, Saturday, Oct. 26, 3-5 p.m., $25 for adults, $15 for children ages 6-12, TheUnionStation.org). Warlocks and witches will gather for a "treat" buffet, witches brew, tea and fun entertainment.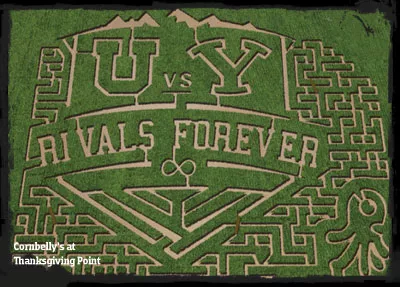 If costumes aren't your family's cup of cider, you might consider spending a day at
Cornbelly's
at Thanksgiving Point (3003 N. Thanksgiving Way, Lehi, 801-768-2300, $8.95-$10.95 for non-scary attractions, ages 3 and up,
Cornbellys.com
). The giant 12-acre corn maze—this year cut in a Utah/BYU theme—is sure to be a hit for the older kids, while the younger kids will enjoy cheering on the pig racing, exploring the pumpkin patches, watching the Singing Chickens & Animal Band, crawling through the wooden "rat" maze, or taking a hayride or tractor ride. The whole family can unite for a pumpkin-sack slide and a rest by the campfire, making s'mores and listening to spooky stories.
Through Oct. 31, Wheeler Farm (6351 S. 900 East, 385-468-1755, $5-$9, WheelerFarm.com) provides a classic fall experience, with a pumpkin patch (one pumpkin is included in admission), a hay maze and wagon rides.
Crazy Corn Maze in West Jordan (8800 S. 4000 West, 801-569-2356, UtahMaze.com) ups the corn-maze ante with true/false trivia. The four-acre pumpkin patch stays open till dusk, at which point you can stay and explore the Haunted Trail, which is three times bigger this year and features live actors providing thrills and laughs.
Elsewhere, the 280-acre Black Island Farms (3178 S. 3000 West, Syracuse, 801-825-6236, $6-$20, BlackIslandFarms.com) will be continuing its 55-year tradition by creating Utah's largest corn maze; this year's has a monster-truck theme. Braver kids and adults can conquer Nightmare Acres, an outdoor haunted experience open only on weekends, while the pumpkin patch, giant straw slide and hayrides delight visitors of all ages all week long.
And if all the scares and fun have made your mind curious about why fear exists, head to The Leonardo (209 E. 500 South, Salt Lake City, 801-531-9800, TheLeonardo.org) for Spooky Science, a month-long exhibit for the whole family that features a "mad science" lab and breathtaking electricity demonstrations and explores the science behind fear through scary stories around a campfire.
Halloween Arts
Experience thrills on the stage and screen
By Scott Renshaw
Plenty of Utahns look to interactive scary experiences in October, but others might prefer to get into the spirit as spectators. Here's a taste of Halloween-themed fare with a more artistic bent.
Through Nov. 2
Off Broadway Theatre: Dracula vs. The Wolfman
Spoofy/spooky fun abounds when newlyweds are lost in a Transylvanian forest, and things get hairy for the groom trying to protect his new bride from Dr. Acula.
272 S. Main, Salt Lake City, 801-355-4628, $10-$16. TheOBT.org
Oct. 11-19
The Hive Theatre Company: Steadman & Walker (Zombie LLC)
Jared Greathouse's world-premiere zombie comedy follows new recruits at a life-insurance company with a nasty secret. Performances run weekends only Oct. 11-19 at Sugar Space Studio for the Arts.
616 E. Wilmington Ave. (2190 South), 801-573-4080, $12. TheHiveTheatre.blogspot.com
Oct. 11-31
Tower Theatre: Tower of Terror
The venerable Salt Lake Film Society venue continues its tradition of late-night weekend (and noon Sunday) fright-fests, this year including Halloween (Oct. 11-13), Dawn of the Dead (Oct. 19-20) and The Rocky Horror Picture Show (Oct. 25-27 & 31). Plus, there's the special X96 Double Dead Feature of Dawn of the Dead and Return of the Living Dead on Oct. 18.
876 E. 900 South, Salt Lake City, 801-321-0310, $5-$15. SaltLakeFilmSociety.org
Oct. 11-Nov. 2
Odyssey Dance: Thriller
Now in its 17th year as a seasonal mainstay, the production tours the state throughout September and October, requiring two complete casts to satisfy audience demand. The show settles into Kingsbury Hall on Oct. 11, featuring high-energy vignettes like "River-of-Blood-Dance," "Jason Jam" and, of course, the titular Michael Jackson classic.
1395 E. Presidents Circle, University of Utah, Salt Lake City, 801-495-3262, $25-$45. OdysseyDance.com
Oct. 23, 8 p.m.
City Weekly Free Movie Night: The Cabin in the Woods
Our own monthly free movie night (21 and over) features the hilariously scary 2012 horror celebration The Cabin in the Woods.
677 S. 200 West, 801-322-3891, free. Brewvies.com
Oct. 23-25
Organ Loft: Phantom of the Opera
Enjoy the classic Lon Chaney silent version with full Wurlitzer pipe-organ accompaniment.
3331 S. Edison St. (145 East), 801-485-9265, children $5, adults $6. OrganLoftSLC.com
Oct. 25-27
SB Dance: Of Meat & Marrow Halloween Show
Stephen Brown and company go darker with a seasonal, for-mature-audiences production, featuring live music by Totem & Taboo. Call ahead to join the cast onstage after the Friday- and Saturday-night performances for an AfterLife AfterParty (extra charge).
Rose Wagner Center, 138 W. 300 South, Salt Lake City, 801-355-2787, $12.50-$27.50. SBDance.com
Oct. 26-Nov. 1
Salty Horror Film Festival
The local showcase for creepy, gory, delightfully monstrous short films and features celebrates its fourth year, running at multiple venues including the Fort Douglas Post Theatre and Brewvies.
SaltyHorrorInternationalFilmFestival.com
Oct. 29, 7 p.m.
Utah Symphony: A Superhero Halloween
Dress up in costume—and perhaps win a prize—for a special performance of thematic music from movies like 1978's Superman, 1989's Batman and 1991's The Rocketeer, plus spooky works like Wagner's "The Ride of the Valkyries.
Abravanel Hall, 123 W. South Temple, 801-533-6683, $6-$14. UtahSymphony.org