Page 4 of 4
Costume Countdown
Combing the local closets for the right disguise and more
By Gavin Sheehan & Rachel Piper
It doesn't matter if your goal is comfort or attention; deciding how to dress up on Halloween is always a challenge. Cori Hoekstra—a former makeup artist at Castle of Chaos, as well as founder of Creature Create—shared her tips on the basics, as well as what both penny-pinchers and big spenders can achieve during the season.
"Don't rely too heavily on carried props to make people 'get' your costume. Otherwise, you'll get tired of holding it [and] showing it to people," Hoekstra says. Not to mention you'll be "shit outta luck if you lose it. If you can't go to the bathroom without assistance, or having to get completely naked, it's way too much."
The easiest creative ideas to achieve are animals, zombies or vampires (gray makeup and anything aged). And you might want to avoid anything that will be recycled from Comic Con, like Poison Ivy or Deadpool.
If you're looking to stand out at a party, the best ways are always the most daring, like the reversed gender of any popular character—a female Han Solo, or male Catwoman. There's also going as someone from a major event or tragedy; Zombie James Gandolfini or a Death Panel Doctor are sure to attract attention and/or piss people off. But if you're looking for something fun that avoids death and politics, try a creative spin on an inanimate object; Hoekstra points to a woman who dressed as Sharknado at Comic Con this year as an example.
If you're not sure what to make but know your budget, here are Hoekstra's suggestions for cheap and pro versions of common makeup effects. We'll see you out there, decked in purple as a male Marie Schrader from Breaking Bad.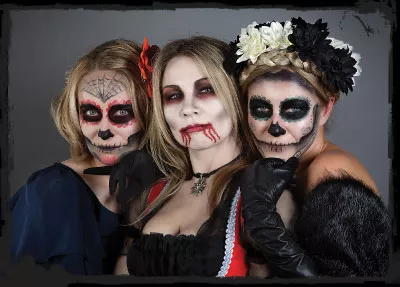 Blood
Cheap: Corn syrup and food coloring
Pro: Ben Nye blood

Scars/Open Wounds
Cheap: Lipstick/black eyeliner/white eyeliner
Pro: Pre-made prosthetics

Scabs
Cheap: Toilet paper and liquid latex
Pro: "Coagulated" blood from Ben Nye

Pale Skin
Cheap: Grocery-store liquid foundation in a lighter skin tone
Pro: Water-based "cake" makeup, usually purchased at a costume shop; and if you need to go green or purple, cake makeup is pretty much the only way to go.

Rotten Teeth
Cheap: Coffee or tea and not brushing
Pro: Tooth paint that looks and brushes on dry teeth like nail polish and brushes off with a toothbrush, by Ben Nye or Mehron.

Hair Coloring
Cheap: Kool-Aid, Jell-O mix or spray paint; dying a (cheap) wig is best—if you have dark hair, it is hard to get bright colors to show.
Pro: Temporary hair dyes from a salon store—and a wig

Where to Get It
With more than 700 locations nationwide, Spirit Halloween (multiple locations, SpiritHalloween.com) has the biggest selection in town, so you can outfit the whole family, including pets. Hard-core costumers will marvel at the huge selection of thematically specific accessories—the website features 13 different pirate hats—and appreciate the chance to order prescription theatrical contact lenses. Those still scratching their heads over which costume to choose can find a huge variety of pre-made outfits, group costumes and basic yet scarily specific themes, from evil clowns to flappers.

If you're in a Halloween state of mind all year, you can stop by Spoox Boutique (3453 S. State, Salt Lake City, 801-867-2777) to grab a last few accessories for that costume you've been working on since December and browse the year-round horror shop's selection of creepy-themed décor and gift items. After all, one couldn't be a proper Halloween party host without serving booze from a skull-shaped decanter and displaying disturbing local art on the walls.

Mask Costumes doesn't stop at Halloween; you can get outfitted for upcoming renaissance faires, masquerade balls and self-produced plays here, too. The store's two locations (718 E. 3900 South, Salt Lake City, 801-268-8466; 1826 W. 5400 South, Taylorsville, 801-828-3484, MaskCostumes.com) offer costume kits and inexpensive wigs to purchase. Costume perfectionists can find high-quality, customizable wigs, as well as costume rentals and professional-grade makeup, adhesives and tools; you can even hire a makeup professional to teach you how to be authentically gory or historically harlot-y.

For the DIY-er, it doesn't get better than Pib's Exchange (1147 E. Ashton Ave. [2310 South], Salt Lake City, 801-484-7996, PibsExchangeOnline.com), where you can mix and match from the selection of vintage and current styles of clothing, shoes and accessories to create a subtle or ironic costume, or go full-bore with men's and women's costumes available for purchase.

While "sexy" costumes have become the norm even at Walmart, anyone who wants to be truly sexy on Halloween (or any time of year) should stop at Blue Boutique (multiple locations, BlueBoutique.com), which takes standard schoolgirl and French maid costumes to the next level of eyebrow-raising naughtiness. It's also the place to stock up on false eyelashes and sexy masks so that your Halloween role-play can continue through the holiday season.