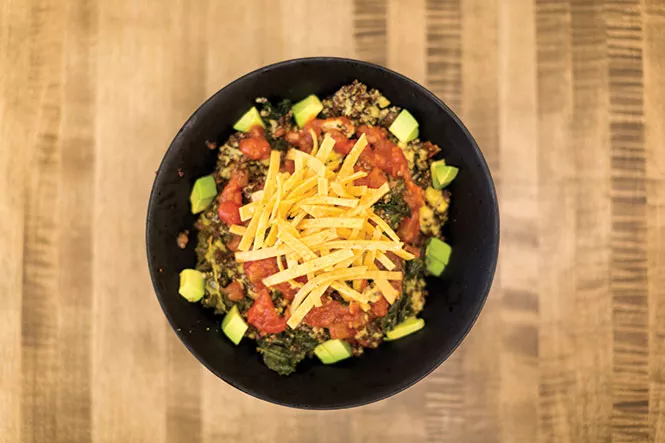 The first time I sauntered in to Mollie & Ollie—a new downtown Salt Lake City eatery whimsically named after the owners' pet goldfish—I couldn't quite get my bearings. After all, the last time I'd been in the lower Main Street space, it was home to Bayleaf Bar and Grub, the funky, 24-hour eatery that careened deliciously from Southern-style shrimp and grits and blackened catfish, to Korean bulgogi and Filipino chicken adobo. Somehow, it all worked.
In many ways, the Mollie & Ollie menu is every bit as eclectic and varied as was its predecessor. But the ambiance and décor couldn't be more different. Bayleaf was as dark—since it was in part a late-night spot—as this new occupant is bright. The décor is mostly blindingly white-on-white, with splashes of lime green tile and other vibrant color highlights, such as the admonition in green lettering on one wall to "Romaine calm." The place looks as though you could eat off the floor.
The M&O concept is a brilliant one, from the menu itself to the ordering system. The restaurant's menu—which features breakfast items, scrambles, stir-fries, salads, wraps, side dishes, desserts and beverages—is accessed via an area of kiosks equipped with touch-screen tablets. There's usually an employee hovering nearby to help first-timers (or fifth-timers) work their way through the self-order process, but it's pretty easy and intuitive for all but the most technology-challenged.
A guest decides to order, for example, a wrap. There are four "classic" wraps available at a single click (or tap): curried chicken salad; chicken Caesar salad; turkey, bacon, avocado and jalapeño; or a vegan option with brown rice, shredded napa cabbage, toasted almonds, edamame and julienned carrots in a ginger-lime dressing, topped with avocado cream ($7.95). If you've chosen, for instance, the vegan wrap, a screen will ask you for your preference of flour or spinach tortilla. From there, add any sides, beverages (including beer and wine!), desserts, etc. You simply pay your bill at the kiosk and pick up your meal at the nearby counter when your number is called, usually within minutes.
Things get a little more complicated—or perhaps I should say "customizable"—when you order scrambles, stir-fries or salads, since they offer "create your own" options in addition to the restaurant's standard combos. Although this might be a "fast food" restaurant, the owners pride themselves on offering food that is fast, yes, but also fresh, nutritious and wholesome. So, in addition to staples provided by Sysco, you'll also find veggies and organic granola from Idaho's Purcell Mountain Farms. Gluten-free chicken sausage and naturally smoked, dry-aged turkey bacon come from Wisconsin's Jones Dairy Farm. Some of the butter, cheeses, cream, yogurt, milk and such are from Organic Valley in Wisconsin, and local Miller's Honey Company provides raw, natural honey. The M&O website succinctly summarizes their operating philosophy: "Be nice. That's our philosophy. We make good food for good people."
I'm all for being nice. But, it's the "good food" part of the restaurant's philosophy that most interests me. Is it good food? I'd say in the main, yes, and a very welcome change from most of the "fast-fresh" establishments I've encountered.
For starters, it's very easy to eat healthy there, since many of the dishes are so customizable for individual tastes and preferences; you really can "have it your way." Take, for example, the stir-fry offerings. There are seven menu-ready options, ranging from the "Keep it Simple" ($7.25) with housemade egg noodles in Thai coconut curry sauce, topped with scallions, to the Santa Fe ($9.95) with brown rice, honey-brined chicken, red beans, fresh avocado and grape tomatoes in an enchilada sauce, topped with feta cheese and crispy tortilla strips. Other "standard" stir-fries—although there is nothing standard about them—include "Ollie's Awesome Quinoa" ($10.75), "Citrus-Lime Roasted Garlic Goodness" ($10.25) and "Good to be Khing Curry" ($10.95). To any of these, guests can also add additional items such as veggies, proteins, nuts and sauces on an à la carte basis.
Be careful how you customize, however, because the price of one of these build-your-own items can escalate quickly, depending on add-ons. I ordered one such stir-fry recently, and although the dish was $7.95, by the time I'd customized it, the meal totaled $14.26, including a $2.25 fountain drink.
The permutations of stir-fry, scramble and salad possibilities are nearly endless, since customers are provided with such a dizzying array of options. For example, guests ordering a stir-fry first select a "base" from among fresh egg noodles made in-house, rice noodles, white rice, brown rice or quinoa (an extra $1.25). Then, optional proteins can be added: citrus-poached shrimp ($3.25), free range honey-brined chicken ($2.25), roasted organic tofu ($1.25) or natural slow-roasted turkey ($2.95). Three free toppings can be chosen from organic baby spinach, yellow and orange sweet potatoes, kale, jalapeños, green onion, corn, grape tomatoes, cauliflower, green beans, julienned carrots, Brussels sprouts, bell pepper medley, broccoli, summer squash duo, red onion, napa cabbage, cremini mushrooms and red beans. Whew!
Finally, customers choose a sauce (included in the base price), ranging from chimichurri pesto to Thai coconut curry. How much sauce do you want? You can have yours on the side, "regular," "light" or "heavy."
Now, select a garnish from among avocado, cilantro, tortilla ribbons, toasted coconut, parsley, peanuts, crispy chick peas (the best!), aged cheddar, feta crumbles, shaved Parmesan or crispy shallots. Done. You've created a one-of-a-kind, deliciously wholesome meal. CW