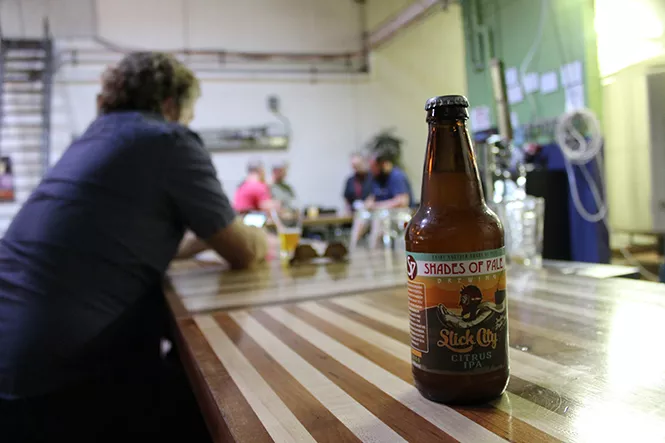 Enrique Limón
Shades of Pale's Slick City Citrus pours a notably murky, but bright golden-orange color.
There's a new craze gripping the beer world, and it's breathing new life into a time-honored style that people either love or hate.
If you love American-style IPAs, it's probably because of the assertive bitterness and the higher-than-normal alcohol content. If you hate them, it's most likely because of those two factors as well. Over the past 10 years or so, our love-'em-or-leave-'em IPAs have undergone something of an evolution as hops have taken on more citrus-like bitterness profiles—this makes them highly palatable and popular with beer drinkers that like the added tropical freshness they bring to IPAs. The creative brewer can take these juice-ish beers to full-on juicy in just a few easy steps. The latest trend in IPAs is called the Northeast-style. These beers are by design cloudy and murky like a hefeweizen, but are both sweet and tart—a combo that tricks the mind into thinking you're drinking a boozy and creamy Orange Julius. Sound lip-smackingly tasty? Three local breweries are leading the way in building on this tropical tasting trend.
Note: None of the following beers contain any juice; only malted grains, hops, water and yeast.
2 Row Brewing: Feelin' Hazy
This new release pours from it's psychedelic tie-dye-looking bottle a murky, light golden-orange color with a cap of creamy white foam that leaves tendrils of sudsy lace along the sides of the glass. The nose has pleasant whiffs of tangerine, orange and ripe peach. As you let your sniffer linger in the glass, notes of mango and cookie dough round the aroma. The taste starts off with juicy orange meat and grapefruit peel. Lime pith comes next, with a bit of creamy nectarine. The end has some minor doughy cake-batter sweetness with a slight smack of spicy pine hops. This made-in-Midvale silky brew is insanely delicious, dangerously chuggable and hides its 9-percent ABV very well.
Epic Brewing Company: Citralush
The State Street brewery's relatively new offering pours a deep, hazy apricot color with a nice soapy white head equipped with good retention and sticky lacing. After dissipating, the head leaves patches of fluffy foam. The nose is sweet, with hints of orange juice, peach and pineapple. It has a very hop-forward aroma, evoking mostly tropical fruit. The taste follows the fruity nose. Believe it or not, some snickerdoodle-like sweetness comes next, with big resinous tangerine and "cutie" juiciness. As for the finish, it comes through with the slightest hint of pine. This is a mind-blowing juice bomb. With its super tropical palate and creamy body, this is a must-try.
Shades of Pale Brewing: Slick City Citrus
Rounding up the list, this IPA pours a notably murky, but bright golden-orange color. The head starts out at about two fingers, then fades to a sturdy half-inch. The nose here is a bit faint, but is completely dominated by a "shload" of pine resin and grapefruit zest. Tastewise, it starts with a juice explosion full of orange and mango. The pine then comes in, striking a balance with a bit of caramel malts. From there, lightly bitter grapefruit and biscuit take over, giving the malt a platform on which to build it's faux juice base. The end is mostly pink grapefruit full of pith and semi-tart citrus meat that finishes bitter and dry. This one is a on the drier side—but no less fruity than the others—which actually gives it added drinkability. Expert assessment? This beer makes Mikey happy.
All the above beers are hot tickets right now, with breweries cranking them out as fast as we beer nerds are sucking 'em down. Make sure to contact them before making your trips. Cheers!