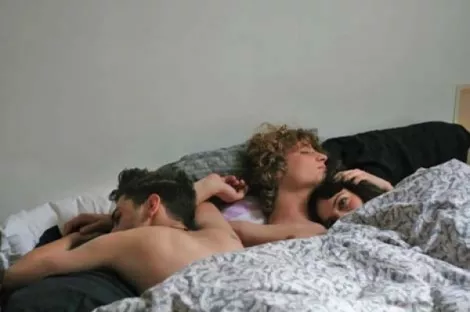 Two best friends fall for the same person—what story could be more achingly familiar and rich with storytelling possibilities? Ah, but what if the two friends were a straight woman and a gay guy? And what if everyone involved were hipster ciphers and nearly impossible to care about?
Xavier Dolan—a 21-year-old French Canadian wunderkind—wrote, directed and co-stars in Heartbeats as Francis, the gay male point on this triangle. He and his friend Marie (Monia Chokri) spot dreamy blond newcomer Nico (Niels Schneider) at a party, and both are instantly smitten. As they begin hanging out together in various permutations, they ponder his every word and gesture. Is he interested in either of them?
Or perhaps more relevant than, "Is he interested" is the question, "Is he interesting?" Dolan seems well aware of the fact that Nico is being romanticized beyond reason, no matter how much Francis and Marie tell themselves that it's his intellectual name-dropping that's so attractive. But the filmmaker doesn't really have anything compelling to say about the shallow pursuits of these 20-somethings. Because Marie and Francis are nearly as lacking in discernible personality as Nico, it's hard to be sympathetic—and hard not to wonder if Dolan is just as overly concerned with pretty surfaces.
Dolan breaks up his central story with unrelated pseudo-documentary interviews with other young people about their failed relationships, and it's just one of the stylistic flourishes that show he's not without gifts behind the camera. There's a great early moment when Marie and Francis stand side by side in slow-motion, alternately stealing glances at Nico, and a couple of late snippets of piercing honesty. Those interstitial interviews, however, also suggest stories and characters far more interesting than the ones Dolan spends most of his time on. Heartbeats hints at what he could accomplish when he, like his protagonists, gets over himself and grows up a little.
HEARTBEATS



Xavier Dolan, Monia Chokri, Niels Schneider
Not Rated