Golf. Tennis. Scuba. Biking. Hiking. Fishing. Boating. Yoga. We must be in Hawaii, Cabo, or the French Riviera, right? Nope: Heber Valley. Less than an hour from the Wasatch Front, all those activities and more—not to mention great meals to help replenish burned-up calories—await in Utah's gorgeous Heber Valley.
Heber City was recently ranked by Forbes as No. 5 on its list of America's fastest-growing small towns. Combined with nearby Midway, the valley offers an abundance of lodging, shopping and enticing eateries. Either town would be the perfect home base for a Heber Valley summer getaway. There is so much to do and see in Heber Valley that you're pretty much only constrained by your imagination or stamina. Here is just one possible weekend itinerary, which, admittedly, barely scratches the surface of all the fun and food to be had in Heber Valley.
Day 1
Begin with a hearty breakfast (you're gonna need it) at Fanny's Grill, the anchor restaurant of The Homestead Resort (700 N. Homestead Drive, Midway, 1-800-327-7220, HomesteadResort.com), where the famous cinnamon-bun French toast is a must-have. Then it's a round of golf at the Homestead's Crater Springs Golf Course, or golfing at any of the five award-winning golf courses in the area.
If you decide to play the Wasatch Mountain State Golf Course, be sure to make time for lunch at the Wasatch Park Café (975 W. Golf Course Drive, Midway, 435-654-2139), which serves up one of the best burgers you'll ever wrap your lips around.
Another good lunch option is Matty's at Zermatt Resort (784 W. Resort Drive, Midway, 1-800-557-1024, ZermattResort.com). Matty's is a pub-style restaurant that serves up great brews and cocktails, not to mention a bodacious buffalo burger and terrific New York-style pizzas.
After lunch, a hike would be the perfect way to see some of the natural glory that the Heber Valley has to offer. There are hikes in the area for every ambition level, from casual strolls through Cascade Springs to a full-blown backpacking trip up Mount Timpanogos. You could hike an eight-mile portion of the Jordan River Parkway on the Deer Creek Trail, enjoy any of the many hiking trails in Wasatch Mountain State Park, or just propel yourself from shop to shop on Main Street in Midway or Heber.
To wrap up our first day, I'd suggest heading into Heber for dinner. The restaurant scene there is beginning to rival nearby Park City, with a wide selection of dining options for every price point. Can't-miss Heber eateries include Spin Cafe (be sure to try the housemade gelato), Chick's Cafe (for chicken-fried steak), Snake Creek Grill, Hub Cafe, The Spicy Lady, Tommy's Texas BBQ, a terrific new Mexican restaurant called Los 2 Lagos, the famous Heber Dairy Keen (home of the train) and my favorite new restaurant and bar: Bear Dance Cafe. Then, whether you're tucking into a sleeping bag in a two-man tent or sliding between high-thread-count sheets at one of Heber Valley's posh resorts, get a good night's sleep, because tomorrow will be another busy day.
Day 2
I'd suggest dropping by Zermatt's Bäckeri & Eis Café for an early-morning croissant or housemade pastry before embarking on a hot-air-balloon ride, taking in the majestic views of Heber Valley's white-capped peaks, gleaming lakes, rivers and streams, and its rich, verdant fields and farms. Then, I'd opt for a horseback ride, beginning on the trails in the Heber Valley foothills and gently ascending to the meadows of Strawberry Valley, before returning to the Homestead Resort for a dip in the Crater. You could just enjoy a relaxing soak, take a swim, snorkel or even scuba dive in the Crater.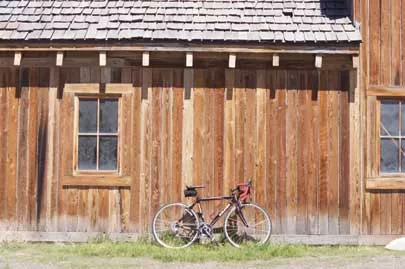 For Sunday brunch, head over to the Blue Boar Inn in Midway (1235 Warm Springs Road, Midway, 435-654-1400, TheBlueBoarInn.com), where you'll be pampered in old-European style by the sensational staff. Chef Eric May's cuisine is simply irresistible, including his smoked-salmon Benedict and cinnamon-marbled brioche French toast.
After lunch, a bike ride through Midway and past old barns and farms to Soldier Hollow—one of the sites of the 2002 Winter Olympics—is in order. Or, you could simply ride the gentle, paved bike trail that runs all the way from Midway to Heber, stopping, of course, for a plate of terrific tacos at Tarahumara (380 E. Main, Midway, 435-654-3465, Tarahumara.biz) along the way.
After biking, a spa treatment in one of the local spas or maybe an invigorating round of late-afternoon tennis is in order. Then, I'd wrap things up with a bottle of wine and a magnificent Margherita pizza at one of Utah's most charming restaurants, Cafe Galleria (101 W. Main, Midway, 435-657-2002, CafeGalleriaPizza.com). Next trip, we'll make time for boating, fly-fishing, mountain biking and taking a ride on the Heber Valley Historic Railroad!