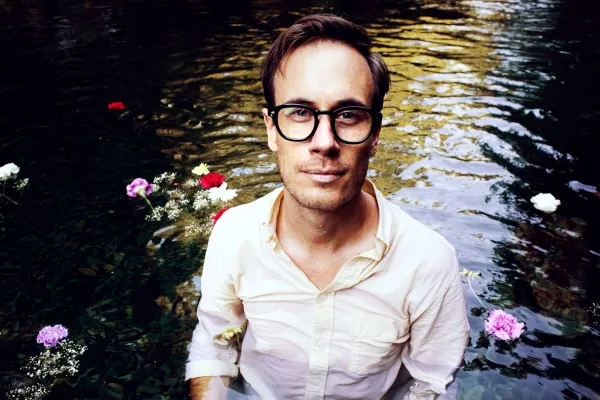 Forrest Kline of Hellogoodbye
Hellogoodbye's hit 2006 debut album, Zombies! Aliens! Vampires! Dinosaurs!, was a youthful record that was equal parts sugary naiveté and acerbic awkwardness. Since then, the SoCal power-pop group's founder and vocalist, Forrest Kline, has done some growing up. For Kline, that process started as he began recording Hellogoodbye's follow-up to their debut, Would It Kill You?
"Looking back now, Would it Kill You? seems as course-changing, or more so, than Zombies." Kline says via e-mail. "I think it set me in another heading, or allowed a variety of headings to be possible. … I threw out everything I 'learned' and started over."
In fall 2013, Kline—along with a new lineup—released the band's third record, Everything Is Debatable. The album still delivers plenty of the group's reliable pop sweetness, but also benefits from a songwriter who has earned some confidence in his search for meaning.
"It was more of a refining process," Kline says. Life is "rarely easy, rarely too hard. Debatable goes into the weirdness of living a bit."
Love is still a big theme in Kline's songwriting, but he no longer gushes about blossoming romance as he did in "Here (In Your Arms)," a single from Zombies! Aliens! Vampires! Dinosaurs! and the group's biggest hit. Instead, Everything Is Debatable ruminates more on endings. In "The Magic Hour is Now," Kline sings, "I just want to remain in love, like everybody does."
Kline's strengths as a producer and crafter of pop hooks are still evident in Everything Is Debatable, but there's a world-weary strain beneath those hooks.
But Hellogoodbye isn't the only thing that's changed in eight years. Kline's group began its career in the recording industry at the same time people began drastically changing how they listen to and discover music. Kline says he's learned to change along with his fans.
"In the last five years, I've discovered more music than I should have thanks to those new platforms," he says. "I'd like to think of it as a musical appreciation education, and I hope it makes music better in general."
Plus, when it's easier for bands to get their music heard, that can mean a new kind of freedom for artists, too. "There are a lot more people making music, so it's more important than ever to follow your heart and do something you think is important," Kline says. "Or you could add to the incredibly big pile of stuff we'll forget about next week."
HELLOGOODBYE
w/Vacationer, Heavenly Beat
The Urban Lounge
241 S. 500 East
Wednesday, May 14, 8 p.m.
$15 in advance, $17 day of show
Limited no-fee tickets available at CityWeeklyStore.com