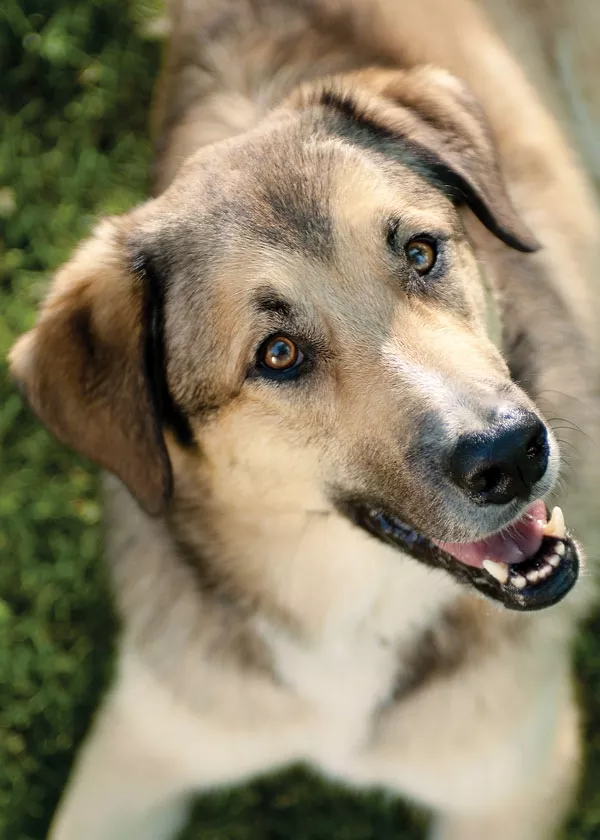 As trainers, we see lots of dogs in need of some kind of training. Most could use some lessons in basic manners, some are fearful or aggressive, still others are excessive barkers. But, dogs being dogs, there is usually some behavior that is less than perfect. Ahh...but then there's Chance.
Chance is a 4 year old fluffy blond mutt who has pretty much got it all together. In fact, we actually use him to help us train other dogs. Really!! His special assignment as a "neutral dog" for our Feisty Fido class calls for Chance to lie perfectly still until given a cue to sit up, stand, or just wag his tail. Understanding these subtle movements make him a perfect dog to work with aggressive dogs.
Outside the classroom, Chance partners with his mom, Catherine Cookson, who is an off-leash dog trainer. His job is to help keep dogs in line while out on the trail. He is especially good with shy dogs and puppies. Sometimes firm, but always gentle. Here are a few other innate characteristics that make Chance a very special dog.
• Chance will block the gate of Catherine's yard preventing a dog attempting escape
• He protects pups and older dogs from ruffians
• He has a very gentle, but clear way of reprimanding rude and rowdy behavior of pups and adolescents.
• He also guards children by blocking the way of an approaching adult he does not know.
Truth is, Chance is always on the job. And even with his full schedule he's never to busy to play. And then he's like a puppy...a very wise, old, wonderful puppy. If you think dogs like this are a dime a dozen--not a Chance! He's one in a million.%uFFFD