Utah's beautiful landscapes are truly world-class and call to us to enjoy our own version of "Life Elevated," whether that means taking a spur-of-the-moment weekend trip or spending weeks planning a wild, wondrous vacation. Maybe it's your style to book a cheap local motel, or simply stop at REI, grab a map and pitch a tent. But you don't have to "rough it" to fully enjoy Utah's outdoor experiences. If you'd prefer not to leave your outdoor adventure to chance and want to feel taken care of—even a little pampered, with a glass of vino and high-count cotton sheets—read on.
Desert Luxury
The level of beauty in the 34 suites at Amangiri is worth the trip alone to this 810-acre resort, located just a 15-minute drive from Lake Powell on the Utah-Arizona border. You'll catch stunning views from the pool, built around the natural rock, or from the private terrace above your suite. And the Amangiri's 25,000-square-foot spa and its restaurant, which features a menu with locally sourced seasonal products and an extensive wine list, are just the beginning of your adventure.
You can simply walk out of your suite and try one of the four via ferrata—Italian for "iron road"—hikes available onsite. Hikers, wearing helmets and harnesses, navigate a series of cables and ladder rungs attached to the rocks as they traverse the trail with a guide. These intermediate and advanced technical hikes can take anywhere from two to five hours. All four hikes end up at the top of large mesas that offer breathtaking views, but they offer very different scenery along the way, as suggested by their names—Studhorse, Hoodoo, Cave Peak and Red Line Ridge.
"Each of the four routes is interesting in its own way," says J.P. Alfonso, Amangiri assistant general manager. "You can do all of them and not feel like you're doing anything over."
The via ferratas are so unique that visitors find they can't leave without trying one. "Most people who come here think they'll be doing different national parks on different days, but then when they get here, they realize there is so much to do right here on our property," Alfonso says. "They feel like they have to set aside at least one day to do a via ferrata."
If you decide to go off property, the resort is located within a three-hour drive of the Grand Canyon, Zion, Bryce and Monument Valley, and Amangiri can schedule everything from boating on Lake Powell to hiking in the Grand Canyon with a guide from the Grand Canyon Field Institute. A bird's-eye view of the area is available three ways: The resort has its own helicopter pad and hot-air balloon rides, or you can book an aerial tour in a plane.
Two nights in a Desert View Suite with a via ferrata guided hike for two starts at $2,795.
1 Kayenta Road, 435-675-3999, AmanResorts.com/Amangiri
Fishing on the Green
Red Canyon Lodge was originally built in 1930 as a big-game hunting lodge for those tracking bear, cougar and bighorn sheep. More than 80 years later, the tradition continues, with guided hunting expeditions, but during the spring, summer and fall, the focus turns to fishing at a beautiful location near Flaming Gorge and the Green River.
Red Canyon offers itself as "the civilized way to enjoy the great outdoors," and does that with custom-built cabins, featuring vaulted ceilings and covered porches where patrons can enjoy modern comforts between venturing out for fun or to simply watch the deer, moose and other wildlife that tend to wander through the property.
"Our philosophy is that we want activities that are easily engaged in," says Red Canyon owner Mark Wilson. It could hardly get any easier than a private lake stocked with three kinds of trout for license-free fishing and boats to paddle.
The Green River is considered one of the best dry fly-fishing experiences in the nation, and casting flies on the Green is a popular pastime. Western Rivers Flyfisher (801-521-6424, WRFlyFisher.com), one of Red Canyon's outfitters, helps you spend a great day on the river with lunch, beverages and personal instruction, not to mention maneuvering the boat while you do the casting. A two-night stay with a full-day guided fly-fishing trip for two starts at $950.
2450 W. Red Canyon Lodge, Dutch John, 435-889-3759, RedCanyonLodge.com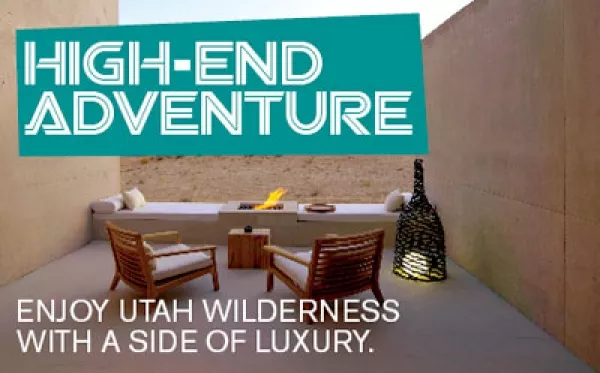 From City Slicker to Cowboy
Maybe you spend your days sitting in an office cubicle, looking out the window at the Wasatch Mountains and dreaming about what it must be like to work in the great outdoors. Blue Sky Ranch, just outside of Park City, has a Cowboy For a Day program, which lets you play your own version of Billy Crystal in City Slickers—except this is no Hollywood set. You'll be putting in a full day on a 3,300-acre, working ranch with actual cattle on hand. You'll be trained how to be a "real" wrangler, including riding, horsemanship, animal care and even steering cattle.
Meals for the day—a cowboy breakfast and box lunch—are provided by High West Distillery, an award-winning local maker of whiskeys and vodkas that also operates a distinctive Park City restaurant (703 Park Ave., Park City, 435-649-8300, HighWest.com). After the "work" day is done and the herd is out to pasture, you'll stop at the onsite Blue Sky Tavern to enjoy the whiskey High West has become known for. Cowboys, horses and whiskey—can it get any better?
If you're looking for a moment of zen after your day of riding and roping, Blue Sky offers a paddle-boarding yoga class on the ranch's own reservoir, or yoga by moonlight paired with a hike.
Continue your Western adventure by staying at the yurt located at the ranch. Two nights in the yurt and Cowboy for a Day for two starts at $1,258.
27649 Old Lincoln Highway, Wanship, 435-336-2646, BlueSky-Adventures.com
A River Runs Through It
When Colin Fryer visited national parks such as Grand Canyon, Zion and Yellowstone, he loved staying at the majestic lodges located in the parks. Arches and Canyonlands national parks had no such accommodations onsite, but when Fryer visited Moab, he found a ranch outside of town along the banks of the Colorado River. It still had old props from Hollywood movies that had been shot in the area, and he knew he'd found a place to build Red Cliffs Lodge, his own vision of a place where national-park visitors could enjoy that majestic lodge experience in a beautiful setting.
Any appreciation of Red Cliffs has to begin with its location along the river. Its 80 suites and 30 cabins all have riverfront or creekside views, so guests can sit on their deck and watch time and the water roll by.
Fryer picked a spot at a bend in the river to place the Cowboy Grill Restaurant, where you can watch the sunrise at breakfast, or see the way the light plays along the red rocks as the sun goes down while enjoying house specialties such as Prime rib or elk medallions, paired with a bottle of Moab's own Castle Creek wine.
Castle Creek Winery is located at Red Cliffs and makes award-winning vino, such as Outlaw Red, from grapes grown at Red Cliffs and in Moab. You can get a look at where and how they make the wine, discover what you like in the tasting room and buy a bottle right there to take home. That's right—wine tasting and direct purchase of bottles in Utah!
The river is just one of the many recreation options available in an area, with spectacular canyons, mountain ranges, world-famous rock formations and natural arches. Many river-rafting trips run right by the lodge, and even pull out there for barbecue lunches. Red Cliffs is also a working horse and cattle ranch, and guests can take a ride up through the Castle Valley for spectacular views.
When you get back from the river or a ride, stroll over to the onsite movie museum, which displays photos and props dating back to the days when westerns featuring John Wayne were shot in Moab, include more contemporary films such as Indiana Jones & the Last Crusade, Back to the Future and Thelma & Louise.
A night in a Red Cliff suite room is regularly $239.95, but can dip as low as $139.95 in April, the first month the lodge is open. A one-night cabin stay for two is $339.95 during peak months, with rates dipping to $249.95 on a few April nights. For the full experience, a two-night stay in a private riverfront cabin, including breakfast and lunch, along with a full-day river-rafting trip and horseback riding for two, starts at $1,050.
Mile 14 on Highway 128, Moab, 435-259-2002, RedCliffsLodge.com