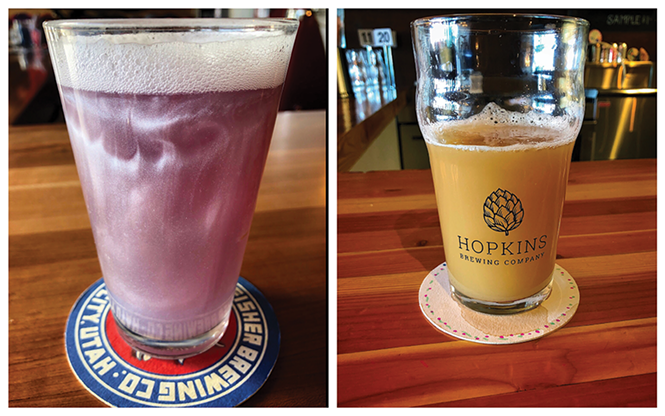 People have been trying to set themselves apart since the first teenage cave-dwellers braided their hair just to piss off the older hominids. Hipsters are the newest designation we have created for people who are trying way too hard to be different. Christ, I grew up in the '80s, and some of our parents are still reeling from Boy George's androgyny. Today's hipster doesn't just yearn for a unique personal appearance; they also prefer a less-than-traditional vibe from their beer. I found a couple of serious hipster beers this week. They're obnoxious to look at but sweet at heart.
Strap Tank Brewery Cosmic Fog: When my beer slinger plopped the glass in front of me, I thought I was tripping balls. The magical ale was a swirling storm of purple-and-pink hues combined with pearl essence and glitter. I looked around at the others who had ordered it, too. The one thing we all had in common was that none of us were drinking it; we were all mesmerized by this psychedelic-unicorn concoction. The aroma here is vaguely redolent of berries, with lactic acid sourness and slight notes of lemon. It keeps the core of the style while bringing in pleasant fruit aromas. The flavor begins highly sour, with notes of tart raspberries mingling with lactic sourness and lemon. The finish is tart, lending notes of unripened berries, yogurt and hoppy citrus. The aftertaste has some grainy, cracker-like wheat malt.
Overall: The visual spectacle be damned! This beer is a very nicely fruited Berliner Weisse that's true to style. The mouthfeel is light bodied and puckering with high, effervescent carbonation. This is a fantastic brew that layers on the berries to create a tart, crisp, refreshing beer. This 4 percent ABV option is available at Strap Tank on draft.
Hopkins Brewing Co. Hipster AF: Brewers have spent the better part of the last two centuries trying to make the clearest, most brilliant beers possible without sacrificing flavor. It's not just about clarity, but artistic pride. Hell, it's no easy task to strip all of the coffee color from a coffee beer and blow the customer's mind. Our second hipster beer—which even acknowledges its youth appeal in the name—is as turbid as Utah Lake, but far more enjoyable to drink. With a bright goldenrod appearance, the hazy ale releases a cotton-white head to cap the beer with a billowing froth. Strong citrus and herb aromatics leap into the nose. Grapefruit peels, orange pith and a strong grassy aroma then latch on, with the tersest of bready yeast as a backdrop. Similarly, the taste of dry cracker and bread is cut short by the onslaught of grapefruit and grass. Those flavors create a strong arm that wards off anything malt-focused except for grain and hay. Instead, the taste finishes with the peels and piths of citrus fruits and a light spicy taste of peppercorn.
Overall: This pale ale is far too bitter to be considered a cloudy-and-sweet New England-influenced IPA. It carries a champagne-like texture that springs the ale from the tongue and ushers in a quick dryness, allowing for a respectable rate of drinkability and refreshment without becoming too harsh or bite-y at 4 percent ABV. It's available at Hopkins Brewing Co. on draft.
Truth be told, most brewers get a kick out of pushing the envelope with beers like these; artistry shows itself in many ways and our local breweries are keenly aware that while trends fade, well-made beer is forever. As always, cheers!