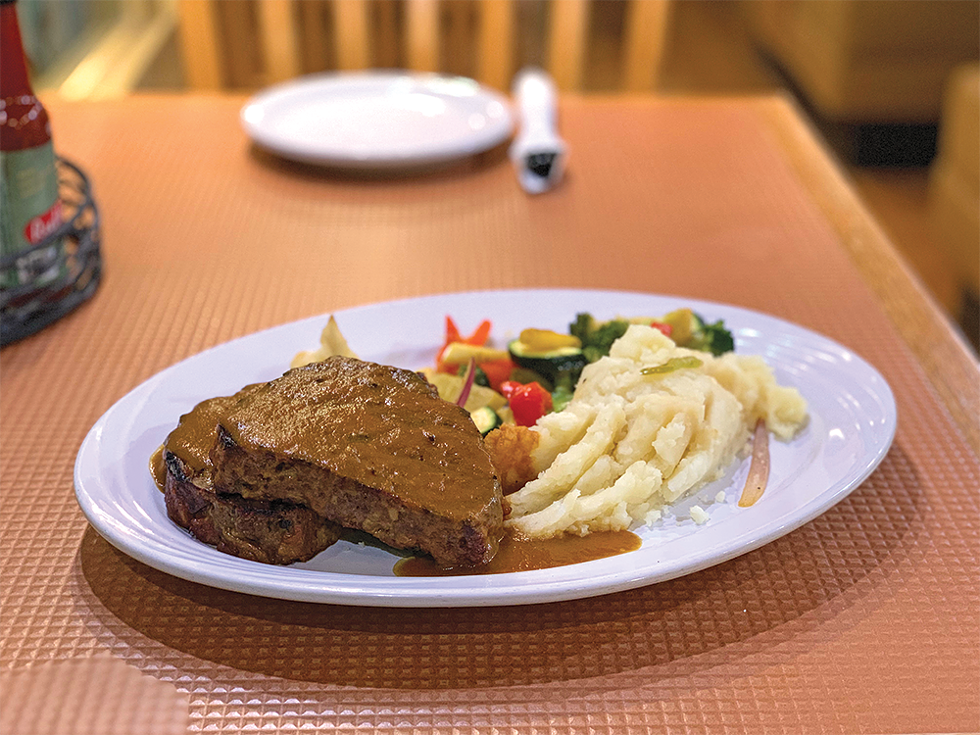 There's something to be said about the fact that Ruth's Diner (4160 Emigration Canyon Road, 801-582-5807) has been a Utah favorite for nearly a century. The number of fine dining establishments that have risen and fallen in that time goes to prove that, when it comes to longevity, it takes more than a high-end wine list and finely pressed linens to stay relevant.
That's not to say that simply copying Ruth's menu of comfort food classics spiked with a bit of Latin and Italian flair, or setting up shop in an equally picturesque locale, would guarantee any restaurateur 90 years of business. Ruth's Diner embodies the spirit of one of Salt Lake's most original personalities—a Chihuahua-loving, chain-smoking, shit-talkin' former cabaret singer named Ruth Evans who founded the place back in 1930. She instilled the diner with all of the salty perseverance and tradition-bucking sass she could muster, and that spirit was something each new owner learned to cultivate.
What we now know as Ruth's Diner—the quaint, renovated trolley car that serves as the last bastion of warmth and hospitality before you enter the winding chasm of Emigration Canyon—began as Ruth's Hamburgers. It was a small joint that became a hotbed of local gossip because of its proximity to a brothel whose workers made up a hearty chunk of Ruth's clientele. When the Meredith Building that housed the burger joint was scheduled for demolition, Ruth purchased the trolley car that now houses the business and reopened for a small stint on North Temple, before transporting the whole operation up the canyon—a move that can only be interpreted as a middle finger to Utah's ever-restrictive legislation on public smoking and liquor sales.
If you haven't been to the place lately, things are still as lively—and crowded—as ever. I've been a repeat visitor ever since the days my wife and I lived in University of Utah student housing a few miles west. While most every dish carries its own style of rich, diner-style charm, little things—like getting a plate of Ruth's famous buttermilk biscuits instead of dinner rolls when you come in for breakfast, or enjoying a meal on a patio that melds seamlessly with the surrounding wilderness—are what make dining here a special experience.
On each of my many visits, there are a few dishes from which I have a hard time deviating. If I'm there for breakfast, the pulled pork Benedict ($13.49) typically wins me over. It's one of the finest Western takes on eggs Benny that I have ever seen. It keeps the overall structure of its predecessor, and there's plenty of hollandaise sauce to go around, but Ruth's swaps out the English muffins with green chile cheese cornbread and pops poached eggs on top of a generous helping of pulled pork and barbecue sauce. I originally ordered this as a dare—how could hollandaise and barbecue sauce possibly be good together? As it turns out, this is the only way I want to eat eggs Benedict. Ever. The barbecue sauce is slightly spicy, which cuts through and enhances the richness of the hollandaise. Once the egg yolk spills forth and mixes with the pulled pork and cornbread, you've got some serious harmonies taking place across your tongue. It's a delightful combination of flavors and textures, and eating one of these bad boys for breakfast almost guarantees you're going to have a good day.
For dinner, it's hard to see past Ruth's meatloaf ($14.89, pictured). It's a remnant of a bygone era when meatloaf could be both luxurious and simple, and it's served up as a pair of thick, meaty slices accompanied by mashed potatoes, brown gravy and veggies. The meat has a buttery tenderness, and piling a forkful of potatoes, gravy and meatloaf into the perfect bite is one of life's most underrated pleasures. If you happen to be craving meatloaf for lunch, Ruth's also serves it in burger form ($10.89)—they charbroil a slice of this delicious stuff and throw it on a bun with provolone cheese and barbecue sauce.
Now, I don't typically get misty about dessert menus. Not that I don't have a mean sweet tooth, but restaurant dessert menus aren't traditionally high priorities for most chefs. The chocolate malt pudding ($4.99) at Ruth's, however, has been the object of my dessert-based affections since my first taste. I would put this rich ode to the conquests of chocolate up against your most expensive French mousse any day of the week. It's made with egg yolks and heavy cream, so the richness here cannot be understated—it's a concentrated dose of pure chocolate goodness.
To call Ruth's Diner a Beehive institution doesn't do the place nearly enough justice. It's a place whose lineage literally and figuratively spans the breadth of Salt Lake City, and its continued operation is a testament to the spitfire who opened the restaurant to begin with.

AT A GLANCE
Open: Sunday-Thursday, 8 a.m.-9 p.m.;
Friday-Saturday, 8 a.m.-10 p.m.
Best bet: The meatloaf is a slice of fried gold
Can't miss: The sun rises and sets on that
pulled pork Benedict