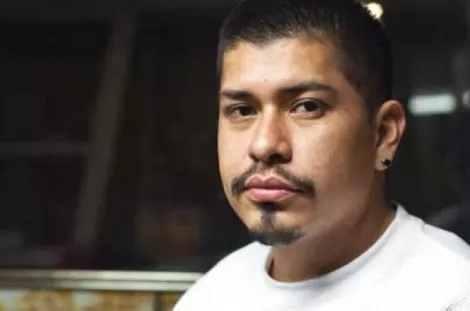 At his first deportation hearing, a manacled Jesus Silva looked over his shoulder in the Salt Lake City immigration court at his friend and mentor Walt Hunter. What he wanted, he told Hunter later, was a hug.

Hunter was deeply concerned for his former art student and protégé. Silva had learned from other Utah County Jail inmates facing deportation that on arrival in Mexico, deportees are often kidnapped by members of the Zeta drug cartel and given a stark option—work for them or be killed.

The story of Silva, who was brought to the United States as a 5-year-old by his mother, and his journey from gang member to acclaimed local artist and anti-gang advocate, has been covered in several City Weekly cover stories. Most recently, he emerged as one of the victims cited in court proceedings against his former mentor and friend Sonia Orozco in the Oct. 19, 2011, edition.

"Tainted Saint" told how Jordan School District employee Orozco, a leading light in Utah gang prevention, faced charges that she had scammed undocumented Latino immigrants. City Weekly interviewed five undocumented women who all claimed Orozco had taken money from them for help with immigration issues, which she never came through with.

Orozco allegedly also swindled Silva's relatives and friends out of money they had raised for a lawyer, with a promise to get him out of jail.

Orozco's victims question if justice has been served, contrasting her year-long jail sentence with the emotional betrayal they felt at her actions. And Silva, whose only crime apparently is his unauthorized presence in this country, faces a battle stretching over years to not be deported. While he is technically a free man, he argues that he is now effectively facing living in a jail, albeit one without walls, for far longer than the woman who victimized him with false promises of obtaining him citizenship.

Silva found himself in front of immigration judge Dustin Pead after his wife, an American citizen, made an allegation of domestic violence against him. A 3rd District Court judge later dismissed the resultant assault charge after his wife failed to appear to testify. Silva was then transferred to the Utah County Jail in Spanish Fork for a deportation hearing.

At his first hearing, Pead told Silva that he wanted to see the 26-year-old's wife at his next deportation hearing. He wanted to ask her about the domestic violence allegation. Pead warned Silva that if his wife did not attend court, then that might well result in the judge raising his bail or even withdrawing it. But Silva says his estranged wife would not come. Indeed, Silva says the complexities of his marriage have long haunted him, notably in him being unable to pursue citizenship through his wife.

Originally, Silva had faced deportation without the possibility of bail because officials from Immigration & Customs Enforcement [ICE] believed he had been convicted of a 2008 DUI. But Silva's fingerprints had been mixed up by Salt Lake County Jail with those of a DUI offender with almost the same name and the same birthdate. City Weekly requested comment from ICE regarding Silva's denials that the DUI conviction was his. The day after "Tainted Saint" was published, ICE acknowledged a mistake had been made at the jail and set a $5,000 bail, rendering Silva eligible for release if he could raise the money.

Despite such headway, in the last days before his second deportation hearing, Silva had given up, he says. "I was going to Mexico. There was not much I could do." But a guard told him that with the low bail, he had to pressure loved ones to get him out, since so few ever had an opportunity to escape an immigration hold. He told Silva, "You give all these people hope, your story's going to be told forever."

But Silva's relatives could raise only the $750 bail fee. That still left the collateral required for the $5,000 bail. Hunter signed over his condo so Silva could be free. "For a kid I invested a lot of time in, cared about—kind of like a son, a brother, a great friend—I felt that what a terrible waste to have had this history here and have it lost for something I could have done."

Silva made bail, leaving the jail clutching a bag of clothes, drawings and writings, relief and jubilation etched into his features. But in the following weeks, unable to work, living with his family while he struggled to raise $565 to pay for an attorney to fight his deportation, Silva mourned undocumented friends he had made in the Utah County Jail. "It was really hard to let go of those people. I got to know them better than I know my own people."

He also struggled to accept that Orozco, whom he loved "almost like a mother," victimized him. "It wasn't just anybody who did it to me," he says. "It was Sonia."

On Nov. 8, Orozco pleaded guilty to two second-degree felony counts of theft by deception. The judge suspended her prison sentence of 30 years, imposing instead a year in jail. The earliest Orozco says she can get out is May 2012.

Assistant District Attorney Jeff Hall says his office's recommendation that the judge not impose prison on Orozco "takes into account her representations that drug addiction fueled a lot of this behavior and bad judgment." She doesn't get a pass, he adds, having to also be financially responsible for her victims.

Orozco, nevertheless, views herself as a victim of injustice. "I got treated like the worst criminal ever," the 50-year-old says in a jail interview, referring to a $250,000 bail. "I never saw a search warrant, haven't seen any discovery, I don't even know who my accusers are. It was unfair. I really believe that in my heart." She took the plea deal, she says, because she was tired and humiliated. What she says was sporadic methamphetamine use started after her sister's death in June 2011.

"I never used those kids; I was always there for them," she says of former teenagers she worked with at the Midvale Boys & Girls Club, a number of whom accused her of conning them or relatives out of their savings. "I stood by them regardless, and they paint this picture of me, seriously? That pisses me off." She alleges that the district attorney's office used the possibility of U-visas—where undocumented witnesses of crimes can, in exchange for testimony, gain a work visa—as effective inducements for victims to come forward.

Hall doesn't know if any of Orozco's victims received U-visas in exchange for their testimony. Ultimately, he says, "that's up to the federal government."

Silva wishes more of Orozco's victims would come forward. "People are so loyal to the idea we never snitch on nobody," he says about friends who, despite his urgings, have not come forward, whether out of fear of Orozco's reputed family connections to her old gang, Los Chiques, or fear of the authorities.

While Orozco says she is ruined, with little prospect of work once she gets out of jail, Silva, too, knows he is far from being out of the woods. His next immigration hearing is on Jan. 23, 2012. He hopes that one day the life he seeks, as a father and, ultimately, a citizen of a country he claims as his own, will become a reality.

"I just hope in the end it all goes the way I always wanted it to," he says.