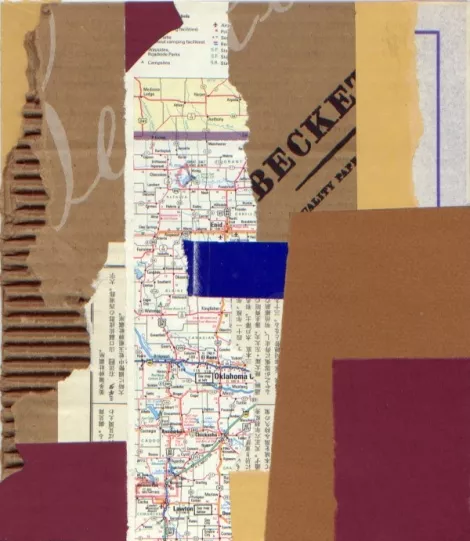 Imagine if you could look back to a moment that inspired an artist to create, the first moment a work of art had an impact on someone who had started making art. Or someone who had been an artist, but all of the sudden saw something that caused a major shift in the way they looked at or created artworks.
Spanish Fork artist Namon Bills, who is curating the Homage exhibition for the Rio Gallery, has assembled some very successful group shows, most notably 2010's Angels in the Architecture at Art Access. He says he was thinking about Kurt Schwitters, the early 20th-century German collagist who influenced his work (Bills' "Becke" is pictured right), when he came up with the concept for a group show of local artists paying homage to their influences.
"I was wanting to study Schwitters' work more in depth and maybe try to do some pieces in his style to better understand what he was doing," Bills explains. "From there, I realized that this could be a great concept for a group show."
Many of the same faces from Angels are found among these 30 artists: Marcee Blackerby, Justin Wheatley, Steven Stradley, Joey Behrens, Linnie Brown and several others. It's hard to imagine another gallery in Salt Lake City that could house such a large array of work, with several examples of influence from each participant. A building of historical import is especially fitting to showcase works examining the history of artists' imaginations.
Painter Steven Stradley, whose works sometimes resemble microbes viewed through a microscope, was influenced by painter Terry Winters, who also uses the visual iconography of science. "The intersection between art and data sets, science and complexity has been of interest to me for a few years," notes Stradley. "Winters' work is not illustrative of his source, and diverges from the source in poetic ways. This is of great interest to me—how to take information and visualize it through artistic practice and new ways." Stradley's work doesn't resemble that of Winters, but considering the influence, you begin to see Stradley's in a new light.
Painter/printmaker Joey Behrens was struck a few years ago by the work of sculptor Eva Hesse, known for breakthroughs in the use of new materials like latex, fiberglass and plastics. "Encountering Hesse's work hasn't caused a major shift in my art; it's been more subtle." But Behrens admits that the influence of Hesse has pushed her to expand her approach. "I don't see the actual physical objects as paying homage, but they are the evidence." Behrens use of architecture in a very human way recalls Hesse.
Justin Wheatley found a more direct influence in a painting of a church by German-American artist Lyonel Feininger. The cubist geometry astonished Wheatley. "I liked the idea of extending what we create and build as humans into the organic, natural sphere," Wheatley recalls. "I immediately began using line in my work. I'm not sure where I'd be if I hadn't seen this painting."
Several artists chose unexpected influences, taking the concept to a level unexpected to Bills. Painter/printmaker/multimedia artist Sandy Brunvard, for example, chose Canadian singer-songwriter Bruce Cockburn. "Humming his music while hiking compels me to breathe more deeply, and I believe that has a direct effect on my artwork," she maintains. "I paid homage by considering each piece in my layered drawing as a day in the hills, a note on the guitar."
Several other artists chose their literal progenitors, such as Joe Ostraff and Blue Critchfield (whose "In Between" is pictured, right) paying tribute to their fathers. Critchfield was raised in a geodesic dome built by his father, Turtle L. Depley. "It was like growing up inside a sculpture that seemed to breathe a life of its own through the aspirations of my father and his family," explains Critchfield. After considering numerous influences, Critchfield says, "I realized my father was the one influence, more than any other, that encouraged me to follow my dreams."

Still other artists chose literary influences. Stefanie Dykes and Joe Norman picked Virginia Woolf, and Barb Frazier is honoring Annie Dillard. And Von Allen selected a favorite teacher, Donna Nicholas. "This is what excites me about group exhibitions," notes Bills, "because the participants interpret the theme in their own way, and it ends up being far better than the organizer could have imagined."

Still, Bills sparked some fascinating considerations of influence in these works. "I think that in some way, all work we do is in homage or reaction to the work that came before it," maintains Behrens. "Who knows how a small shift now can take us to a whole other destination in the end?"

HOMAGE
Rio Gallery
300 S. Rio Grande St. (455 West)
801-236-7555
Through April 28
Monday-Thursday, 7 a.m.–6 p.m.
Gallery Stroll reception
March 18 , 6–9 p.m.
ArtsAndMuseums.Utah.gov