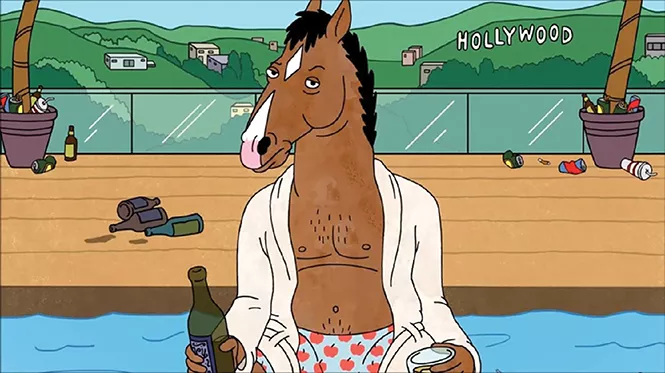 No animated series, not even the vaunted Rick & Morty, makes you feel the feels like BoJack Horseman (Season 4 premiere, Friday, Sept. 8, Netflix). Last season was especially dark, culminating with BoJack (Will Arnett) once again pulling defeat from minor comeback victory and attempting highway suicide (told ya—dark). Now, he's gone missing and Hollywoo—they still haven't fixed the D—is without its third, or maybe fourth, favorite '90s sitcom horse. Diane (Alison Brie) and Mr. Peanutbutter (Paul F. Tompkins) are dealing in their own ways (and not well), while Todd (Aaron Paul) has stumbled into a fashion modeling gig with Sharc Jacobs. Oh, how I've missed the animal puns ...
Rescued from the obscurity of Vimeo, Con Man (network debut, Saturday, Sept. 9, Syfy) is going to be a pleasant surprise for casual nerds. While his former co-star (Nathan Fillion) of the 10-years-canceled space-adventure series Spectrum has gone on to become a big deal, Wray Nerely (Alan Tudyk) can only get work at sci-fi conventions, which are slowly (but hilariously) crushing his soul. If the Firefly/Serenity meta-signals have already eluded you, there's no point in mentioning geektastic Con Man cameos like Gina Torres, Summer Glau and Jewel Staite, as well as Tricia Helfer, James Gunn, Felicia Day, Seth Green and even the now-controversial Joss Whedon, himself.
Seth MacFarlane can do whatever the hell he wants at Fox anymore—even cast himself as a live-action lead, which is always a dicey proposition. His hour-long sci-fi comedy The Orville (series debut, Sunday, Sept. 10, Fox) looks like one of the more promising new shows of the fall 2017 season, which isn't saying much. For one, it's not a dirty, "dystopian" future in MacFarlane's space, but more of a sleek, earnest Star Trek-via-Galaxy Quest vehicle. For two, the U.S.S. Orville's shipmates (including Adrianne Palicki and Scott Grimes) make up for their captain's not-quite-Shatner shortcomings. It's not as wacky as the promos suggest, but The Orville could break out this season ... or just as easily flame out.
After all the ordeals Claire and Jamie have endured thus far in Outlander (Season 3 premiere, Sunday, Sept. 10, Starz), what's the worst that could happen now? Being separated two centuries and a continent, that's what! As Jamie (Sam Heughan) faces the post-Battle of Culloden fallout back in 18th century Britain, Claire (Caitriona Balfe) is pregnant and stuck with Frank (Tobias Menzies) in 20th century Boston. As Celine Dion says, their hearts will go on, but just barely: Jamie's a ginger shell without his time-traveling love, and headstrong Claire is even worse off in mansplaining 1948. Outlander might not be Starz' flagship series anymore (hello, American Gods), but it's still as tear-jerkingly compelling as ever.
The Wire and Treme ended years ago, but they're still more revered than most current series—writer David Simon can do no wrong, not even when working with wildcard James Franco. In The Deuce (series debut, Sunday, Sept. 10, HBO), co-producer Franco plays twin brothers Vincent and Frankie, 1971 Brooklyn knockabouts who get in too deep with the mob and, eventually, prostitution and porn. He's effectively subdued in the roles, and by the time Maggie Gyllenhaal (playing a nicely nuanced hooker) shows up to remind everyone she can bring it when called upon, it's clear that The Deuce is neither rosy glamorization nor cautionary tale—it's just life on the street, and Simon writes the hell out of it.
The dual return of South Park (Season 21 premiere, Wednesday, Sept. 13, Comedy Central) and Broad City (Season 4 premiere) was rescheduled from August for no real reason, but who cares? They're back! South Park is wisely getting out of the Trump business after a hit-and-miss 2016 of trying to satirize our IRL Idiocracy—though "Member Berries" is a theme worth revisiting—but at least Abbi Jacobson and Ilana Glazer are treating the president's name as an F-bomb (T-bomb?) in their first post-Obama season of Broad City. The women still have plenty to say through their Brooklyn-stoner misadventures, but can South Park rediscover its boys-will-be-awful-boys magic? Again, who cares? They're back!
Listen to Frost Mondays at 8 a.m. on X96 Radio From Hell, and on the TV Tan podcast via Stitcher, iTunes, Google Play and billfrost.tv.