The punch caught Jared Gold on the side of the face, sending his coke-bottle glasses flying. The 20-year-old fell to the ground, almost unconscious, as rednecks kicked him, shouting, "Fag!" "Pussy!" and "Faggot!"
He ended up on his back in the rear of his parents' motor home. Gold could hear the young women he'd driven with to a Rexburg, Idaho, nightclub that Friday night in 1992 screaming at the thugs to leave him alone. Almost blind without his glasses, Gold rolled over onto his side and fumbled for his father's chainsaw. The fledgling fashion designer had encrusted it with rhinestones for a photo shoot to promote clothes he had designed for a rave.
Jumping out of the motor home, he chased after his fleeing assailants, while struggling to start the chainsaw. "Talk about justice being served," he says now of the dramatic turn in events.
The four youths piled into a pickup and pulled rifles from the gun rack. Gold fled back to his camper, flung himself into the back, dropped the chainsaw and climbed over the screaming women into the driver's seat.
He headed for the freeway, while the pickup came up from behind and swerved at him, trying to force him into oncoming traffic. When he got onto the freeway, the pickup rammed the camper's back, the cabinetry splintering, as passengers and chainsaw bounced left and right each time the truck slammed into the motor home. Finally, Gold's pursuers got bored and peeled away.
This wasn't the first time Gold, who grew up in southern Idaho, suffered at the hands of his neighbors. His final years in Idaho Falls Junior High were plagued with emotional, psychological and physical abuse from, he says, "the popular Mormon kids." They seemed dead set on driving him to suicide. The only difference between his classmates and the rednecks, Gold argues, was the driver went to jail for attempted manslaughter.
Visit Gold's Black Chandelier clothing stores in Salt Lake City and Provo, and you'll find silk-screen printed imagery that suggests a fascination with violence. There are diamond-encrusted knuckle-dusters, sugary cutthroat razors and even images of Victorian chainsaws emblazoned across expensive T-shirts, hoodies and ruffled shirts. But the designs are so whimsical, they seem more objects of barbed parody than distress.
Self-described witch, artist and childhood friend, Los Angeles-based Darcy Megan Stanger, who legally changed her name to Dame Darcy, describes Gold's aesthetic vision as "hillbilly rococo, gothic dark fantasy, high haute couture." That doesn't include influences such as the psychedelic '60s, Victorian restraint, circus imagery, King Ludwig of Bavaria, children's puppets and a fascination with all things sweet and decadent. Stir all this together, and you get a hint of Gold's world.
Gold's vision is fundamentally a product, he says, of mixing "unlike elements to scare them into something new." Last year, for his first Salt Lake City fashion show, Gold melded polygamy and witchcraft for his eerily beautiful, if at times abrasive, Quiet Army collection.
But breaking in from the fringes of fashion design hasn't been easy. He's battled chronic bad timing and meddling investors. Part of Gold's dynamic also includes an attraction to situations many others would find intolerable. "It seems like I do really well in scenarios with no resolution, open-ended, semiproblematic, [that] maybe have no end in sight," he says.
Some of these raw tensions show up in his features. His conservatively styled Mohawk and obelisk-shaped ear studs seem to vibrate with the intensity with which he feels and interacts with the world around him. At the same time, his delicate, high cheekbones and dazzling blue eyes suggest a fiery, childlike innocence. Think Antoine de Saint-Exupery's Little Prince gone punk.
Such contradictions spill over into his life. Take The Church of Jesus Christ of Latter-day Saints. Gold, who's gay and in a relationship, says he's Mormon and ardently follows LDS Church teachings on, for example, not drinking alcohol. But, only 18 months ago, he turned his back on church attendance for good, he says, in part because of its destructive impact on his personal life.
Then there's Gold's decision to locate himself in Utah. His avant-garde conceptual design work when he lived in east Los Angeles for 10 years helped pioneer the contemporary Los Angeles fashion scene, says Apparel News' L.A.-based journalist Alison Neider. While some might scratch their heads at such a creative force moving to a town where avant-garde is, for many, a dirty word, for Neider, his move to the Beehive State makes sense. In Salt Lake City, "he doesn't have to tailor collections to meet the needs of his retail audience. He's built his own retail audience."
Gold came to Utah to make, he says, "beautiful things." But the takeover in 2006 of Black Chandelier by Nexia Holdings, a Salt Lake City company whose penny shares are traded on the Over-the-Counter Bulletin Board, has left him little time for creativity. Indeed, Nexia's plan to turn Black Chandelier into a national chain has Gold at full stretch. He oversees merchandising, the four Wasatch Front stores and the Website. And now he's preparing the dark Nordic lines of his next runway collection, Caspian, which debuts in the Grand Hall at The Gateway on Dec. 7. "I have the burners turned up on me on high all the time," he says. "I have no room to go any further."
Investors, he says, like to keep him scared and frantic. That way they get the most out of him for the least money. Several financial backers have sucked the soul out of him, says Los Angeles friend and America's Next Top Model scriptwriter Clint Catalyst. But then, Gold says, "having money troubles making stuff, that's all fashion ever is."
Nexia, however, is a departure for Gold. Owner Richard Surber was also Gold's first serious lover. Such is their level of trust, it seems, that Gold has no employment contract with Nexia.
"This is a very dangerous game we're playing," Gold says about Black Chandelier's expansion plans—particularly given that, so far this year, the design house has racked up $750,000 in losses, due in part to investment in the stores. Such figures only up the pressure on Gold to produce merchandise for holiday sales that will turn the year around financially. "Got to make sure the goose gets fat," he says. For a man who says he has a strangulating urge to create, Gold seems to thrive on pressure.
Aspects of his current financial and working situation might sound "bleak and depressing and, believe me, sometimes I'm there," Gold says. However, he continues, "I get to do marvelous things and that's really what my life is all about."
Black and Blue
Los Angeles Magazine's style editor Laurie Pike traces Gold's aesthetic to his LDS upbringing in Idaho. "A lot of the greatest fashion talent comes from small towns where you create your own world, instead of reading Vogue," she says.
Gold grew up in Idaho Falls, the second son of five children of a devout LDS couple, Susie and Gary Gold. "You got new clothes once a year when school started," Gold recalls. "Three shirts and two pants, and those were the clothes you wore all year." Coming from a modest background, "makes you a little more ballsy," he continues. "You're not afraid of [poverty] happening to you, because you've already been there."
Not that he had time to think of himself as poor. He and his two brothers would get their father to zip them up in garment bags and roll them down the Idaho sand dunes for hours on end. His mother read the entire L. Frank Baum's Oz series to them. Gold's logo of a monocled bunny for Black Chandelier's high-end Jared Gold line is a riff on characters from the series. Baum's books "were such an education on my creativity, seeing how far it could go," he says.
When Gold was 10, he met 11-year-old Dame Darcy. They spent summers hunting ghosts in abandoned houses that other children would have been terrified going into. Along with ghost hunting, Gold nurtured from an early age his passion for experimenting with fashion grounded in his thrift-based values and upbringing. As a teen, he took apart a broken antique mantle clock and stuck the screws all over his shoes. Then he drew a virus on a men's dress shirt from a thrift store. "I thought what I was doing was interesting, that people would understand that."
All that fellow junior high students understood, however, was that Gold was different. Their bullying peaked during his senior year. Posters advertising fun events, parties, a trip to Lagoon, would always have a sneering caricature of Gold in a corner saying he was doing something different. When Gary Gold went to the school to complain to the principal about his son's treatment, he wept at the sight of the posters.
"One person acted like his friend, then hit him in the face," his mother remembers. She feels part of her son does not open up because of those experiences. Gold agrees it changed him. "But I wouldn't be what I am right now if I hadn't gone through what I did."
He graduated from school in 1990 two weeks early and went to Brigham Young University-Hawaii to study piano and languages. But when he decided he didn't want to compete in music, he returned to Idaho. There he organized raves with themes like "Alice in Wonderland." He turned the inside of a large building into a two-story house of cards with snails that people could ride around in. In his garage he designed court-jester hats and T-shirts with screen-printing ink you could taste. Then, at 19, he jetted to Lollapalooza concerts all over United States selling rave clothing.
When he was 21, he moved to Salt Lake City and made "spacey-looking lingerie," he says, for Blue Boutique. One night in 1993 at a club, Gold's stuck-on horns, yellow shirt and platform shoes caught the eye of 21-year-old Richard Surber.
Brain Melt
Surber came to Utah from Florida at age 17 to study finance and law and work with his uncle, Allen Z. Wolfson. In the late 1970s and 1980s, Wolfson was convicted of, among other things, bank fraud and making illegal political contributions, the latter resulting in him doing two years in jail. Convicted in 2003 of securities fraud, Wolfson has spent the last four years in a Brooklyn jail awaiting sentencing. But when Surber and Gold met, uncle and nephew were enjoying happier times working together to turn around troubled businesses.
Surber and Gold dated for two years. If a mutual sense of ambition brought them together, Gold says, differing emotional needs eventually split them up, but they still remained friends. In 1996, Gold left Salt Lake City to go to Otis College of Art & Design in Los Angeles. With 70 hours of homework a week his first year, there was no time for work. "I was practically starving," Gold says. "I stayed up all night making party dresses for rich girls so I could eat."
In his second year at Otis, Gold worked at Los Angeles' famous high-end clothing store, Fred Segal. Its renowned buyer, Mara White, urged him to strike out on his own.
Pike was the only journalist at Gold's first runway collection in 1998, entitled "Haunted Wallpaper." It was "the very essence of why I thought L.A. fashion was so exciting at that time," she says. The models' dresses featured Victorian silhouettes, and they sported live Madagascar hissing cockroaches. Gold's approach was from "this twisted carnival point of view that was so fresh," Pike recalls. "It was definitely one of the best fashion shows I've ever been to."
When Gold was offered a crack at a major runway show by the Gen Art Foundation in spring 2001, he decided he would give the fashion industry both barrels with his Black Dahlia collection.
In his design statement for that collection, Gold wrote that, without focusing on the infamous 1947 murder of Hollywood starlet Elizabeth Short, "we move directly to the point in which her separated spirit and body were alone in the Hollywood Hills with the darkness, crickets and hushed breeze." Gold had models walking down the runway with their teeth blacked out, wearing masks that mimicked marionettes hanging from their outstretched hands.
Some journalists were less than impressed. "Usually, when people get an opportunity like this, they want to make it sellable," he recalls one critic saying about his show. "But Jared came out and melted our brains." The show, Gold says, did exactly what he wanted. "I called [the fashion industry] out: This is what I want, this is what I like, and this is what we're going to do, and that's final."
Death From Above
In New York City's Gramercy Park Hotel on Sept. 9, 2001, Gold and his mother sat at twin Yamaha grand pianos and played a duet by Aram Khachaturian to the crowd assembled in the Wedgewood Room to see his Golden Syndrome collection.
The collection was about "the quiet dusty moment before the rain begins," he wrote at the time. Earlier that year, he'd set up Black Chandelier as a T-shirt line. With his darker ideas shifted to the T-shirts, Gold pursued a sensual, sexy mood with Golden Syndrome. The dresses were light, their lines clean and he used colors new to his work like turquoise and pomegranate.
The New York Times' Amy Spindler wrote it was "the most charming show ever witnessed." Japanese buyers were flying in to buy "the most beautiful collection I've ever done," Gold says. "Everything was going perfectly for me."
When he and his boyfriend woke up in a New York hotel room on Sept. 11, the world had changed. His parents, frantic at the TV coverage of the World Trade Center Twin Towers' collapse, burst into his room. They all went down to Hudson Street to see for themselves what had happened. An army of white zombies emerged from the inferno's dust storms, their eyes red from the dust and crying. Body parts littered the street, the smell of burning flesh and hair hung heavy in the air.
The Japanese buyers never made it to New York. The collection was stuck in Gold's hotel. "It vaporized into the strata," he says.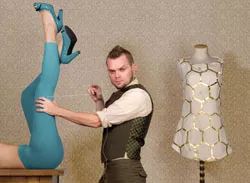 He went back to Los Angeles, but his luck didn't improve. "I went from group after group of people trying to use me to make their company look like it had any validity in the fashion world."
Those investors, he says, "were kind of the end of me in L.A."
In 2003, Gold retreated to Salt Lake City. "I wanted to come here, I needed the support [of nearby family and friends]." All he had to his name was a beaten-up car, which exploded shortly after he reached Utah, and the Black Chandelier trademark.
Surber was happy to see his ex-lover. He'd always wanted to start a business with a boyfriend. Now he had the chance, he says, to help a friend. Surber owned a public-company shell Gold could use to set up funding for selling his clothes wholesale to stores like Barneys in New York City. The financier helped fund clothing production. Despite having been burned by past investors, Gold saw his business partner in a different light. "Richard has no interest in the creative part of it, so it's perfect," Gold says, adding, "as perfect as it could be, I guess."
Gentlemen's Agreement
Gold became president of the shell, which was renamed Dark Dynamite, and reverse-merged Black Chandelier into it in 2004. Surber sold the shell to a Chinese amusement park company in November 2005. Shortly after, Gold's wholesale business collapsed after just one season. "We were really struggling being in Utah," Gold says. He couldn't get the fabric he wanted or communicate with his contacts.
In 2006, Surber, as first creditor, foreclosed on Black Chandelier's assets, including the logo, and took them into Nexia, along with Gold. "In my mind, I'm thinking, 'Once again I lose everything,'" Gold says. But it's OK, he adds. He trusts Surber to ensure that he will receive his financial due in the end. The designer recently received $250,000 in Nexia Class C stock. Surber owns all the Class A voting stock.
Before foreclosure, partly on a whim, partly to test the market, Gold and Surber leased out, for the 2004 holiday season, space in Trolley Square. While Gold says all they need is a good Web-based store, Surber has pushed to open three more stores in Utah. Surber admits that the three stores openings were "maybe a little too fast." But Nexia, Gold adds, had to open the stores to show investors they were growing.
Surber says his "interest lies in building a forest." That forest will consist of both Black Chandelier stores and new branches of a hair salon run by Matthew Landis in downtown Salt Lake City, of which Nexia is the majority owner. "Between the egos of Matthew Landis and Jared Gold, if we can get them in line, it will be a forest," Surber predicts. "If we can't get that in line and in control and structured properly, we will have a train wreck."
Egos aside, raising development capital, which is Surber's job, is a crucial issue. But "it's proving really difficult," Surber says, to finance Black Chandelier and Landis' expansion. Two stores in Seattle and Los Angeles closed down because of management and cash-flow issues respectively. Surber's been trying to raise money by selling Nexia stock to a hedge fund but the Security Exchange Commission has spent more than two years analyzing Nexia's paperwork on the deal. The slap on the wrist Surber received from the SEC in 2003 over late filings for 14 shell companies he owned or had been associated with couldn't have helped advance his cause, either.
Despite Black Chandelier's current financial woes, an independent auditor valued Black Chandelier at $1.7 million in 2006. But an evaluation based on potential future earnings doesn't help Gold much. He goes months without getting paid so other bills can be met. When Gold enters Surber's office to complain of his unpaid rent or hunger, the financier cuts him a check. Gold says he's willing to make sacrifices because of his loyalty to his staff, Surber and his own aesthetic vision.
Gold's family and friends worry about his vulnerability. "All my friends and family think I'm being victimized here," he says. "I come to work every day, don't I?" And, were he to quit, in all probability, Black Chandelier could not survive, which seems to reinforce the unspoken power-balance between the two friends.
Surber is adamant "there's no way in hell [Gold]'s being taken advantage of." The financier has gone $1 million in hock betting on expanding Black Chandelier into a national chain. "What does Jared lose if the whole thing fails?" he says. "Nothing."
Fashion writer Pike thinks the relationship adds up. "It's very hard to stay true to yourself and have a financial partner," she says. "The challenge is to get married to someone and not have to compromise."
Words of Wisdom
When Pike attended Gold's spring collection show earlier this year in Los Angeles, she says people screamed from beginning to end. When a friend who'd never attended a fashion show before asked if this was normal, "I lied and said, 'Yes.'" There's an innocence to his shows, Pike adds, that stands out in a city where everybody's so jaded.
Perhaps because of that very innocence, fashion leaves Gold wanting. "I don't want to become callous, hardened, making this entire living based on making superficial things, clothing and how people look," he says. So, he searches for ways to balance his career with deeper meaning. In Los Angeles, after years of being inactive, he'd become nostalgic for LDS ward life. Once back in Utah, he returned to his church.
He adores many aspects of Mormonism. During weekday lunch hours inside the LDS Tabernacle on Temple Square, Gold sometimes hunches over a drawing pad, sketching out his latest designs while the daily organ recital thunders out hymns. Gold marries everything together, he says, while "my bowels shake with the music."
Then there is his passion for Deseret Industries, the LDS Church's thrift stores. "I've bought quite a few pieces from the DI which we've replicated in my vision," he says.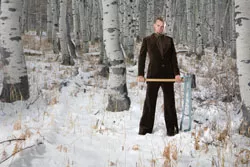 Follow him around the dress racks at his favorite DI store just off State Street, and he forensically analyzes dresses that catch his eye.
Anything mind-blowingly hideous, he says, is undoubtedly a bridesmaid's dress. One neckline-challenged dress he decries as "for a scared, neurotic woman."
A seemingly shapeless black-wool gabardine piece, however, has him drooling. He posits its former owner would have had a "fierce pair of shoes," and jewelry "that would just own it." This dress, he says, "is this woman's getting-down-to-business dress. [She's] going to find a man right now, and this dress would do it for her."
But if he's at home in the DI, other aspects of LDS culture make him less comfortable, notably the church's position on homosexuality. While the church accepts gay members, they are expected to be celibate. As a gay Mormon, he says, "I felt a lot of guilt, self-hatred and loathing, and there didn't seem anybody interested in just banning those feelings." The church's attitude, he says, was "you need to feel that because you are broken, and you need to fix it."
When he moved to Salt Lake City, he dated a gay Mormon man. At the same time as they were having a sexual relationship, Gold's erstwhile partner also was, he says, judging him for being gay. "That was really the end of me and the church."
If his sexuality, he says, "was pretty much shame-based up until two years ago," it only changed because he started to realize "the shame, the judgment placed on you was unfounded, it was nobody's business but your own."
If church failed to provide the safe harbor he sought, neither did visiting the Salt Lake City location of Ream's Foods.
Whether to punish himself for fashion's shallowness or to reconnect with the poverty of his childhood or to witness what he describes as "the humbling struggle of people living their lives," for a time, Gold shopped at the bargain supermarket three times a week. While pushing his cart around, he followed people who interested him, looking for wedding rings and examining the contents of their baskets to spin stories about their lives. "In my mind, I'm twisting it into something that it's not supposed to be," he admits. With his quick eye for detail, Gold notes the way people buy ground beef, lettuce, white bread, milk "and a horrifying treat-like snack, and you can tell it's their week of shopping."
One day, he realized his fascination with Reams was becoming unhealthy. "I'd become this person that was now plodding along with the tiny little portions of food in the basket," he says. He switched to Smith's where, he says, he found people his own age with careers.
Fashion War
To bring his sense of spiritual wonder to the world, Gold says, "You have to fight to carve out what you need and what you want to do, because it doesn't exist yet."
If Black Chandelier doesn't succeed, he will pick himself up and carry on fighting. "I have no fear of failure, because success and failure are a hair's breadth apart."
The same fearlessness Gold displayed chasing down rednecks with his rhinestone chainsaw might also be on display come Dec. 7 when he premieres his Caspian collection in Salt Lake City. "I'm going down a vein I've never gone before," he says. Whether it's exhaustion or the expectations of fans and critics alike, he says the collection "is beyond dark, a nightmarishly opulent black." He listened to Norwegian death-metal bands while drawing the clothes, which feature beautiful screen prints of a 19th-century Copenhagen at dusk. But beyond the beauty, he says, there's a sense of vengeance in this collection. Ask against whom and he says, "I don't know. Maybe everybody."
Whether a distillation of all his struggles over the last year or a reflection of where he finds himself now in Utah, the Caspian collection finally is what Gold is all about: making clothes that take the eye and the senses to places that unveil strange, sensual worlds only Gold can imagine.
Each season, Gold finds a quote to put on his clothing tags. He says the quotes reflect his struggles. One, "Fashion is fleeting, but Black Chandelier is forever," suggests a yearning for the success that has as yet eluded him. Another, "Beauty is the start of a terror we can hardly bear," from early-20th-century writer Rainer Maria Rilke, hints at both the anarchist and the aesthete in Gold's personality. But it is this year's slogan that best evokes Gold's ambiguity as to who he is and what he does: "Anything is possible—but it has its price."