Page 4 of 4
Words of Wisdom
When Pike attended Gold's spring collection show earlier this year in Los Angeles, she says people screamed from beginning to end. When a friend who'd never attended a fashion show before asked if this was normal, "I lied and said, 'Yes.'" There's an innocence to his shows, Pike adds, that stands out in a city where everybody's so jaded.
Perhaps because of that very innocence, fashion leaves Gold wanting. "I don't want to become callous, hardened, making this entire living based on making superficial things, clothing and how people look," he says. So, he searches for ways to balance his career with deeper meaning. In Los Angeles, after years of being inactive, he'd become nostalgic for LDS ward life. Once back in Utah, he returned to his church.
He adores many aspects of Mormonism. During weekday lunch hours inside the LDS Tabernacle on Temple Square, Gold sometimes hunches over a drawing pad, sketching out his latest designs while the daily organ recital thunders out hymns. Gold marries everything together, he says, while "my bowels shake with the music."
Then there is his passion for Deseret Industries, the LDS Church's thrift stores. "I've bought quite a few pieces from the DI which we've replicated in my vision," he says.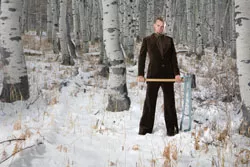 Follow him around the dress racks at his favorite DI store just off State Street, and he forensically analyzes dresses that catch his eye.
Anything mind-blowingly hideous, he says, is undoubtedly a bridesmaid's dress. One neckline-challenged dress he decries as "for a scared, neurotic woman."
A seemingly shapeless black-wool gabardine piece, however, has him drooling. He posits its former owner would have had a "fierce pair of shoes," and jewelry "that would just own it." This dress, he says, "is this woman's getting-down-to-business dress. [She's] going to find a man right now, and this dress would do it for her."
But if he's at home in the DI, other aspects of LDS culture make him less comfortable, notably the church's position on homosexuality. While the church accepts gay members, they are expected to be celibate. As a gay Mormon, he says, "I felt a lot of guilt, self-hatred and loathing, and there didn't seem anybody interested in just banning those feelings." The church's attitude, he says, was "you need to feel that because you are broken, and you need to fix it."
When he moved to Salt Lake City, he dated a gay Mormon man. At the same time as they were having a sexual relationship, Gold's erstwhile partner also was, he says, judging him for being gay. "That was really the end of me and the church."
If his sexuality, he says, "was pretty much shame-based up until two years ago," it only changed because he started to realize "the shame, the judgment placed on you was unfounded, it was nobody's business but your own."
If church failed to provide the safe harbor he sought, neither did visiting the Salt Lake City location of Ream's Foods.
Whether to punish himself for fashion's shallowness or to reconnect with the poverty of his childhood or to witness what he describes as "the humbling struggle of people living their lives," for a time, Gold shopped at the bargain supermarket three times a week. While pushing his cart around, he followed people who interested him, looking for wedding rings and examining the contents of their baskets to spin stories about their lives. "In my mind, I'm twisting it into something that it's not supposed to be," he admits. With his quick eye for detail, Gold notes the way people buy ground beef, lettuce, white bread, milk "and a horrifying treat-like snack, and you can tell it's their week of shopping."
One day, he realized his fascination with Reams was becoming unhealthy. "I'd become this person that was now plodding along with the tiny little portions of food in the basket," he says. He switched to Smith's where, he says, he found people his own age with careers.
Fashion War
To bring his sense of spiritual wonder to the world, Gold says, "You have to fight to carve out what you need and what you want to do, because it doesn't exist yet."
If Black Chandelier doesn't succeed, he will pick himself up and carry on fighting. "I have no fear of failure, because success and failure are a hair's breadth apart."
The same fearlessness Gold displayed chasing down rednecks with his rhinestone chainsaw might also be on display come Dec. 7 when he premieres his Caspian collection in Salt Lake City. "I'm going down a vein I've never gone before," he says. Whether it's exhaustion or the expectations of fans and critics alike, he says the collection "is beyond dark, a nightmarishly opulent black." He listened to Norwegian death-metal bands while drawing the clothes, which feature beautiful screen prints of a 19th-century Copenhagen at dusk. But beyond the beauty, he says, there's a sense of vengeance in this collection. Ask against whom and he says, "I don't know. Maybe everybody."
Whether a distillation of all his struggles over the last year or a reflection of where he finds himself now in Utah, the Caspian collection finally is what Gold is all about: making clothes that take the eye and the senses to places that unveil strange, sensual worlds only Gold can imagine.
Each season, Gold finds a quote to put on his clothing tags. He says the quotes reflect his struggles. One, "Fashion is fleeting, but Black Chandelier is forever," suggests a yearning for the success that has as yet eluded him. Another, "Beauty is the start of a terror we can hardly bear," from early-20th-century writer Rainer Maria Rilke, hints at both the anarchist and the aesthete in Gold's personality. But it is this year's slogan that best evokes Gold's ambiguity as to who he is and what he does: "Anything is possible—but it has its price."