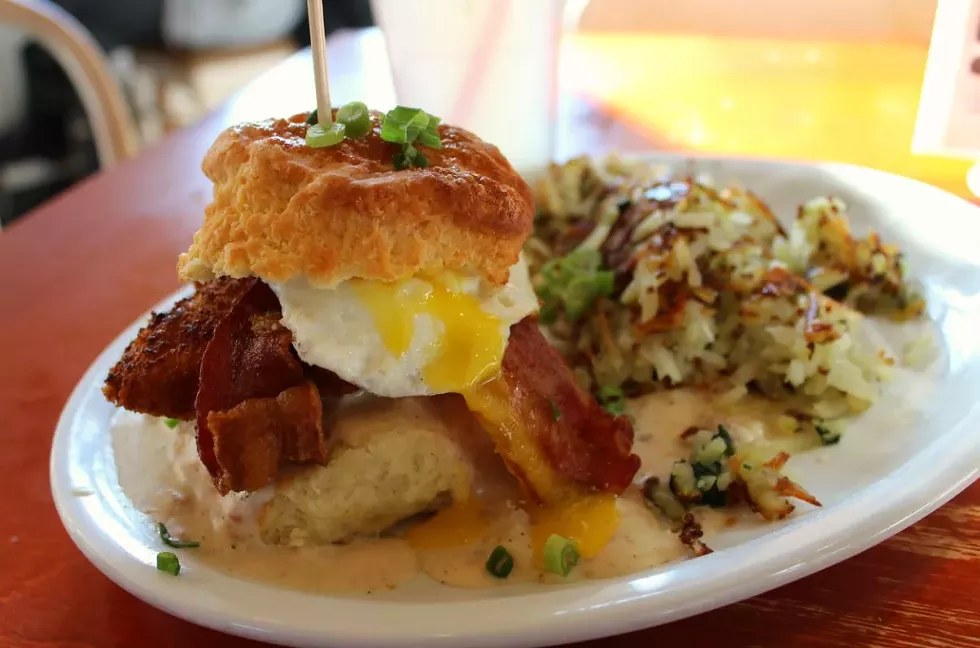 Buttermilk biscuits are not unlike a local band that opens for a touring headliner at Kilby Court. They show up all fluffy and bright to get you warmed up, but typically end up getting scarfed down without a second thought. Perhaps this is why Sweet Lake Biscuits & Limeade (54 W. 1700 South, 801-953-1978) is so endearing. The team led by Hasen Cone and Teri Rosquist has placed their housemade biscuits front and center, showcasing several ways that a side dish can be worthy of the spotlight.
After their refreshing limeades gained a cult following at the Downtown Farmers Market, Cone and Rosquist saw a culinary niche that had yet to be fully explored. By pairing their tart and sweet beverages with a spectacular biscuit recipe, the pair developed a menu that blended Southern-inspired comfort food with a farm-to-table mentality.
As biscuits lend themselves nicely to sandwiches, that's the bulk of Sweet Lake's down-home repertoire. Leave your McMuffin expectations at the door. From imposing food piles such as the portobello-and-asparagus-topped T-Rose ($10) to the gravy-laden, fried chicken delivery system known as Hoss ($11), Sweet Lake's biscuits are the darling of each dish. The recipe is a closely guarded secret, but it suffices to say that they are one of a kind. The crisp outer layer of each golden biscuit is strong enough to act as the bedrock for some seriously massive sandwiches, and the buttery inner fluff offers a delightful texture contrast to proteins like fried chicken or pulled pork.
Every dish on the menu benefits from a bit of liquid refreshment, which is where Sweet Lake's trademark limeades come in. They offer a few staples like mint ($4) and raspberry ($5) , but while you're here you should live a little and check out their more creative versions. I'm a bit torn between the habanero ($4) and the honeydew cucumber ($5) limeades myself. The first packs a tart and zippy one-two punch, where the honeydew cucumber is calm and refreshing.
Sweet Lake is at its best when catering to the breakfast crowd, but there are a few respectable lunch-centric menu items. I'm on a mission to track down every Cubano I can, and Sweet Lake's iteration of the classic Floridian sandwich might have broken into my Top Three. It's a $12 moshpit of pulled pork, sliced ham and YeeHaw spicy pickles served on some thick, toasted sourdough from Harmons bakery. Sweet Lake cranks the traditional recipe up to 11 by adding some habanero-marinated chuck, making this a lunchtime sandwich that will fuel you through dinner.
This diversified sandwich game hasn't taken the focus away from Sweet Lake's—ahem—bread and butter, which is exemplified by its dessert menu. The biscuit bread pudding ($5) and the strawberry tall cake ($5) riff on classic dessert recipes by throwing their signature biscuits into the mix. Sticking with the restaurant's axiom that more is more, desserts don't skimp on portion size. The monolithic bread pudding comes served with a liberal dousing of caramel syrup, which makes for a comforting and decadent way to end a meal, and the fresh cream and strawberries layered within the tall cake definitely stack up to its title.
Maybe the establishment's origin story as a mere supporting act at the farmers market imbues the restaurant with the plucky, DIY spirit that makes it such an enjoyable place to eat. Or, perhaps, it's the fact that they like to see just how much breakfast food they can stuff into one biscuit. Either way, Sweet Lake is ready for its close-up.
<!————StartFragment————>
Open:

Monday-Friday, 7:30 a.m.-3 p.m.;
Saturday-Sunday, 7:30 a.m.-4 p.m.
Best bet:

The breakfast behemoth that is the Hoss
Can't miss:

Spicy-sweet habanero limeade