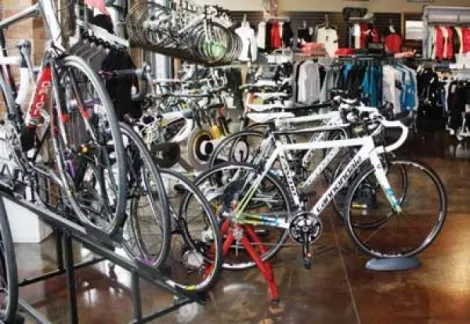 Contender Bicycles in Salt Lake City
It's one of the classic holiday presents, whether for a child or an adult: a bright, shiny, new bike. Despite the weather, neighborhood sidewalks and streets flash with the glitter of wheel spokes, topped by the proud grin of someone enjoying their new ride.

But the joy may wear off in a few days if the purchased bike was not a good choice, or was assembled poorly. Not selecting the right bike can mean the expensive gift ends up just gathering dust in a garage, or is an actual safety risk. These tips will help you get the right bike and have it assembled safely, without any last-minute stress.

Start by figuring out the type of riding that will be done on the bike. Will it be used for commuting and regular exercise on paved surfaces? A sleek road bike will handle those needs well. Will the bike get a lot of hard use jumping curbs, riding over potholes and dirt and being bounced around? If so, a mountain bike is a better choice. If you'll often be transporting the bike to ride it, get a sturdier model, and make sure it's easy to lift and load. A BMX-type bike is usually the least complicated, and stands up to kid-type abuse best.

Reed Wycoff of Contender Bicycles in Salt Lake City says that when buying a bike for a child, be careful not to buy one that's too small: "Make sure they have room to grow. Get it in a color they like. For kids, you're better sticking with a bike that doesn't have any gears, because they're more durable."

Never purchase a cheap kid's bike from a big-box store. A good child's bike may cost $200 to $300, but it will last longer, and you won't have to spend more money on expensive repairs. Wycoff also advises staying away from shocks on less expensive bikes; inexpensive shocks rarely last long.

Adults rarely outgrow their bikes, or put the same hard wear on them that children do, so it makes sense to buy a good—meaning expensive—model. A decent road bike usually starts at $600, though a really good model can cost thousands of dollars. Good mountain bikes start at about $500, and also can go up into the price stratosphere. The main reason for higher prices is that the bike weighs less and comes with better pedals, gears and other components. A more expensive bike will often be easier to ride and will handle better.

While a new bike may be an impressive present, it will require an assortment of additional stuff. A helmet is, of course, mandatory. Even if the rider already has a helmet, it needs to be replaced if it's been in a hard crash—impact affects its protective ability. Lights are also important. Newer types of inexpensive LED lights are available at bike shops and can easily be installed on handlebars, spokes, seat backs or clothing. The brighter the night rider, the safer he or she is. While kids' bikes get a lot of abuse, adults should take better care of their bikes. The chain should be cleaned and lubricated often, and the bike should be stored where it won't get wet.

Now for the hard part: assembly. You may wish to assemble the bike yourself to save money. Wycoff's advice: Don't—unless you really know what you're doing. It can actually be dangerous to assemble your own bike. If the screws and bolts loosen later, you can have a situation where, for example, the handlebars turn, but the front wheel doesn't. Pay the extra money and avoid the stress of trying to put a bike together at the last minute.

If you want to give the perfect gift to someone who already has a bike, think about a certificate for a tune-up at a shop (most bikes need a spring tune-up once riding weather returns), a tire-patch kit, chain cleaner or even a package of new inner tubes.

And finally, a personal recommendation: If it's not a truly white Christmas, a great place for a winter's-day ride is the Jordan River Parkway, a 40-mile long, mostly flat, scenic paved trail along the Jordan River. The smiles you'll get will make it a truly happy holiday.