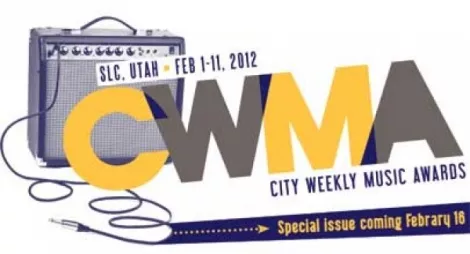 The City Weekly Music Awards is no simple "battle of the bands." The annual event recognizes the best original Utah bands and gives readers a series of showcases to see and hear those artists do their thing over two weeks. There will be a "winner" determined by the public via online and in-person voting, though. That band will take home a cash purse, wear the CWMA crown for the next year and earn bragging rights forever. But the other 24 aren't just musical chumps—these are the finest bands in Zion, by god.
The CWMA showcases kick off Feb. 3 with two shows Friday and two shows Saturday. For voting and more info on the awards, visit CityWeekly.net/CWMA.

Who is on the committee that picked the 25 bands?
It's not all beard scratching and beer drinking (although that's important) when local music nerds convene to discuss scenesters and nominate favorite bands. The committee included myself, Dan Nailen (City Weekly managing editor), Gavin Sheehan (City Weekly contributor; Gavin's Underground blog), Jeanette Moses (SLUG managing editor), Jordan Wallis (City Weekly contributor), Jamie Gadette (KRCL radio host), Corey Fox (booker/owner of Velour), Will Sartain and Lance Saunders (bookers/owners of The Urban Lounge and Kilby Court) and Ricky Vigil (SLUG editorial assistant). 

How did you settle on the final 25?
The committee agreed on many bands; some folks suggested outliers, some suggested oddballs. We bantered and pontificated, and when the smoke cleared, the top vote-getters were drafted to a master list. It's always inevitable that, once it's finalized, some bands can't play, for any number of reasons. So, we then invited the next band from the list. And when we had last-second dropouts, I selected bands whose genre made sense in that showcase.
What, no f—king metal?
Yeah, no offense, folks, but the 2011 metal showcase saw our worst turnout, and the band with the most in-person votes got a whopping eight of them. Needless to say, no one was really stoked, so we're mixing it up this year. 

Who's playing when and where?
A complete list of bands, descriptions and details on when and where they are playing is available at CityWeekly.net/CWMA.
What happens now?
It's time to put on your dancing pants and go dig some of the city's best tunes and venues. The showcases are $5, and you can bounce among venues each night if you want. To be clear, the bands playing showcases together are not competing night to night; the overall winner will be the band that captures the most combined online and in-person votes. To stay current with news and reviews, check out CityWeekly.net/CWMA.
How does the voting work?
Online voting has been happening for weeks—where have you been? It's not too late: Voting ends Thursday, Feb. 2. After that, you can vote for your favorite band in person at each showcase you attend. The in-person votes are weighted much more significantly than the online votes, so don't get drunk and give your number out on that little paper square.
There's no final showcase?
For brevity's sake, we're doing away with it this year. We hope this makes a concise festival-like experience for everyone involved, and that the turnouts will be even bigger at each showcase—after all, it is the band's One Big Shot. The winner will be revealed on the cover of City Weekly's Feb. 16 issue.