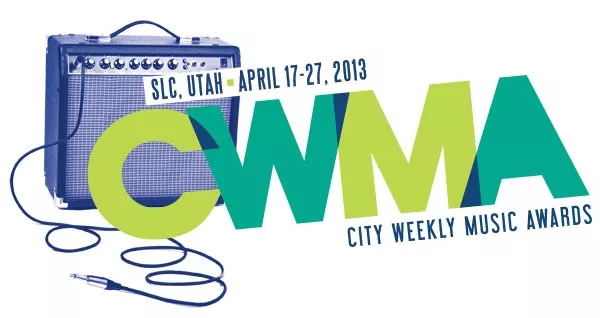 New music discovery is one of the supreme joys of appreciating—really digging into—the art. Maybe you've heard of Neon Trees, King Niko, Max Pain & the Groovies, Tolchock Trio and others for the first time at a former City Weekly Music Awards. We hope so. These are a few of our past winners, and every year, we bring 25 of the city's best bands, plus 10 DJs, together to perform during a series of showcases over two weeks to give our readers a chance to discover new music and hear amazing artists in a live setting.

This year, we're excited to introduce a robust variety of genres and more new bands to the awards showcases than previous years. And then you, the music lover, can vote for your favorite via online and in-person voting so that the winning band and DJ can boast bragging rights for a year and have a nice prize to boot. It's win-win.

The CWMAs go from April 17 to April 27, with DJ spinoffs on Wednesdays and two band showcases on each Friday and Saturday ($5 a pop). The Band of the Year and DJ of the Year will be revealed on the cover of City Weekly's May 2 issue. For voting and more info on the awards, see our FAQ below.

I've been waiting and waiting … where the hell have you been?

After the 2012 CWMA showcases, we said to ourselves, "Man, that was fun—and cold. Wouldn't this annual event be better during warmer months?" Sorry for the wait, but it'll be worth it.

How did you settle on the final 25 bands?

City Weekly asked local music tastemakers, scenesters, writers and promoters to nominate the bands they thought were the best in Salt Lake City during the past year. We looked at artists who recorded and released an album within the past year, play mostly original songs, and gig frequently or toured outside of Utah. We also wanted diverse showcases to benefit from the variety of bands, while also being representational of all the musical goods that Salt Lake City offers.

How did you settle on the DJs?

We looked for folks who are precise with their cuts, deliver engaging sets, are insatiable in their search for beats and hold down residencies at local clubs. We nominated 36 total and placed them online for you, the fans, to whittle down to 10.

Who is on the committee that picked the 25 bands and DJs?

The committee included City Weekly's music editor (yours truly), Colin Wolf (City Weekly staff writer/blogger), Gavin Sheehan (City Weekly contributor; Gavin's Underground blogger), Benjamin Bombard (RadioWest co-producer), Dan Nailen (City Weekly contributor and former music editor), Ebay Jamil Hamilton (KRCL radio host), Circus Brown (KRCL radio host), Justin Smith (ProjectSLC.com), Will Sartain and Lance Saunders (bookers/owners of The Urban Lounge and Kilby Court), Ricky Vigil (SLUG editorial assistant) and Jordan Wallis (City Weekly contributor).

How does the voting work?

Online voting began on March 13 for the DJs and continues through April 5 and will begin for the bands on March 20 and run through April 18. After that, you can vote for your favorite band in person at each showcase you attend. The in-person votes are given more weight than online votes. For the top 10 DJs, we will only count in-person votes. To be clear, the bands playing showcases together are not competing with each other to win that showcase; the overall winner will be the band that captures the most combined online and in-person votes overall.

What happens now?

Now, it's time to see some live music—the city's best tunes at the best venues. The showcases are $5, and you can bounce among venues each night if you want.

To stay current with news and reviews, keep checking back at CityWeekly.net/CWMA.