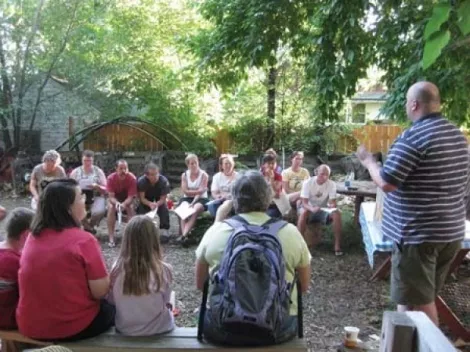 The old maxim goes that if you give a man a fish, he eats for a day, but if you teach a man to fish, he eats for a lifetime. And you know that the sentiment applies to the Earth's bounty as well.
Utah's climate provides unique challenges for those who want to learn how to garden, but the state is also rich with resources for those who want to turn their back yards and window boxes into their own personal farmers' market. Wasatch Community Gardens (801-359-2658, WasatchGardens.org) offers a bounty of information, most notably its practically-year-round classes and workshops on organic gardening and sustainable living. Workshops include not just the valuable information for beginners on how to garden organically, but also lessons in beekeeping, urban chicken care and even edible landscaping; preparation for next year's gardening is part of the fall curriculum. Space is limited, so watch the Website for specific classes and RSVP for the would-be gardener on your holiday shopping list. At around a $5 suggested donation per class, it's the value of a lifetime.
There are also options for those who want their instruction a bit more up-close and personalized. D&L Urban Farms (801-953-4591, DLUrbanFarms.com) provides in-home services for those planning to start a garden. Standard rate is $35 an hour, according to co-owner Mike Lewis, and "packages" could range from a soil testing and consultation on how to set up your garden (around $100) to a full package that would include setting up the garden plus coming out to tend to it twice a week throughout the growing season (starting at around $500). Even renters and those without back yards can benefit from D&L's expertise on setting up balcony or hanging gardens (around $100 for a container plus soil). Another specialized service involves kid-friendly gardens that help youngsters learn to connect with their food source. And D&L has committed itself to using local businesses for its tools, plants and compost.
Of course, some gift-givers—and gift-receivers—prefer something that comes in wrapping paper and a bow. But you can still help someone get started with the greening of his or her thumbs, and keep it local. "Square foot gardening" was the brainchild of Mel Bartholomew more than 25 years ago, and became a celebrated alternative to traditional gardening—but were you aware that he's based in Eden, Utah? The latest edition of his how-to guide—All New Square Foot Gardening (Cool Springs Press, 2006, $19.99)—features a number of improvements over the old above-ground, low-weeding system, including a new soil-mix recipe that requires no fertilizer.
No matter who helps get you started, a backyard garden will be paying off for the recipient—and for the planet—long after the last Christmas snows have melted.