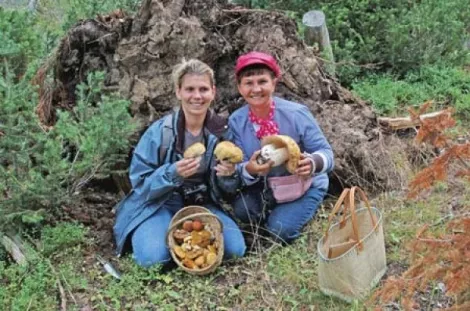 My curiosity about mushrooms blossomed when a giant, pristine specimen popped up under the canopy of pumpkin leaves in my garden. Tempted by the gift, I checked the Internet to sleuth whether this totally free fungi would make my stroganoff delectable or dissolve my duodenum. Mostly calmed by what I read, I tasted a corner of the cap while taking a cell phone picture so people would know what had killed me if I died.
I felt fine, until I read a different Website that warned me against eating anything yellowing. Yikes, too late! I survived, but the 'shroom went into the garbage and some pre-emptive Pepto-Bismol went into my belly.
Luckily, the Wasatch Front is home to the Mushroom Society of Utah, where wannabe foragers can learn from locals who know the terrain as well as which organisms are likely to grow here. Even a picture book can lead you astray because some tummy-turners look a lot like yummy ones.
Society member Don Johnston took City Weekly on a late-season mushroom foray at the end of October for a primer. Johnston's group prefers mountainous terrain, but in the late fall, mountain mushrooms are already snow-covered and dead. So we headed to a decommissioned landfill—really!—west of the Salt Lake City International Airport.
Turns out fungi love old landfills that are now cow pastures. Barely 10 minutes into our walk, we'd already dug up a couple of pounds of Agaricus bitorquis, which are similar to the plain white mushrooms in grocery stores. Only minutes later, we found several patches that would gives us enough mushrooms for 10 pots of stroganoff.
But it's a matter of some controversy among the society, Johnston says, whether the landfill mushrooms should be eaten. Seems trashy heavy metals may be in them, which could be a health risk.
However, the Uinta and Wasatch mountains, though not entirely pristine themselves, provide a wealth of mushroomy goodness with relatively few health concerns. Even there, a local guide is important: Many areas of both ranges are off-limits to foragers. The society can tell you how and where to get around the restrictions.
Johnston gave a few more invaluable tips: Stack all mushrooms upright in a bag so that dirt doesn't get under the caps; use a brush softer than a toothbrush—like a shave brush—to wash the caps; kids have more fun with a mission, so mushroom foraging is a great way to get them active in the outdoors; a good mushroom crop comes a couple weeks after a good rain.
Materials:
$15 (suggested) Utah Mushroom Society family membership
Bag
Hand shovel
Walking shoes
For more information, contact: Mushroom Society of Utah http://groups.yahoo.com/group/msutah/