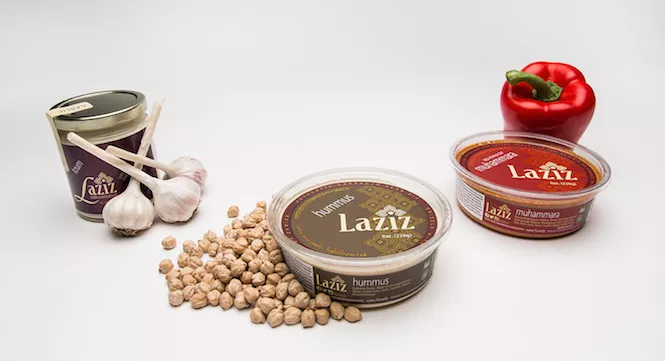 The names Derek Kitchen and Moudi Sbeity have become synonymous with two things around the country: gay marriage and hummus. "Customers always greet us at the market and talk about the case, and offer their congratulatory support," says Sbeity, co-founder of Laziz Foods.
When the U.S. Supreme Court recently refused to hear the Kitchen v. Herbert case that has wound its way through courts over the past year and a half—gay marriage became legal in Utah, and closed a chapter in the history of the marriage equality fight in Utah.
It also paves the way for the couple, who have become the face of the movement, to get married and continue building their Middle Eastern foods business together, the next step being adding a storefront deli.
Laziz—an Arabic adjective meaning tasty, enjoyable and lighthearted—was founded in early 2012 with just one product: hummus. "Our hummus is very unique to Utah in that it is very traditional to its roots," Sbeity says. "We use no oil at all, and we soak and cook our beans over a 24-hour period, resulting in a very creamy hummus."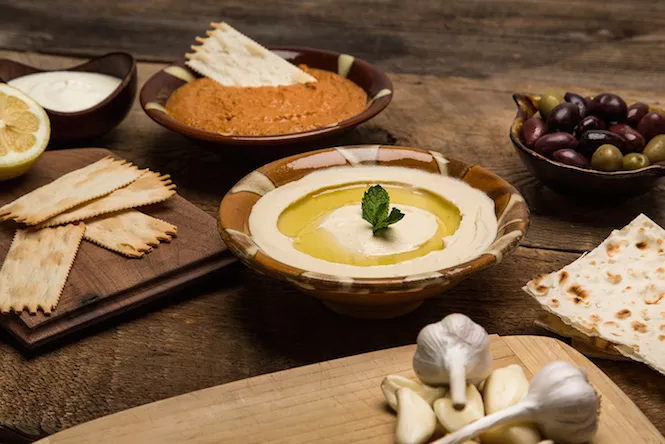 Although hummus is still their most popular product, Laziz has added muhammara (a sweet red pepper dip) and toum (a powerful garlic spread) to their expanding product line, which is available in grocery stores along the Wasatch Front. And they are working on opening a Middle Eastern deli, along with a larger production kitchen—a necessary step after the company expanded into Whole Foods—in fall 2015, near Nobrow Coffee Werks at 200 West and 900 South in Salt Lake City.
Sbeity says that the purpose of the deli is to "bring more cultural food diversity to our city, while not replicating what other restaurants already do. We'll have a hummus bar with a selection of spices and olives you can pay for by the pound; premade salads and soups that you can choose from; shawarmas, falafels, stews on rice and daily specials. And we'll have other items like Turkish coffee."
Sbeity wants deli customers to feel like they have walked into a home in his homeland of Lebanon. "We want to break away from the restaurant feel, and bring in the feeling of home comfort and deliciously crafted meals."
The coming year will bring other new adventures for Laziz and its owners. Kitchen and Sbeity are turning their attention to planning their May wedding, which will be open to the public. "We feel that is a moment we need to share with our community, seeing how this case was a community effort," Sbeity says.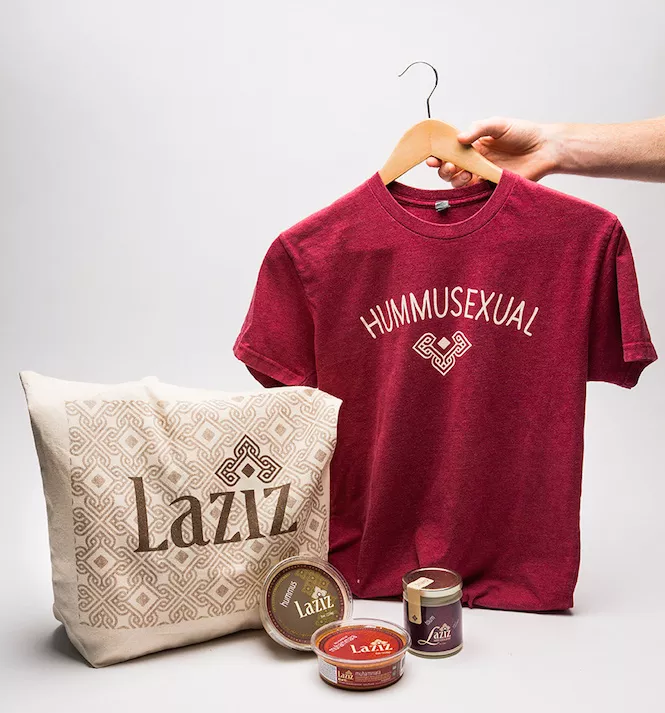 Laziz will forever be tied to the landmark lawsuit, whih helped bring increased visibility to the business and vice versa. You've likely seen the Hummusexual shirts that served as a fundraising effort for the case. Laziz sold 450 shirts and donated 15 percent to the legal cause. Now the shirts "are here to stay," Sbeity says. "It's very fitting for hummus lovers out there. They're funny, and they turn a few heads."
As Laziz Foods and the two men who have pursued their shared goals with kindness and passion transition to the next chapter of their lives and business, they are quick to thank the community around them.
"Whether it was the fight for marriage equality, or the appreciation of delicious and accessible Middle Eastern spreads, we have felt the love, and we hope that our community has felt the love back," Sbeity says. "Salt Lake City is home to some of the most talented, ambitious, caring and loving people we know, and our lives are enriched because of it."