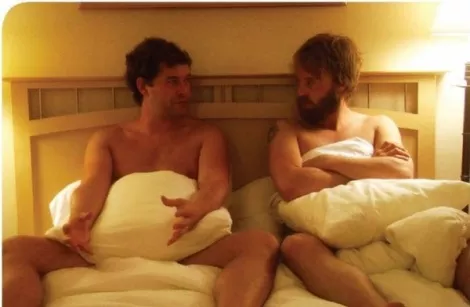 When the premise for Humpday became part of pre-Sundance publicity earlier this year, journalists chimed in with a convenient shorthand title. With Kevin Smith's Zack and Miri Make a Porno—about two platonic pals who decide to make an "adult film" together, strictly for the cash—recently in the rearview mirror, there was a temptation to refer to writer/ director Lynn Shelton's comedy—about two male platonic pals who decide to make an "adult film" together, strictly for the art—as Zack and Zack Make a Porno.

Aside from the dubious honor of being associated with anything Kevin Smith has made in the last several years, the tag kind of missed the point about what was so distinctive about Humpday—what made it at once so raucous, and so insightful. If anything, this was the "mumblecore" cinema movement's own version of sex, lies and videotape, or Kelly Reichardt's recent drama Old Joy rendered as farce. Its signifiers have nothing to do with crude mainstream comedy; this is something that builds on all the creativity of independent cinema's own landmarks to find something uniquely entertaining and perceptive.

So, yeah, after Andrew (Joshua Leonard) arrives unexpectedly on the doorstep of his college pal Ben (Mark Duplass), they do dare one another, during a drunken/stoned evening, to have sex together as part of a project for Humpfest, the annual amateur porn competition sponsored by Seattle's alt-weekly, The Stranger. But, their arrangement is complicated by more than sober-minded morning- after regret: Ben is happily married and preparing to start a family with his wife, Anna (Alycia Delmore); Andrew is a globe-hopping vagabond who fancies himself an artist but hasn't ever really finished anything. So what, exactly, is each of them trying to prove by going through with their "project"?

That's a central element of the character psychology at work here, and Shelton does a terrific job of getting into these guys' heads. Ben may be a suburban husband with a steady job, but he's also a verge-of-30-something who's having a hard time seeing himself as a straight-arrow potential father whose experimenting days are behind him. Duplass has some hilarious moments at a party hosted by Andrew's pansexual, artsy-fartsy new friends, trying desperately not to look as square as he feels. And Andrew, despite his bohemian posturing, gets squeamish during a three-way with his new bisexual pal (played by Shelton) and her girlfriend. Humpday isn't about two dudes who want to have sex; it's about two dudes who think the act will say something different to the world about who they are.

But, it is most definitely about dudes, which is why Shelton's insight seems all the more remarkable. While the film's final 20 minutes turn into a brilliantly awkward hotel-room set piece—as Ben and Andrew try to work their way into something neither of them really wants to do—there's more than gay panic at work. Humpday digs into an unspoken element of the recent spate of "bro-mantic" male-bonding comedies, as these two longtime friends try to figure out a way to express that they really do miss one another. This is a movie that understands how hard it is for straight males to be close without feeling gay.
It seems unfair to go this long without mentioning the performance by Delmore, which is simply the most perfectly pitched supporting acting you'll see this year. She does a remarkable job of conveying Anna's puzzlement over Ben's strange behavior without ever coming off as shrewish or really anything more than deeply concerned. And, she also plays a crucial role as the audience surrogate, trying to make sense of a situation that makes little sense on its surface. Duplass and Leonard are wonderful, but it feels that Humpday could have collapsed entirely without Delmore as the third point on this triangle.

There's a moment near the end of Humpday where Ben and Andrew, lying nearly naked on their hotel-room bed, begin tapping out a rhythm in unison on their bare bellies, apparently echoing something from their shared history. It's a simple, almost throwaway scene, yet it may be one of the movie's most telling. In this wonderfully funny story, we get a chance to watch two men connect in a way that really does mean something to them. And at the same time, we get to watch a filmmaker connect with something more real than sex.

HUMPDAY

Mark Duplass, Joshua Leonard, Alycia Delmore
Not Rated