As an investigator for the Utah Division of Wildlife Resources videotaped the collection of dozens of mounted mule-deer heads, antlers and other wildlife trophies on the walls of her home on Oct. 6, 2009, Angella Jensen denounced her husband, her two oldest sons and her brother-in-law as the worst poachers in Utah history.
"That particular deer came out by Dugway," she told investigator Jerry Schlappi, "'proximately five years ago."
Schlappi asked who got the deer.
"Oh, my husband, Gerald D. Jensen," she replied.
In season or out of season?
"Out of season."
She accused her family not only of illegally hunting deer as far back as the 1980s, during and after the November rut—when mating distracts the animals from eluding hunters—but also practicing what she called "hack-a-rack," essentially cutting off the antlers, lodging them in the branches of a tree, leaving the carcass to rot, and then returning for the horns months later, the weather having by then turned evidence of a fresh kill into just another set of antlers.
On Jan. 3, 2010, investigators from DWR and the Salt Lake County District Attorney's Office served search warrants at Angella's home and those of Angella's brother-in-law, Robert Jensen, and Angella and Gerald's son Jerry Jr., seizing 90 mule-deer heads and antlers.
Five months later, Robert and Gerald Jensen, Gerald's oldest two sons, and Angella—whose multiple interviews had implicated her in the poaching—were arrested and each charged with up to 20 various counts, including racketeering.
Four years later, the multiple prosecutions of poaching-related charges had been dismissed, the charges of witness tampering that had been filed during prosecution were pleaded out as diversions—"Basically a slow-motion surrender by the state," says Robert Jensen's attorney, Colleen Coebergh—and two defense attorneys and a judge had died as the case inched its way through the legal system.
Three members of the Jensen family were also dead.
Gerald Jensen Sr. and his daughter, Jackie
Robert and Gerald's sister, Jackie, committed suicide. Her grieving father died soon after, followed by Angella.
All three were casualties, the Jensens say, of a wild goose chase that was initially driven by Angella's spite over her divorce from Gerald but soon took on an unstoppable power as the prosecution pressured family members to turn on each other, imposed no-contact orders between family members and offered plea deals that defense counsel viewed as little more than extortion.
All this was despite DA investigator Dirk Watrous telling a witness who was concerned about Angella's safety in early 2010, "These are poached deer, for god's sake, we don't want someone getting hurt over those."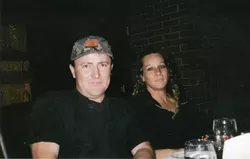 Jerry Jr.'s defense attorney, Patrick Coram, calls the Jensen prosecutions "very, very unusual." He cites the "hot and heavy" pressure DWR brought early in the case and the fact that in four years of prosecution, his client never had a preliminary hearing. But most unusual, Coram says, was that the Jensens were charged under Utah's equivalent of the federal RICO statute, something usually reserved for going after "mobsters, high level drug dealers or organized prostitution, not a bunch of family members that [were] allegedly poaching,"
And the Jensens say that Vincent Meister—a veteran prosecutor at the Salt Lake County DA's Office who has himself run afoul of wildlife laws—was so determined to break the family in order to get plea deals that he hounded Jackie until she killed herself.
Robert's attorney Coebergh sums up the net result, after so much effort and expense: "Six defendants, 75 counts, over 4 years, 0 convictions."
Robert's eyes darken as he talks about how Jackie's death changed him and his family. Before her death, he says, he had contemplated taking a plea deal to avert financial disaster and prison. But when Jackie hanged herself, a line was drawn.
"I wasn't guilty," he says. "It really brings my blood pressure up that somebody can intimidate me to say I did something I didn't do. I don't care if it costs me everything. There ain't no stinking pleas coming out of this. I'd rather go to prison than be bullied by Vincent Meister."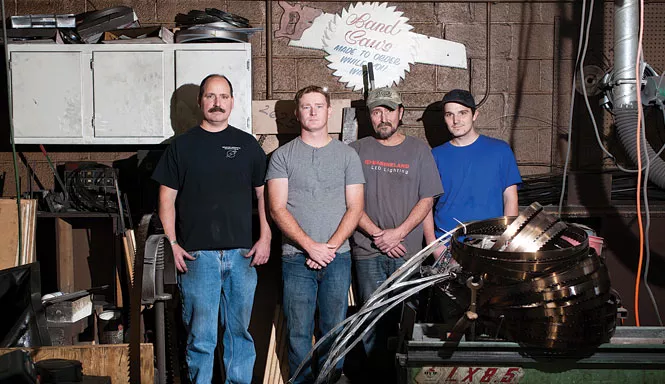 Niki Chan
Robert Jensen, Jerry Jensen Jr., Jerry Jensen and Robert Tyler
FAMILY HISTORY
In a June 30, 2010, notarized letter to Meister, Robert and Gerald's father, Gerald Jensen Sr., noted that DWR investigator Schlappi did not believe that a hunter could possess so many trophies through legal means. "They hunt harder than most; that's how you get a trophy," he wrote, adding that his sons have "been collecting horns and sheds since they were youngsters. It was their hobby, their passion."
As the brothers grew up, they dedicated every weekend they could come the mid-October legal hunting season to camping out in the West Desert, looking for "the smart bucks with big antlers that are really hard to kill," Robert says.
The brothers also passed their passion for hunting onto their children. Gerald D. Jensen's son Jerry Jr. recalls how he claimed his first buck when he was 14. He was on top of a mountain, he says, and had just told his uncle "we're not going to see crap; then out popped a three-point. I missed two shots at him, then I calmed down, put a good shot on him and knocked him down."
In his letter to Meister, Gerald Sr. described how his sons "spent months every year watching deer in their natural habitats; then they would purchase legal licenses and go hunting as is their right."
After scouting for mature bucks, they'd usually be successful in their quest to shoot one. Then they'd notch the tag—tying the day's tag to the antler—field-dress their kill, pack out the meat and take the "cape" [the skin from the head] and antlers to a taxidermist.
Gerald D. Jensen says mounting a head "shows respect to the animal. You like to remember the deer and when you got him. It brings back all the memories, all the work it takes to get them."
THE INFORMANT
Gerald D. Jensen—known just as Jerry—met Angella when he was 16. "I found somebody I loved," Jerry says. They had three boys, split up twice acrimoniously, then got back together. "We had our problems, mainly from me drinking," Jerry says.
In late summer 2009, Angella was reunited with the son she'd been forced to give up when he was a baby, fathered by someone other than Jerry when she was a teenager. Then 28, Ryan Robinson was a convicted felon with forgery and drug-related convictions, but for Angella, the reappearance of her son after a lifetime apart was an opportunity to make amends by bringing him into her family.
"I think it tore her up her entire life she wasn't able to raise him," Angella's son Jerry Jr. says. Robinson is currently in jail awaiting trial on charges that he murdered his girlfriend in 2012.
Robinson's presence in the Jensen home and his drug habits drove a wedge between Angella and her husband and her two oldest sons. In August 2009, two of Angella's sons, Jerry's brother, Robert, and other members of their families signed affidavits condemning her violent behavior after she threw her husband out of the house.
In mid-September, one of Angella's sisters e-mailed a DWR investigator requesting immunity for Angella in exchange for information on the Jensen family. "I believe that this will be the biggest poaching case that the state of Utah has ever processed," she wrote.
On Oct. 7, 2009, Angella and Robinson went to downtown Salt Lake City to meet with prosecutor Vincent Meister.
Meister joined the DA's Office in 1987 as a law clerk, and rose through the ranks to head the gang unit before his current position as a homicide prosecutor.
One prosecutor describes him as "a gifted courtroom attorney. He's able to connect with juries. He has an everyman quality."
Some defense attorneys are less impressed, however. In several high-profile long-running homicide trials, his ethical behavior became the focus of motions and hearings as to whether he had intentionally misled the defense.
"For whatever reason, for Vince, the end justifies the means, and that's a very dangerous approach to prosecuting and enforcing the law," says Kent Hart, executive director of the Utah Association of Criminal Defense Lawyers. "Because mistakes will result, and innocent people will be affected."
Meister dismisses such criticism as based on "hearsay of hearsay."
Meister has had his own brushes with wildlife violations, in his home state Wyoming. In 2001, a game warden cited him for purchasing fishing, black bear, deer and elk licenses while claiming to be a Wyoming resident, securing a much cheaper price than an out-of-state hunter.
View the incident report
Meister pleaded no contest to 10 counts of taking wildlife on improper licenses, and paid $4,000 in restitution.
View Meister's appeal
That same year, he notes, Utah DWR named him prosecutor of the year. "Kind of ironic," he says.
In Angella Jensen, DWR and the DA's Office were convinced they had found a treasure trove of information regarding generations of one family's poaching. Meister says the consistency of the detail she gave over several interviews led them to believe she was truthful.
But Angella and Jerry reconciled in late 2009, and in December, she stopped returning investigators' phone calls. In the face of Angella's silence, the state decided to accelerate its plans.
READY TO CRACK
Robert and his wife, Wendy, were in church on the first Sunday in January 2010 when he got a text from his daughter telling him, he recalls, "you better get home, Fish & Game is going to kick your door down."
DWR and the DA's Office had served search warrants on Robert and Jerry's homes and Jerry Jr.'s rented apartment.
View the affidavit for the search warrants
When Robert and his wife got to their South Salt Lake house, they found DWR and DA investigators surrounding their property. Among the DWR officials, to the Jensens' surprise, was DWR conservation officer Holly Riddle, someone Robert had socialized with during the time his sister, Jackie, had dated Riddle's father-in-law.
DWR seized 29 mounted heads and antlers from Robert's house, lining them up on the front lawn. At Angella and Jerry's residence, they found not only heads, but also a marijuana plant and some guns in a hidden safe.
The same day the search warrants were executed, DWR investigator Brad Probst pulled Jerry Jr. out of work at a local pet store and interviewed him in his truck. He told the 20-year-old that other family members were blaming him for some of the poaching. Jerry Jr. said his mounted heads came from "hiking my ass off and busting deer out of cedar trees and putting halfway decent shots on them."
Probst told him he knew he was nervous. "You're getting a little bit dry-mouthed, kind of thirsty, ready to crack just a little bit."
Jerry Jr. was silent, then said he'd been with his father when he was 16 on a chukkar hunt one December and his dad shot a deer.
Clips from the DWR's interview with Jerry Jensen Jr. in January 2010
Update Required
To play the media you will need to either update your browser to a recent version or update your
Flash plugin
.
Four years later, Jerry Jr. says he was frightened they were going to arrest him and gave them something he knew was false and that others had witnessed being legally killed.
DWR investigators had found that Angella had applied for multiple hunting permits under Jackie Jensen's name. Jackie told investigators that she had legally killed a deer and an antelope, and was so upset by it that she cried all the way home.
But investigators believed it was her brothers who had dispatched the animals, illegally using her tags. And in the fragile Jackie, they spied a weak link in her brothers' steadfast refusal to admit any wrongdoing.
Short and delicate—weighing just 93 pounds—Jackie dealt with her multiple sclerosis while singlehandedly raising her 5-year-old son. Jackie was also caring for her mother, Patricia, who had been diagnosed with Alzheimer's.
In February 2010, the DWR's Riddle went to Jackie's home. "I want to talk to you as a friend," she said, without informing Jackie that she was recording the conversation.
Riddle said she knew Jackie was a dog and pig lover—Jackie had a potbellied pig called Lulu that routinely got into the fridge after chocolate pudding.
"You didn't shoot them, hon, we know that," Riddle said, referring to the two animals Jackie had told the authorities she'd killed.
Jackie struggled with what she wanted to say, then told Riddle she preferred to talk to her attorney first.
Clips from the DWR's Holly Riddle's conversation with Jackie Jensen in February 2010
Update Required
To play the media you will need to either update your browser to a recent version or update your
Flash plugin
.
Riddle could not be reached for comment.