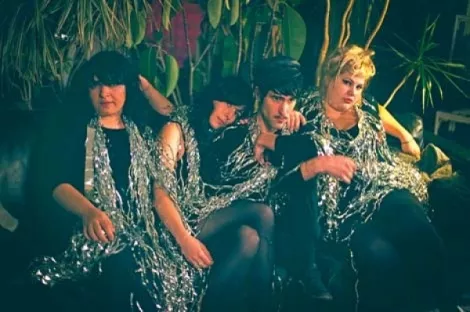 Phil Spector has spent the past decade in and out of courtrooms, but even with a murder conviction leveled against him, the '60s girl-group sound associated with the legendary producer lives on.
That aesthetic and its definitive traits—unabashed pop melodies, traditional song structures, cooing vocals and simple lyrics about being infatuated with boys—have experienced a recent indie-rock revitalization. Best Coast, Dum Dum Girls and Vivian Girls owe debts to the girl-group sound, sticking within its guidelines, but with Hunx & His Punx comes a more provocative play on the style.
In contrast to the women fronting those three bands, the San Francisco-based HAHP is led by a man—Hunx, the flamboyantly gay alter-ego of Seth Bogart (ex-Gravy Train!!!!)—yet still offers those heartsick odes to boys. Even in a time where expressing homosexual desire in music isn't nearly as much of a big deal as it would have been in the '60s, there's something a little shocking about HAHP gleefully subverting gender expectations. If their recently released full-length debut, Too Young To Be In Love, is classifiable as a girl-group record, it is, in Bogart's words, "a really fucked up, gay one."
Too Young comes after Bogart spent a few years releasing singles and tinkering with the band's dynamic, moving from using a group made up of "guys dressed up as slutty gay guys" to women typically outfitted in gaudy makeup and clothing. Hunx & His Punx's music itself isn't anything mind-blowing, but it can be silly fun. Bogart sticks to singing in a plaintive groan, like he has a stomachache but still really wants to party. The whole girl-group thing is crucial to their sound, but doo-wop, crude garage rock and Buzzcocks/Ramones-style punk show their shades, too. In another interview, the frontman described this music as "young oldies," an apt term.
HAHP's recordings alone don't capture their appeal. Onstage, Hunx comes alive as a showman, armed with moxie, a thin mustache and an affinity for leather and eye-popping patterns.
"I'm like a grandma—a weird, creative old lady—and Hunx is like a bratty, nuts, wasted teenager who likes to make out with people and go crazy," says Bogart, who, by the way, makes for an unexpectedly coy interviewee. He's serious about the whole making out thing, too; one time, he got strep throat after kissing audience members.
Hunx & His Punx's concerts have earned a rep for getting wild and interactive. Bogart's favorite thing about performing is "dancing and shoving [his] crotch into hot guys' faces in the front and horrifying them." At two recent college shows, the frontman says that he got "really weird and stoned," acted like he was dying and told attendees that they were in hell. Some people also pretended to piss on him and Bogart screamed about how stupid college is. "None of it's planned," he says. "It's like I'm possessed or something."
Even as a shy 5-year-old, Bogart would put on shows for his grandma, dancing and lip-syncing for her. Today, Hunx's booze-powered antics are an extension of that.
"Some people were just born to be on a stage and get really excited and turn into a different person," Bogart says. "It's really hard to describe, but it feels good. I'm just really into performing. It's just fun to be someone else, then you don't have to give a shit about anything."
In a telling move, Bogart regards himself as an entertainer more than a serious musician. Still, what happens when the crowd won't give him the energy and attention he needs to flip his switch into over-the-top mode? "I think the switch can be flipped on even harder if no one's into it and no one cares," he says, before raising his voice teasingly. "Salt Lake City might be one of those kind of places."
HUNX & HIS PUNX
w/ Shannon & The Clams, Dances With Wolves
The Urban Lounge
241 S. 500 East
Sunday, May 8, 9 p.m.
$8