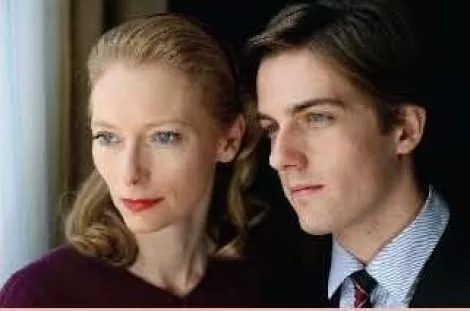 Tilda Swinton, playing the matriarch of a ridiculously wealthy Milan family, has sex with a man who is not her husband … and she likes it. Such a woman might or might not be reprehensible, and director and screenwriter Luca Guadagnino might have taken a variety of attitudes toward her. It is the disdainful weather eye he casts upon his own story about this woman that makes me hate this film with nearly as much passion as Swinton herself brings to it.
Truly, I Am Love does look absolutely ravishing on the screen. There's a luscious, fantastical quality to the lives of the Recchi family, who made their fortune in textiles and revel in every luxury their affluence affords. As the film opens, Emma (Swinton) is preparing for the birthday party of her much older husband (Gabriele Ferzetti); the veritable army of liveried servants she oversees in this task is like something Jane Austen might have imagined if she'd written a novel set 200 years in her future. Milan and Swinton look so amazing that it made my heart ache.
And then I saw where the story was going. After slowly layering on a portrait of a woman so dedicated to her family—her perpetually absent rich husband; grown children who now have lives of their own—that she has nothing at all for herself, it punishes her for grabbing a teensy bit of pleasure all her own in her brief affair with young chef Antonio (Edoardo Gabbriellini). I Am Love looks approvingly upon the notion that any woman who dares to have anything all her own is transgressing boundaries she shouldn't transgress.
Now, of course, it's true that our society often does punish women who transgress boundaries. But, Guadagnino has deliberately constructed his film to push us toward seeing Emma as no-question-about-it wrong, and the melodramatic crap toward which she is herded is preposterous.

I AM LOVE


Tilda Swinton, Edoardo Gabbriellini, Gabriele Ferzetti
Not Rated