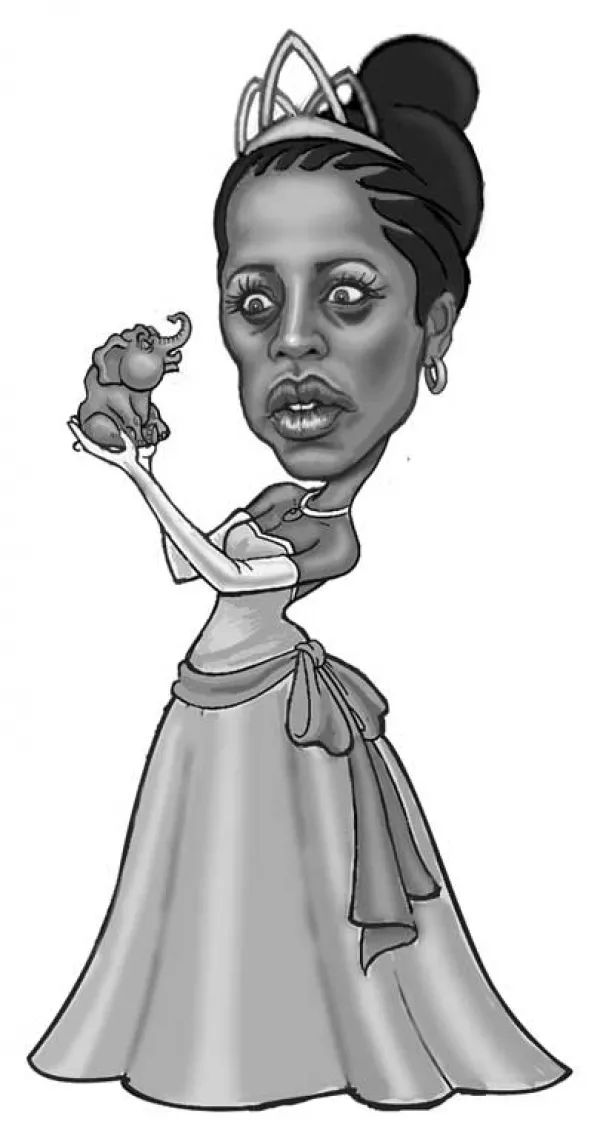 To begin with, she's got the best name in politics: Mia Love. There are, to be sure, other "Mia Loves" out there in different walks of life, and the overwhelming majority of them are engaged in enterprises not connected to politics (unless you count the Secret Service as politics, in which case the well-toned females down in Cartagena being frisked by the guys in sunglasses and earbuds would constitute a subset of entertainers likely to adopt a stage name of the "Mia Love" variety, and thus would be permitted to claim a political connection, however slippery or of short duration).
Many Mia Loves make honorable livings in one corner or another of the sprawling and variegated adult-entertainment business. But unlike our Mia Love, those Mia Loves do not come by their monikers honestly. They christen themselves "Mia Love," or some variation thereof, for the sole reason of getting a leg up in a profession in which an alluring name is the cherished "Open Sesame!"
The one variation of "Mia Love," meaning, of course, "My Love," that everyone is familiar with is Cara Mi Amor ("the face of my love"), the legendary pole dancer who just retired after a 40-year stint at the Garter Snake Casino in Wendover.
Better to be Cara Mi Amor than Wilma Goozenmuckler, the name Miss Amor was originally blessed with when she was born in Tabiona, Utah, in 1953. Miss Amor confided to an interviewer from the Pole Dancing Gazette that once she changed her name, her tips quadrupled overnight. "I was going through five or six garter belts a night what with the elastic breaking from all those rolled-up dollar bills—hardly ever see a $5 or a $10 in the Garter Snake, sad to say."
Besides her wonderful name, there are other reasons to vote for Mia Love and send her to Washington, D.C., as our representative from the 4th District. It was satisfying beyond measure that Ms. Love trounced pugilist and patriot Carl Wimmer, and not just because he was so certain of victory. We already have a sufficient number of buffoons in Congress, and though Herr Wimmer would feel right at home in that hallowed chamber, he now will be able to go into a field of work where he can put all his skills to good use—something like professional wrestling or breaking cinder blocks with his noggin.
Even more satisfying than defeating Wimmer was outing Attorney General Shurtleff as a petty and bigoted defender of patriarchal privilege. Desperate to shoehorn his rotund protégé, Wimmer, into the 4th District Congressional seat, the attorney general implored the delegates to "please, please, pick a person with a proven record instead of a novelty." This blatant reference to Ms. Love's "novelty" status as a black woman drew boos from the crowd, a reaction that seemed to stun Shurtleff, who didn't backtrack until more enlightened souls woke him up with a sharp flick to his jowls.
Next comes the race with Jim Matheson, who jumped from the 2nd District to the newly created 4th District, calculating that it offered him a greater chance to slink back to Washington. Poor Congressman Matheson must feel like the club champion who has been warming up for a wheezing weekend player with a weak backhand and arrives courtside to find Serena Williams as his opponent.
Let me be the first to assert that Ms. Love will win in straight sets. Mr. Matheson will be lucky to scratch out a game or two. Some may bemoan the loss of the lone Utah Democrat in Congress. In reality, Congressman Matheson stopped being a Democrat a long time ago, and has stayed in office only because of the lingering affection amongst the electorate for his family name.
Mia Love will be more than a breath of fresh air. To me, her politics are irrelevant. A "novelty" she surely is, but in the best sense of the word. More important, she is much more than a novelty. Too bad she didn't declare to run against Uncle Orrin. She is a lot less of a newcomer than Hatch was when he went up against the late Ted Moss in the last century, and it would have been fun to see her take on Uncle Orrin in a campaign debate.
Something else. Mia is far more qualified for office than the Mama Grizzly from Wasilla, and we remember how that turned out. What about Mit and Mia? Just imagine the Mormon mojo.
D.P. Sorensen writes a satire column for City Weekly.