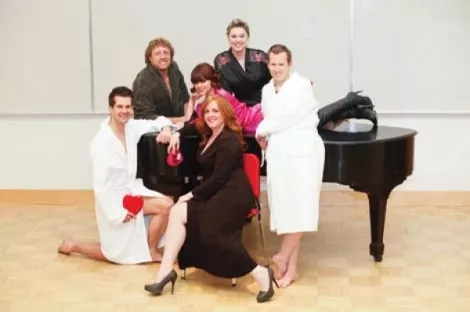 In its fifth season, Pinnacle Acting Company has genuinely hit its stride. Until now, I've thought of PAC as a purveyor of difficult community theater: admirable and ambitious, yes, but … well, a bit airless.
And now this! The Midvale-based troupe's current offering is such a surprising and daring choice, it changes everything. This rollicking, irreverent production of I Love You, You're Perfect, Now Change is not only a resounding theatrical success but a groundbreaking reinterpretation of the long-running off-Broadway hit.
Those who remember the 1990s will understand why, when the effervescent revue first opened in New York City, it sparked controversy for being too heterosexual. PAC Director Ron Jewett's adaptation adventurously includes the gay characters who should have been there since Day 1—revealing the truth that the universal vexations of love, dating and marriage are no respecter of sexual orientation. Challenging? Maybe for some people—but it really works.
The ensemble cast works so well together that it's difficult to pick favorites. Seth A. Larson's razor-sharp stage presence is a diametric counterpoint to Garrick Dean's booming volubility. The lusty Stephanie Dean is a knockout, while the sprightly Brittany Peltier ("Always a Bridesmaid") is a delight. Peggy Deming's vocal chops are substantial, and her Belinda Stewart-Wilson-esque dithering in the Whitewood sketch is priceless. And Aaron Hales—what can I say?—is just adorable.
It's mostly a laugh-a-minute show, but the moving "Shouldn't I Be Less in Love With You" brought the audience to its knees. This is well worth the trip to Midvale. I love it, it's perfect, don't change a thing.

I LOVE YOU, YOU'RE PERFECT, NOW CHANGE
Pinnacle Acting Company
Midvale Performing Arts Center
695 W. Center Street (7720 South)
801-674-7956
Through March 5
$10-$15
PinnacleActingCompany.org