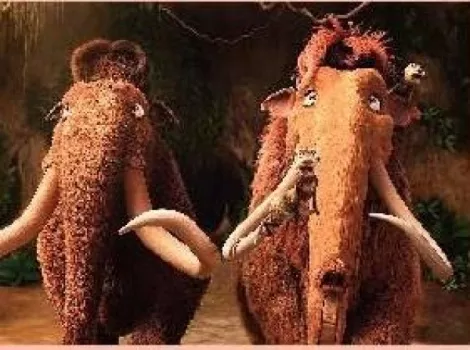 This is how far cartoons have descended in the last decade and a half: The Lion King was Shakespearean, while Ice Age is Everybody Loves Raymond-ean.
In the series' third installment, Dawn of the Dinosaurs, Ray Romano's Manny the mammoth is about to be a dad. You don't need to see the movie to know that there will be jokes about females stressing out about gaining baby weight: "Do you think my ankles look fat?" Manny's pregnant "wife," Ellie (voiced by Queen Latifah) asks; "What ankles?" he repiles. Complications ensue as Sid the sloth (the voice of John Leguizamo), also longing for parenthood, adopts three dinosaur eggs.

Have young-Earth creationists taken over 20th Century Fox and Blue Sky Animation? Well, no, there's a perfectly acceptable fantasy explanation. It all has to do with a lost world under the ice, where giant reptiles escaped that big meteor and survived for another 65 million years.

But that doesn't bother me as much as projecting sitcom-dad neuroses onto a cartoon mammoth. Here are a couple of things that we should allow to become extinct: the stereotypes of men as unemotional idiots and women as shrill nags who must be endured as a curse of the fates, or something.
There are bright spots. The Scrat, the sorta-squirrel, sorta-rat creature who has eyes for nothing for acorns, finds a lady love this time around, a Scrat with long eyelashes and a killer instinct for acorn gathering herself. But, Simon Pegg brings the only inspired voice performance as Buck, a weasel lost in the lost world and gone slightly mad in his attempts to survive a realm of killer dinosaurs who'd love to snack on him. He gets all the best lines, too, as if the writers were tired of the existing characters and could manage to raise their flagging enthusiasm for the series only with his fresh, ferrety blood. Buck's hilarious and, in his own unique way, not as a sorry reflection of a worn-out clichés.

ICE AGE: DAWN OF THE DINOSAURS


Ray Romano, John Leguizamo, Queen Latifah
Rated PG