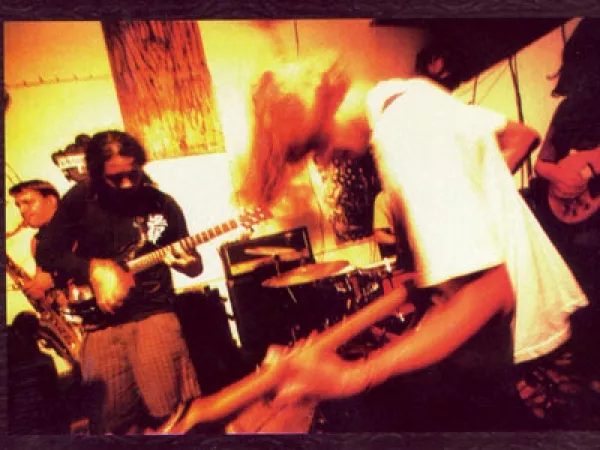 Eagle Twin's Gentry Densley just got back from an Australian tour with Russian Circles. It was "awesome … totally better than any other [tour]." Densley and drummer Tyler Smith got to experience an increasingly rare rock & roll phenomenon: tour support. All expenses paid—travel, accommodations, meals, everything—"and we got paid off the top."
Densley's a long way from Iceburn, the beloved jazzcore band that was his pre-Eagle Twin claim to fame. But he's gone back to his old band—for a couple of shows anyway. The first gig was part of the Revelation Records 25th Anniversary party a couple of weeks ago at Irving Plaza in New York City.
"[Revelation] just hit us up," Densley says of the reunion show, "and it seemed like a good deal." Since they relearned all those songs, a local show seemed like a no-brainer.
The show at Irving Plaza featured Iceburn's original power-trio config from their classic albums Firon (Victory, 1992) and Hephaestus (Revelation, 1993): Densley (guitar, vocals), Cache Tolman (bass) and Joseph "Chubba" Smith (drums). A hometown show, though, means members from the latter-period Iceburn Collective—such as James Holder, Jeremy Chatelain and Greg "Sax Jockey" Nielsen—can sit in.
As to the set list, Densley says Iceburn will probably follow the Irving Plaza plan but "add some elements." Mainly, they'll do "a couple of things from Firon and 'Burn' from the old 7-inch on Victory, then about half of the Hephaestus stuff, a little from the 'Rite of Spring' thing we did and one of the jams from Meditavolutions (1996, Revelation). Basically, the first half of Iceburn—the early stuff."
Iceburn's halcyon days predate widespread Internet access and even digital recording, but the band's impact is easier to gauge now. In comments sections, on message boards, within interviews and even at Eagle Twin shows, people—not just Utahns—remember Iceburn fondly. "Definitely every show," Densley says, "somebody says they were a big fan back then. There's a bunch of old rocker dudes out there, I guess, still listening." Some even say they can hear Iceburn in Eagle Twin's music. It's no accident. "I definitely was trying to pay homage to some of our riffs and melodies," he says.
Does that mean there may be a full-fledged Iceburn reunion someday? "If it's manageable and stuff," Densley says. There is Eagle Twin to consider, and it's going swimmingly. "Cache is still touring in Rival Schools and Chubba's got kids and football games and that stuff. But we might try to make it work."
ICEBURN
w/ Worst Friends, Los Rojos
The Urban Lounge
241 S. 500 East
Saturday, Oct. 27 , 9 p.m.
$8