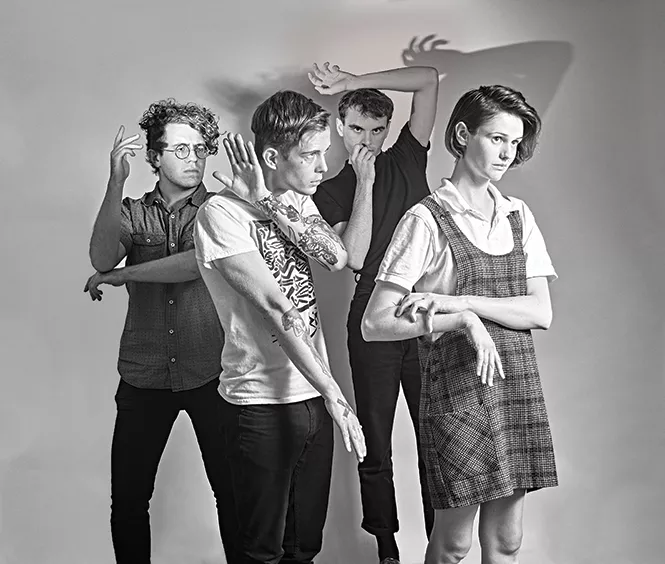 Several weeks ago, Diabolical Records' Adam Tye gave City Weekly a preview of Foster Body's second LP, Moving Display. When Tye dropped the needle on his new test pressing, the first strains of content ticking from the speakers made an instantly indelible impression. The low rumble of bass guitar joined the drums, followed by guitar chords so clean they squeaked—then, a voice that's at once manic, frustrated and robotic, like an automaton warning that its self-destruct sequence has been activated. They—maybe the whole damn ship—are on a countdown to blow.
The song's final 20 seconds indeed headed that way, as all the instruments combined to reach a ticking-pumping-squeaking crescendo before dissipating in a cymbal's sweet, fading hiss. Then, on the tense but fun "You Were Not You," the robot popped up to dance to more squeaky guitar, pumping bass lines and driving drums. In those six minutes and 21 seconds, a vortex of references swirled: Devo, Television, Dead Kennedys, The Fall, Talking Heads, the B-52s—none more dominant than another. The urge to dance collided with a sense of being scolded and/or schooled. It was a sublime musical cognitive dissonance. I begged for an early advance copy.
It would be three weeks before the Bandcamp key arrived, unlocking Moving Display for on-demand consumption. In that time, I listened to Foster Body's debut, Landscapes. Raw and angry, with the vocals hidden behind effects and volume, it was the sound of a slightly insecure band not quite settled on an identity. Weeks later, in an interview, bassist/vocalist Dyana Durfee says Landscapes was Foster Body saying, "I'm gonna yell! Listen to me! But don't look directly at me. There's some fog, and maybe let's distort everything so you can't tell exactly what I'm saying—but here we are."
On Moving Display, the songs breathe easier, even if they aren't relaxed. The funnel cloud mixes in more musical debris: the bass parts conjure Les Claypool and Mike Watt, and the lyrics are sarcastically erudite like Jello Biafra's, and vitriolic like those of The Fall's Mark E. Smith. The conflict remains: The album is equally fun and furious.
Seated on a row of barstools among screenprinting supplies and workspaces at Copper Palate Press, Foster Body looks less posed and composed than they do in their promotional photos—but still like a young version of a someday-substantial band. You know the type: four distinct creative entities, comprising a greater whole. Durfee, looking like a cross between Molly Ringwald in Pretty in Pink and Ally Sheedy in The Breakfast Club—vulnerable, but feisty. Korey Daniel Martin, the unassuming, crafty guitar player. Robin Banks, the singer, who seems odd onstage, but is quiet and gentle off it. And the drummer, Jeremy Devine, resembling a shy/bored Thomas Dolby. Someday their muses may push them to form side projects, leading to a breakup, a clamor to reunite and ultimately, fruition and renewed creative alchemy.
For now, they're in the throes of finding themselves as a band. Foster Body say they formed, initially as a one-off, to fill a void, to be what they found lacking in the Salt Lake City music scene. "It was definitely reactionary," Banks says. What, exactly, was lacking is harder to identify. Actually, it probably boils down to identity—figuring it out, and fitting in. So it starts there, at least, the part of the scene that Foster Body inhabits, a lack of representation of their ideas and their identities. Which, in a band of four, will vary with their individual experiences.
Martin says it starts with one of them, and evolves. A lot of songs begin with Banks, but don't necessarily end there. "We really don't see how a song came together to fit the theme, conceptually, until after [it's done]." Durfee completes the thought, "And we're all on the same emotional page." Picking it back up, Martin says there will be "contrast" and "contradiction," that they're "talking over one another, yet still in sync, somehow."
"Because it is a universally understood sentiment, to be misrepresented or misunderstood," Devine says, "there are times when we've misunderstood each other's parts, too, but have been able to communicate effectively to understand each other. And it will come around in a more interesting way than if we tried to fit one view."
In "Content," Banks writes, "Sum it up/ sum it up with a word/ One word/ A single syllable/ You've got it figured out/ What I'm after/ What I want/ Predispositioned/ In one quick glance/ Content determined/ Container defines." It's not that easy to pin down Foster Body, or any one of its parts.
So it's not so much that Moving Display shows Foster Body with a greater sense of self. It's more like they're comfortable in the ongoing search for it. It's "much more vulnerable," Durfee says. But it's also more empowering, according to Banks. On Landscapes, they didn't know who they were. "This album, I realized, I don't have to fucking know ... it is a process."