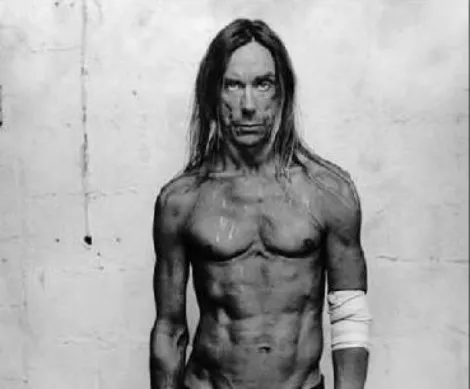 Gob
Tobias Funke

George Michael
Bob Loblaw
IGGY POP Préliminaires (Astralwerks)
Iggy and I have never been close. I've been following punk rock for eight years, but aside from some random discoveries (like his revved-up and unfiltered live take on "Louie Louie"), my knowledge of Pop has always been thin and cursory. With that unfamiliarity in mind, the acquaintance I'm about to make will not be with the gaunt Godfather of Punk who undulated in shattered glass in the early '70s but the dapper noble who has spent the last decade making cameos for cred ("Kick It" with Peaches), supervising unimpressive pop-punk (2003's Skull Ring, featuring Sum 41 and Green Day), temporarily reuniting with The Stooges (2007's The Weirdness), and shilling for U.K. insurance company Swiftcover. What the hell am I getting myself into with Préliminaires, then?

A little bit of everything, it seems, as Pop coalesces all of his pent-up and unspent ambitions into an overtly pro-Franco package. He coos over tufts of smooth jazz in opener "Les Feuilles Mortes." "I Want to Go to the Beach" is a light and glistening fragment. "King of the Dogs" benefits from an unexpected big band stomp as Pop mutters some story of big city filth. He lights up briefly on "Nice to Be Dead," a track where turns the word "fry" into a hellish yell that would probably fit the rock & roll rancor of his early days. He's a sullen Morrissey-esque crooner a track later for "How Insensitive," but then he's rambling over tweaks of bass and synthy vibrations in "Party Time." He puts his shaky babble to fine use in the Old West-style spoken word of "A Machine for Loving." In the drum-driven Southern rock-style pulses of "She's a Business," his voice dissipates into broken bits of background noise. Finally, an alternate version of the first track kicks in and he's back to singing in French.

The album is over. What in the world went on? Yes, there are certainly enjoyable segments and melodies here but there's just no sonic continuity to this multi-flavored foray. A desire to experiment has apparently left Pop with a half-dozen different styles that he insists on incorporating into one project. The only thing more alarming than the lack of direction of this record is its title. "Préliminaires" apparently translates to "foreplay." If this was just foreplay, whatever Pop pieces together for his next encounter better have that structural je nais se quoi that Préliminaires is so sorely missing.