When Nelson Gonzalez handed over his passport to an immigration officer at the Atlanta international airport, the man asked him why, if he were coming for a week-long tryout with Real Salt Lake, did he have a three-month tourist visa?
The nervous 20-year-old Argentine, who spoke no English, was delayed by officials but eventually allowed to enter the United States, only to find he had missed his connection to Salt Lake City. The check-in attendant laughed at Gonzalez when he showed his ticket. For several hours that July 31, 2009, evening, Gonzalez walked around the Atlanta airport in tears. Each time he returned to the check-in, the attendant laughed in his face.
"I felt impotent," Gonzalez says in Spanish. "I had no phone, no computer. I started to cry. I needed my mother." A man loaned Gonzalez his phone to call his Miami-based agent, who in turn spoke to the phone's owner and asked him to get a Spanish-speaker to help Gonzalez change his ticket.
Gonzalez arrived in Salt Lake City that same night, where he stayed in a hotel room, alone, without money and only three pieces of clothing for four nights. His misery ended only when fellow Argentine and Real Salt Lake midfielder Javier Morales moved the desperately homesick Gonzalez into his Sandy-based townhouse for two weeks. "He loaned his family to me," Gonzalez says. "The debt I owe him is impossible to repay." Morales' gesture eased Gonzalez's ache for his family's home in a poor Buenos Aires neighborhood.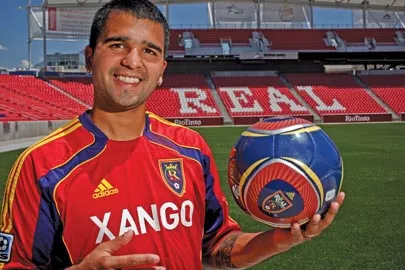 Gonzalez and Morales were part of a lengthy wave of mostly Latino players imported by coach Jason Kreis to help fill a roster of 28 players that he had gutted by two-thirds. "[North] American players fight to win," Real general manager Garth Lagerwey says. Argentine and Colombian players share a similar understanding of "esprit de corps, of a warrior mentality, a willingness to fight together. MLS can be a brutal league, and those guys are technically good enough to rise above that brutishness."
Real players such as Argentines Gonzalez, Morales and Fabian Espindola and Colombia-born and ex-Deportivo Cali player Jamison Olave each journeyed from economically troubled backgrounds to eventual athletic prominence and financial reward in the United States. Olave grew up in La Iguana, a shantytown outside Medellin beset by killings from drug "combos," or gangs. Olave got out, along with his family, despite the regular appearance in the streets of bodies at dawn and the death of a friend who ended up a drug addict. After three years playing for Real, Olave recently became a naturalized American citizen, bringing his son from Colombia to Utah to enjoy what striker Espindola calls "a paradise."
Soccer opens up a fault line in the invective-stained landscape of immigration in Utah. On one hand, Real Salt Lake is replete with stories of legally imported Latinos from hard-scrabble backgrounds fulfilling the American dream. On the other hand, the Salt Lake Valley also teems with the struggles of thousands of predominantly Hispanic children and adults who, coaches say, yearn to play for Real but, because of their or their parents' immigration statuses, are barred from their dreams. Whether as an escape from poverty in South America or simply from Utah's anti-immigrant headlines and political initiatives, soccer for many in the Hispanic community is ultimately a refuge. No more so than at Real's Rio Tinto Stadium, where the sport offers, says Sen. Luz Robles, positive images of successful Latino immigrants for Latino children and a "safe environment" for Utahns to cheer on Hispanics, "where nobody cares about a broken, 40-year-old immigration policy."