Page 2 of 3
WINNING LATINO HEARTS
Real's Latino players have not only found a second home in Utah, many have become fan favorites. After Chivas USA's Marcos Mondaini tackled Javier Morales during a game in Sandy and snapped his ankle, sidelining Real's most talented player for five months, fans responded with large signs the following game proclaiming, "Get well soon, Javi, we love you."
But for local Latinos, Anglo adulation of imported Latino players offers irony and also frustration. "Pepe" [a pseudonym] coaches young Hispanic children of mostly undocumented parents for free at a West Valley City soccer academy founded by his father, "Pelon." Both are undocumented. Pepe says a strong perception among Latinos is that imported Latino players, "born with the ball stuck on their foot," he says, are necessary for American teams whose Anglo players can be "robotic. They need a few Latinos to provide breakaway speed and use them to make their team."
Whether those Latinos will one day include talented local youngsters such as 10-year-old Henry P. is an issue as much weighed down by the convolutions of local and federal immigration polices as the difficulties of professional sports. In Utah alone, thousands of talented high school athletes will never see the pros. For undocumented children, or the children of parents without papers, the chances are far dimmer.
Henry plays defender for Pepe's club and won its best-player trophy in 2010. His father, Miguel, struggles to find work week-to-week to feed his family. "Being illegal means having to find your own destiny," Miguel says. "My dream is that Henry plays professionally for Real Salt Lake." But Miguel's undocumented status means that the road to his son's promising future is littered with obstacles, not the least of which is finding the money to pay for inscription into the weekend league. [Though Henry and other youths who play in the West Valley City soccer are citizens, their last names have been withheld to protect their parents, many of whom are undocumented.]
With no federal immigration solution in sight, West Valley City soccer academy founder Pelon believes the only answer for undocumented parents and the children he teaches is to put aside their fears and concerns over their future and focus on developing their children's sports and education. Pepe's club runs on the goodwill of its players' parents and the passion of its volunteer coaches. Pelon says his club desperately needs financial support from someone "who cares about the futures of our children." But when Miguel asked a former employer to purchase uniforms for some of the children, he says the man replied, "I don't give money to children of drug addicts."
Naturalized American and local soccer coach Gerardo Bellazatin has lived in Utah for 30 years. It grates on him, as it does several other Latino coaches City Weekly spoke with, that some of the very Anglo fans who cheer on Morales and Olave are, Bellazatin says, the same individuals "who vote to pass all these measures making it easier for [Hispanics] to be deported." Indeed, Real's stands, it appears, are not immune to the racism that arguably permeates recent political initiatives to force immigrants out. When Mexican team Monterrey scored against Real in April, Bellazatin jumped up and cheered. More than a dozen neighboring spectators, he says, shouted at him, "You fucking Mexican. Go back to your country."
Like other coaches, Pelon says he's hopeful that Real's presence in Utah offers both opportunities and influence for some of the children he trains. "I don't lose hope that all the kids in our club will somehow one day be part of Real," he says.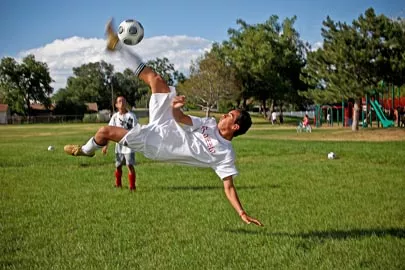 HECTOR, 16, TRAINS WITH PELON AND PEPE'S WEST VALLEY SOCCER CLUB