I've always said that if the ground is white and the lifts are running, don't bitch. But this year—when most of the snow is man-made, packed down and icy with gray rocks and leafless weed stalks showing through—the wild call of the slopes is not so urgent.

The silver lining behind this no-snow cloud is in-line skating. It's a great way to keep your legs ready for snowriding when the storms finally come, it gets you outside in the balmy sunshine and it hones required ski and snowboarding skills, such as balance and control.

Blades aren't as popular as they once were, so they can be hard to find locally if you want a new pair. You'll get the largest selection online, using the search keywords "in-line skates." Expect to pay at least $100 for a decent pair.

Replacement wheels can be even harder to find. If your dusty old skates have been sitting unused for a year or more, or if the wheels are worn on one side, they do need to be replaced. Locally, wheels can be found at Sports Authority (multiple locations, SportsAuthority.com) and at Classic Skating in Sandy (9151 S. 255 West, Sandy, 801-568-9781, ClassicFunCenter.com).

Mike Shaw of Sports Authority in Murray says that wheels start with a package of eight, with bearings, for $50; packages of four range between $25 and $50. "Higher-quality wheels may wear better," Shaw says, "and some have shock-absorbing qualities. If you skate mostly in rinks, or play roller hockey, you need hard wheels. If you're skating outside on smooth asphalt or concrete, go for softer wheels. Always change the bearings when you change wheels, because they also wear down."

Classic Skating sells skates, as well as individual wheels for $5 each, and also allows you to order from a catalogue offering a wider selection. The Sandy Classic Fun Center's general manager, Jared Halls, advises that skate wheels be rotated frequently, since the front wheel will wear down faster than the others, and each wheel will wear on one side if you do T-stops. "The average outdoor skater should rotate wheels after about every 20 hours of skating," he says.

Here's the best part: Classic will do this cumbersome job for you. Halls says, "If someone brings in their skates or replacement wheels, even if they didn't buy them from us, we'll install new wheels or rotate them for free."

As for smooth-surfaced and traffic-free places to skate outdoors, you probably already know of a parking lot where a big-box store has closed. That vacant asphalt is a spacious place to get your skate legs back. During the week, church parking lots are good, and they're usually lit, which means you can also skate at night. But the best place to skate in the sunshine is the Jordan River Parkway, a beautifully scenic asphalt trail paved from Salt Lake City to Sandy.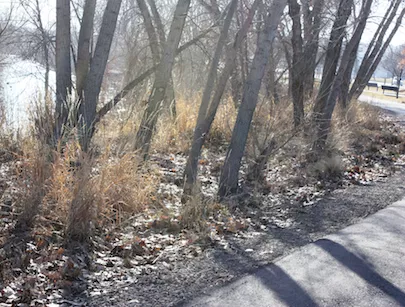 The trail runs beside the Jordan River. It's mostly flat, though there are a few minor grades where you can skate uphill to get your heart pumping or jam downhill to test your daring. Non-experts can wheel along, enjoying the scenery; there are several wetland areas, including a large scenic duck pond crowded with birds, with occasional huge Canada geese. Take lunch along in a backpack, sit on one of the viewing benches or at any of the many picnic tables and enjoy watching birds interact as they caw and dive for food.
Work out to tunes with a 10-mile skate, or even take your leashed pooch for a long run. Stop at Gardner Village at 7800 South, a unique outdoor mall with quaint shops offering an eclectic collection of unusual goods. The trail offers frequent viewing turnouts with benches where skaters can take a break, if needed.
In summer, the parkway is crowded with cyclists, walkers and parents pushing strollers, but it's nearly deserted now and wonderful for skating.