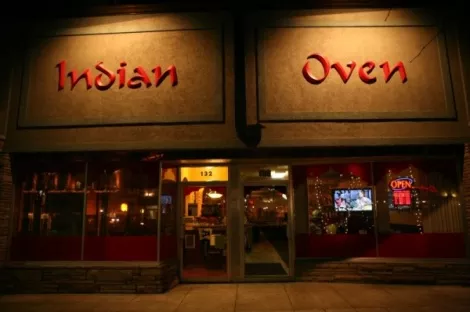 With the mind-numbing grind of holiday shopping and the temptation to eat in franchises and mall food courts, you really owe yourself something better. How about Indian food? The Wasatch Front sports dozens of good Indian eateries—from Provo to Logan—many of which I've written about previously. For the past month, I've been checking out some places that I've yet to cover or are relatively new. The results were delicious and could spice up your holiday season—or any season, for that matter.

Up in Logan, Indian Oven (130 N. Main, 435-787-1757, IndianOvenUtah.com) has been a mainstay for Indian food lovers for some time now. Owner Ash Oberoi comes from Northern India, and along with sous chef Mukhtiar Singh (whose family owns Salt Lake's Bombay House), delivers terrific Indian fare to northern Utahans. The all-you-can-eat lunch buffet is popular with hungry Utah State students and downtown workers alike. The atmosphere is warm and friendly and top-flight dishes include lamb biryani made with tender lamb chunks, onions, garlic, ginger, cashews, raisins, spices and basmati rice. Also excellent is shrimp saag, with plump, tender shrimp cooked in cream with ginger, garlic, onions and spinach.

Service can be a bit dodgy at Ogden's Sitara India (3585 Harrison Blvd, 801-781-6869, SitaraIndia.com) restaurant, where I've heard horror stories of hour-long waits for takeout orders. However, the wait for food on a recent Saturday night was about average, although we had to ask for place settings and a number of vacated tables in the small restaurant hadn't been bussed. Still, the food is good and cheap. The place is mobbed at lunchtime on weekdays for the all-you-can-eat buffet (which is also available on Sundays). I recommend coming for dinner and ordering from the regular menu, which features a mix of both Northern and Southern Indian dishes. Lamb coconut—tender, boneless lamb cubes cooked in coconut milk and coconut powder in a creamy onion sauce—is mild and delicious. Be careful, however, if you order a dish "hot" (versus medium or mild). My chicken vindaloo was incendiary, and even looked that way: electric red in color thanks to, I'd imagine, food coloring. It was as spicy and delectable as it appeared. Another good choice is the Cornish game hen (two halves) cooked to perfection in the tandoori oven. It's terrific with South Indian onion uttappam alongside. Beer and wine are available, too.

You won't visit Taj India in Murray (4515 S. 900 East, 801-268-2423)—which relocated from downtown Salt Lake City after a fire—for the ambiance. The exterior is uninviting, and what passes for décor within isn't much better. However, the food will win you over. There's no shortage of delicious dishes at this spacious Indian eatery; among them is the perfectly spiced lamb vindaloo and the equally appealing keema kofta—minced chicken meatballs bathed in a luscious and creamy mild korma-style sauce. I also love the dal makhani, and the mildly spiced vegetable navratan korma. The $9.95 lunch buffet, which includes soft drinks, is a particularly good deal.

A bit further south, in West Jordan, is the new Taste of India (9200 S. Redwood Road, 801-618-2200, TasteofIndiaWJ.com) owned by Johnny Singh. I've often sung the praises of Layton's Taste of India, and now there's a South Valley option for folks looking for unbeatable, made-from-scratch Indian cuisine. I give credit to Taste of India for bucking the lunchtime all-you-can-eat buffet trend. Instead of a buffet—where food might sit for hours—Taste of India offers what's called a thali lunch special ($9.99), which changes each day of the week. Thali means "plate" in India and the thali lunch is a large silver plate with an appetizer, basmati rice, naan, raita, salad and dessert, along with a choice of two entrees from a field of six to eight.

It's easy to miss the restaurant, which is tucked behind a Wingers and a Fortune Buffet restaurant. Inside, the décor is subtle, with floor-to-ceiling red and gold curtains, brick-red tile flooring, mustard-colored walls, high ceilings, and a small bar (full alcohol license) with flat-screen TV. I ordered the thali lunch with creamy chicken korma and lamb tikka masala as the entrees. The appetizer was a tender, juicy tandoori chicken leg—easily the best tandoori I've eaten in Utah. The chicken korma entree was superb, too: tender, boneless pieces of chicken in a subtle but scrumptious coconut-cream curry. It's always a struggle for me to choose between the irresistible chicken korma and the equally inviting mango chicken entrée. The lamb entree, also, was outstanding; Taste of India offers some of the best tikka masala I've tasted. It was a bit odd that mango ice cream came simultaneously with the rest of the meal. However, I devoured my delicious lunch so quickly that it didn't have a chance to melt. I also think the $2.69 charge for a fountain soda is a bit outrageous. Still, Taste of India remains my go-to restaurant for top-notch, authentic Indian fare and uber-friendly service.

Downtown Provo provides two good options for Indian fare: Bombay House (463 N. University Ave, 801-373-6677, BombayHouse.com) and India Palace (98 W. Center St, 801-373-7200, IndiaPalaceUT.com). The menus are similar, and both restaurants offer an all-you-can-eat lunch buffet. The chicken tikka masala at India Palace really rocks, and I also can't get enough of the bhindi aloo—fresh okra cooked with potatoes, onions, garlic, tomatoes and spices. The owner, Amrik Singh, wife Kulwinder Kaur, and their family are very welcoming and friendly. Provo's Bombay House offers the same can't-miss Indian cuisine as its Salt Lake City sister restaurant, with a very appealing ambiance.

Owned by Daniel Shanthakumar, Bombay House opened in 1993 and has been tantalizing discriminating palates ever since. Among the temptations is Bollywood chicken: boneless breast meat cooked with potatoes, pineapple, tomatoes, onions, garlic, ginger, coconut milk and spices. And, this is one of the few places I've been where the fish curry (made with halibut) was simply spectacular.
So, you see: India really is all around.