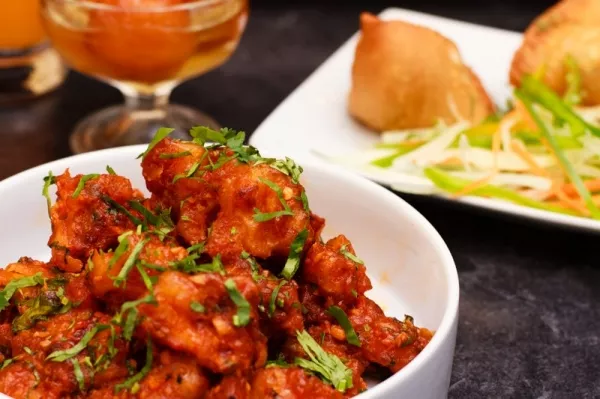 Indian food at Saffron Valley
Things change—among them, Indian eateries. Drab and dreary is how I would have once described the typical Utah Indian restaurant. They were gloomy affairs with the obligatory background sitar music, posters of the Taj Mahal and Ganesh, only the most perfunctory service—and the ubiquitous all-you-can-eat lunch buffet. If you'd been to one, you'd been to them all. They each seemed to have been cut from the same cloth.
But then, restaurants like Royal India and Taste of India upped the ante, providing customers with ambiance and service that was as vital as the food. Well, in the past few months, three different Indian restaurants have opened along the Wasatch Front, and each is as unique, attractive and inviting as the next. And the food at all three is exceptional. We seem to be in the midst of an Indian-restaurant renaissance.
Let's begin with Bombay House, which I believe was Salt Lake City's first Indian restaurant. The original Bombay House was started by Daniel Shanthakumar, Harpal Toor and Ajmer Singh in 1993. A second location later opened in Provo. And, a few months ago, a third Bombay House (7726 Campus View Drive, 801-282-0777, BombayHouse.com) opened its doors, in the old Indian Fusion space in West Jordan. Terra-cotta colors dominate the design scheme, making the newest Bombay House warm and inviting. As with the other Bombay House restaurants, service is exceptional. Orders are taken via iPhone and transmitted to the kitchen before the server even leaves your table.
Old favorites like chicken tikka masala, lamb vindaloo and saag aloo mingle with newer Bombay House menu items such as tofu vindaloo and mushroom jalfrezi. I can't get enough of the vindaloo at Bombay House. It's a tart curry made with potatoes, onions, garlic, ginger, tomatoes, spices and (the key ingredient) vinegar. I've always enjoyed the lamb & chicken vindaloo at Bombay House, and now the addition of tofu brings a vegetarian vindaloo option to the menu.
Jalfrezi (also spelled jalfrazie and jaffrazi) is a type of curry with contrasting sweet flavors from caramelized onions and ginger, along with sour notes from bell pepper. The Bombay House version of mushroom jalfrezi was excellent, a very generous serving brimming with fresh mushrooms. Another complex dish is chicken biryani, which is boneless chunks of thigh meat cooked with basmati rice, onions, garlic, ginger, cashew nuts and fiery spices (if you order it "hot"), served with a side of raita. I love the balance of spiciness from chilies with the sweetness of golden raisins, and the added textural element of crunchy cashews. There was one Bombay House flop, however. At $14.95, I'd expect more than seven medium-size shrimp in an order of shrimp tandoori. The dish was mostly grilled onions—tasty, but a disappointment for the price.
A new addition to downtown dining—brought to you by the owners of Tandoor Grill—Copper Bowl Indian Cuisine (214 W. 600 South, 801-532-2322, Facebook.com/CopperBowlIndianCuisine) recently opened in the space that was formerly home to The Last Samurai. It's gotten a nice makeover: open, bright, spacious and airy, and you've just gotta love those lime-green barstools. Yes, a bar in an Indian restaurant!
Of course you can find traditional Indian curries and such on the Copper Bowl menu, but what caught my eye was the abundance of very untraditional dishes—tandoor "surf & turf," for example, which is a combo of tandoor-cooked lamb boti kebab and tiger shrimp, or pepper-spiced fried calamari called konkan. Salmon appears on the menu, too, in the form of salmon tandoori and salmon tikka masala dosa. And then there are the unusual "rum chops," which are lamb chops marinated in yogurt, rum and spices before being cooked.
One of the best Copper Bowl dishes is the chili chicken: chunks of bright, nearly neon-colored red-orange boneless chicken in a sticky and fiery-but-sweet sauce that's a nice contrast of chiles and honey. And you must try the delicious madras masala (lamb or chicken), which is a South Indian dish from Chettinad spiced with pepper and fennel. Copper Bowl does offer an all-you-can-eat lunch buffet, priced at $10 per person. I found the buffet food to be very fresh, with good variety of dishes, including the most tender tandoori chicken I've tasted.
In the Avenues, owner Lavanya Mahate has turned the Japanese Pagoda restaurant into Saffron Valley East India Café (26 E St., 801-203-3325, SaffronValley.com), with soothing blue hues to match the mellow vibe there. There's nothing mellow about the food, however, which is as vibrant as Indian food gets. As at her South Jordan restaurant, this Saffron Valley specializes in Indian and Indo-Chinese cuisines, particularly street foods such as samosas, pakoras, chaat, dosas, kebabs, idly, vada and such. The kheema samosas are outstanding: crisp, deep-fried (but not at all greasy) pastries filled with a delicious mixture of nicely spiced minced lamb and chicken with yellow lentils.
My wife loved her order of "three saag," which was Swiss chard, spinach and mustard greens cooked in a light, creamy sauce. Meanwhile, the best dish out of all my visits to the Indian eateries recounted here was Saffron Valley's chicken madras curry. Boneless, skinless thigh meat was bathed in a fiery orange-colored sauce that was über-complex, with heat from dried chilies and flavors of cumin, anise, cinnamon, ginger and sweet-tart tamarind. It was a perfect curry and portioned generously enough to allow me to savor it a second time as leftovers, for lunch.
All three of these new Indian restaurants are well worth a visit. And, by the way, all three have better-than-adequate wine and beer offerings, to boot. So, hurry to where there's curry.
Twitter: @Critic1