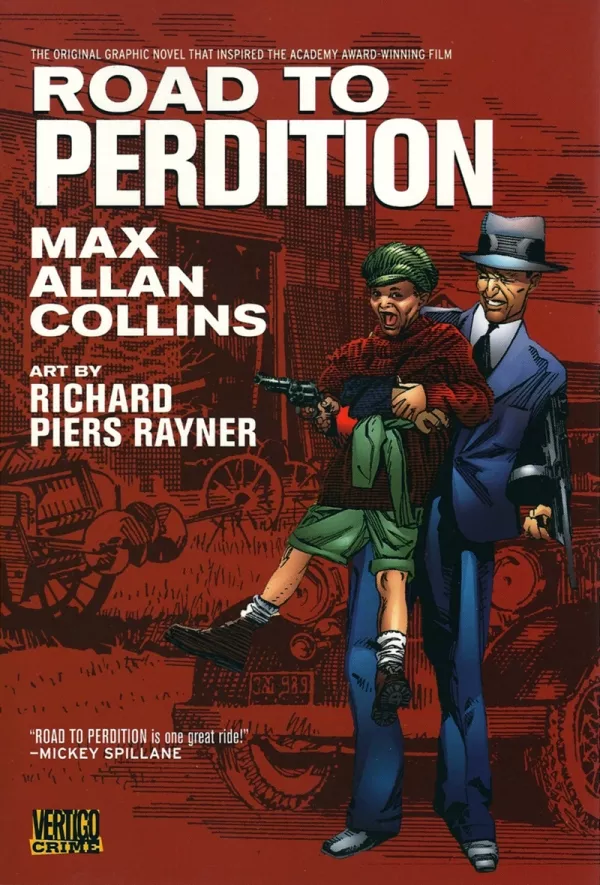 The annual arrival of the Sundance Film Festival is a constant reminder of the "indie spirit." At its best, the festival functions as a showcase for talented young filmmakers who have sacrificed blood, sweat and tears for their art. And it can also be—when you're looking at it more cynically—a place for big Hollywood distributors to drop their medium-budget art-house and Oscar fare on an audience willing to pay a premium to stand in the cold and see the films first.

But movies and comics at this level have a lot in common. The indie spirit is alive and well in books like Doug TenNapel's Ghostopolis, or Tom Taylor's The Deep. But what about instances where those worlds—indie comics and more serious filmmaking—collide?

No, I'm not talking about big-budget stuff like The Avengers or Man of Steel. Those are the "Big Two" comics publishers using massive studios to print money. But there are comic adaptations that you might not have even realized were comic adaptations.

Take, for instance, Road to Perdition. Directed by Sam Mendes and starring Tom Hanks, Paul Newman, Jude Law and Daniel Craig, this 2002 film has a compelling story and some of the best acting the silver screen has ever seen. Few people knew that it was based on a graphic novel released in 1998. The story came from the mind of Max Allan Collins and was illustrated by Richard Piers Rayner. The book is gritty and entirely black & white, making you feel like you're in the middle of a Depression-era newspaper.

If you liked the movie, the comic spawned both novelized and comic-based sequels by Collins, and includes so much more to explore than Mendes was able to put on the screen.

The indie-comics work of Daniel Clowes has also inspired quirky comedic films, including Art School Confidential. An even better Clowes-based film was the 2001 adaptation of Ghost World, which starred Scarlett Johansson, Thora Birch and Steve Buscemi. Terry Zwigoff directed it, and he also directed the best documentary about an indie-comics icon ever produced, 1994's Crumb. There's no spandex involved, and the film deals with very real human emotions and situations—albeit in very odd ways, with very odd characters.

Zwigoff wasn't the only filmmaker ever inspired by the indie comic work of Clowes. It was so inspiring to Shia LeBeouf that he plagiarized a mountain of material into his short film about film critics—and no one was the wiser for a whole year.

Perhaps the best and most recent adaptation of a small-press indie comic into a fantastic film was Edgar Wright's Scott Pilgrim Vs. The World, based on the series of graphic novels written and drawn by Bryan Lee O'Malley. Wright turned a funny book into a flashy, video-game-like dream of a film that is eventually going to hit cult status.

But what happens when an indie comic creator decides to produce a movie based on his own indie comic? Then you get a schlock masterpiece like Mike Allred's G-Men From Hell. This is a film that needs to be seen to be believed, and it happens to be currently streaming on Netflix. It's about a pair of G-men (William Forsythe and Tate Donovan) who find themselves facing the devil (Robert Goulet) in hell. They escape and find themselves trapped on Earth, trying to do good deeds to earn their way into heaven. It's absolutely insane and hilarious, and perfectly embodies the bold spirit of independence in a way that is hard to rival.

While you're waiting in the cold for that next bit of Sundance brilliance, feel free to imagine yourself warm at home watching any of these indie gems. Or, while you're queuing up, pull one of these books from your pocket and get reading. It'll certainly keep your mind off the weather.

Bryan Young is the editor-in-chief of BigShinyRobot.com
Twitter: @swankmotron