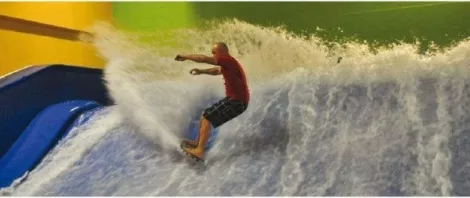 Ogden has a permanent wave—one on which you can body surf (on a board) or do the actual stand-up, hang 10.
The wave is part of The Salomon Center, a truly amazing adventure building in Ogden that includes a huge rock-climbing wall, a closed glass chamber where you can "fly" on a pillar of wind, a commercial gym, a large game arcade and a selection of restaurants. But this time of year, the wave on the pocket-size ocean, called the "Flowrider," is the big draw. It's still too cold for outdoor swimming, but here, it's warm and safe. The slope over which the water flows is only 30 feet long and 50 feet wide, but when you're riding through water moving 25 to 28 miles an hour, it's large enough. The smooth, trampoline-like surface means there's no hard impact, even if you get washed off your board. You don't even need a helmet. The forceful water that leads to the always-crashing wave is supplied by an underground, sealed-off pool containing 66,000 gallons of water.
Shaun Hancock, manager of Salomon Center adventure rides, says, "It's just starting to grow, and it's considered the fastest-growing board sport in the world. My passion is to make sure people come here and have a good time and want to come back."
Hancock, 40, is also one of the top indoor surfers in the world. He competes in the masters division of the Flow Tour competition, which travels between the 60 or so indoor Flowriders throughout the United States. Last year, he ended up third in the country.
"It's comparable to surfing, but a lot different," Hancock says. "First, the water is moving in the opposite direction [toward you, rather than along with you]. The board has no fins. There's a similarity in balance and carving, but other than that, it's its own sport, called flowboarding. It's kind of a combination of all board sports, including snowboarding, skateboarding and surfing."
This reporter, who hates unfrozen water, gave it a spin. I made the beginner's mistake of letting my bodyboard get sideways, whereupon I was immediately spun around, tossed up and over the wave, and spit out on the back. Despite that, it was fun, and I will be back. The main reason? This ride allows you to test your daring, and a fall is not dangerous. The water is shallow, which is good for someone like me who panics if my head goes under water. With each fall (and there were many), I was quickly washed over to the calm waters on the side or tossed over the back of the wave to the dry landing beyond, where I picked up my board and walked down to try again. It's also a great workout. As you'll learn the next day, you use every muscle in your body.
At Flowrider, you start by placing your board (surf or body) at the front or side. An operator, who is also a coach, instructs you how to ride, how to fall and how to improve. He'll even hold your board at the water's edge until you feel confident enough to take the wave on your own. Novice surfers can hold a rope until they get their balance. Bodyboarders quickly learn how to shift weight to maneuver the board from side to side in the water. It's exciting to try to push your daring in a safe environment. You ride until you fall, then exit for the next person in line. The rest period until your turn is also a good thing. You can expect between 20-30 rides an hour.
Some tips: The force of the water can wash off brief bathing suits, so don't try it in Speedos or bikinis. Guys can wear long shorts over their suits to prevent unwanted exposure. Women can prevent the same by wearing ankle-length tights under their suits, which also helps disguise the blinding white legs of spring.
If you realize you're about to be washed over the back of the wave, flatten out. Don't try to land on your knees, or they'll get thumped (lightly) on the landing grate.
The cost of this easy adventure is $20 an hour, though you can buy various punch passes that take the cost down to $10. It's a popular attraction, so Hancock advises advance reservations.

THE SALOMON CENTER
2261 Keisel Ave.
Ogden Reservations
801-528-5352
Monday-Thursday 2-10 p.m.
Friday-Saturday 2-11 p.m.
SalomonCenter.com