Wendy Seegmiller never imagined her once-upon-a-time life would come to such an abrupt halt. She never thought the lawyers she counted on would so upend her life.
Hers is a twisted saga that spans 10 years, involving nine attorneys, two lawsuits and now an apparent legal agreement to keep it all under wraps.
The 40-something Eagle Mountain woman never thought a cheap little Honda vehicle part could have saved her dinner plans, and her future. Instead, she found herself on a long and tragic path to recovery.
The torturous trail began in 2003, when her husband, Steven, at the age of 36, was paralyzed in an ATV accident and later died. The path brought Wendy to Siegfried & Jensen (S&J), the local law firm that initially sought to recover damages on her family's behalf. It wound through a lawsuit against the multinational behemoth Honda during which the Seegmillers saw their fortunes evaporate and their family strained.
After she settled with Honda for a confidential amount in 2009, Wendy found herself no better off—in fact, she was on the verge of bankruptcy. "I just trusted them," Wendy says of her reliance on S&J.
A friend felt that trust was misplaced and sent her to a new law firm, where attorney Gary Ferguson filed a legal malpractice case on her behalf, alleging that the Seegmillers' product liability and wrongful-death lawsuits were well beyond the experience and capabilities of S&J.
Even the principals of the firm, Ned Siegfried and Mitch Jensen—often portrayed in local ad campaigns as experienced personal-injury attorneys—admitted in depositions that neither had tried such a case as lead counsel before.
It's not customary for lawyers to sue other lawyers for malpractice. "Only between 1 percent and 2.6 percent of lawyers each year face a claim or lawsuit for legal malpractice," writes Manual R. Ramos of Vanderbilt University about one study by the American Bar Association. There may be more malpractice suits that are never filed, which Ramos calls the profession's dirty little secret.
And now, on the verge of settling her legal malpractice case against S&J, Wendy finds her new lawyers locked in a business dispute over their take of the final settlement.
So, what is it about this case that tests the mettle of attorneys who touch it?
THE CAST
Steve Seegmiller, paralyzed in 2003 ATV accident, dies from injury complications in 2004
Wendy Seegmiller, Steve's widow, mother of three daughters, brings Honda lawsuit
Ned Siegfried and Mitch Jensen, managing partners of Utah personal-injury law firm Siegfried & Jensen, hired to represent the Seegmillers in their Honda lawsuit
Michael Katz, S&J attorney originally assigned to Wendy's lawsuit with Honda
Joseph Steele, S&J attorney, took a lead role in the case in 2009
Larry Setchell, product-liability expert from Seattle who S&J named lead trial counsel in the Honda lawsuit. Was not named in Wendy's malpractice lawsuit.
Gary Ferguson, formerly of Burridge Ferguson Law, files Wendy's legal malpractice lawsuit against S&J
Christian Burridge, Ferguson's former law partner, who allegedly locked Ferguson out of his office
Aaron Tillman, Burridge's new partner, now handling Wendy's settlement
The Accident
Steve Seegmiller was a man of many talents. He was a professional golfer, a hunter and a business owner with a complicated if tortured personality. He and Wendy met in their 20s as he was winding down on the pro-golf circuit. A golfer since childhood, Steve made it to the Nike Tour three years running. But he knew that kind of life would make it hard to raise a family.
Steve and Wendy both grew up in Provo and knew each other casually in high school. But it wasn't until 10 years later that they ran into each other again. He told her he'd had a crush on her since high school, asked her out the next day and began an enduring yet challenging partnership.
Wendy wasn't sure he could change course from his years of depression and alcoholism, but when she saw how he got into accounting, she knew it could work between them. Together, they built a multimillion-dollar business, Good Neighbor Roofing & Siding, with 40 employees and a presence in North and South Carolina.
"We worked well together as a team," Wendy says. "We had three little girls."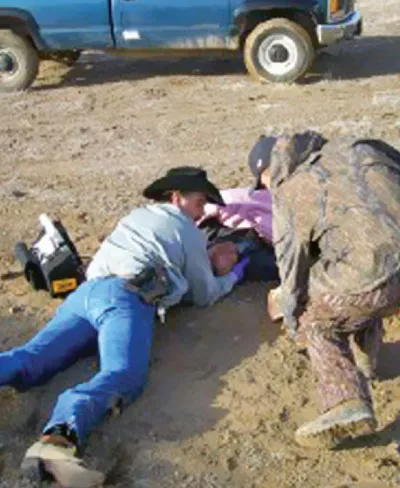 People just liked Steve—his charismatic smile, sense of humor and bravado along with his love of adventure. He worked with outfitters to lead hunters into the southern Utah mountains, looking for cougars and lions. He'd had some close calls. Once, when his horse fell through some ice, he worked his feet free of the stirrups and escaped. The horse drowned.
But it was a hunt in February 2003 that catapulted the Seegmillers into a legal morass that still threatens to bury the family.
Wendy and others recall the accident this way: Steve had found lion tracks in the mountains near Antimony, where he was leading a hunt. He and his group gathered dogs and rode four-wheelers to the sighting, then headed back to camp to get their horses. Seegmiller was in the back, riding slowly because of the dust, when a box on the back of his Honda ATV came untethered. The long fabric straps wound around the rear axle of the ATV, locking up the back and front wheels. Steve was thrown forward, the ATV flipped—landing on top of him—and, because the group had gone ahead, he was trapped under the ATV for the next five hours.
No one saw his accident, Wendy says. He listened helplessly to the group's radio calls, unable to answer.
A son of the ranch owner led the hunters back to search for him. When they found him, they thought he was dead. Covered with gasoline that was still draining on him, Steve wasn't moving.
An ambulance was sent to the scene, but Steve needed more than paramedics could provide in such a remote area. A rescue helicopter was called, and the rancher used his GPS to guide it in.
"When he arrived at [Utah Valley Regional Medical Center], they told me he would not survive, and there was nothing they could do," Wendy says. Steve's lungs had collapsed, and doctors inserted chest tubes. Some 20 friends had gathered, and Wendy decided in desperation to send her husband to LDS Hospital. "I told them that the doctors said he wouldn't make it, but they didn't know Steve."
At LDS Hospital, Wendy was told that Steve's spinal cord was mangled and that he had several broken ribs. If he survived, it wouldn't be easy. "People said, 'You can do nothing for him, just let him go,' " Wendy says. But he was able to tell her he wanted to live.
A month into the hospital stay, Wendy recalls, a friend who had been on the trip came by to visit. They talked about the accident. He told Wendy that if Steve had been on a Polaris four-wheeler, he would have been home for dinner, noting that many ATVs are designed so that a locked rear axle will not immediately lock the front axle.
"This was the first time we realized something needs to be changed—something so simple, so little," Wendy says. She would later discover just how small the problem was. A product-liability expert who later became involved in the case said that a $6 part could have prevented the accident.
The Seegmillers felt no family should have to go through the pain they were experiencing. Their three girls—then 3, 8 and 10 years old—were watching their father fail daily while their mother struggled to maintain a sense of normalcy.
It looked like it was time for an attorney.
Not in Our Community
The Seegmillers had never dealt with attorneys before, so Wendy says they chose a firm that seemed like "a big deal" in Utah: Siegfried & Jensen.
You may have seen their commercials. They usually begin with a tender musical prelude followed by a heart-rending story of personal injury and restoration. Since 1990, the ads say, Siegfried & Jensen has been "restoring the injured with integrity and compassion." According to court documents, S&J spends more than $300,000 a month for marketing, and their promotional efforts help earn them gross revenues of more than $15 million a year.
In personal-injury cases, "the focus almost always points toward where the company or business has departed from their own safety regulations and policies," Ned Siegfried says. Mitch Jensen adds, "the only way to correct the behavior is by having a jury say: 'Not in our community.' "
Community is the operative word. Steve Seegmiller was injured in Garfield County, population 5,172. Honda Motor Co., a billion-dollar multinational company, has 180,000 employees serving a worldwide population.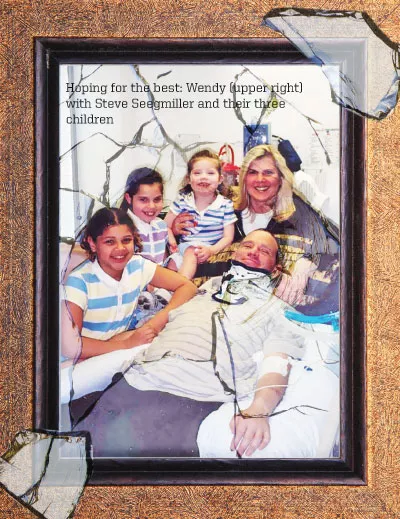 Michael Katz, one of a dozen lawyers at S&J, initially served as the Seegmillers' primary attorney. Neither Steve nor Wendy had occasion to meet the two principals, Siegfried and Jensen, until the case had been pending for two years.
Wendy now thinks the first of several claimed missteps occurred when Katz filed the lawsuit in 2003 in Garfield, a county known for stingy awards, according to court documents. One Garfield jury cited in the lawsuit awarded only $18,000 to the family of a 20-year-old woman killed by a drunken driver.
Meanwhile, Steve was trying to adjust to life as a quadriplegic. He even had a special saddle made so that he might ride again. Still, there were the hospitalizations, inevitable in a quadraplegic's life.
Then, 17 months after the accident, Steve became septic and ended up back in the hospital, where he contracted pneumonia. He just shook his head, and Wendy knew it was the end. Steve died in July 2004, a few weeks before his 38th birthday.
The case against Honda, however, was far from resolved. The product-liability case had grown into a wrongful-death case against Honda.

You're Telling Me Now?
In 2005, S&J contracted with Larry Setchell, a Seattle attorney who specialized in difficult product-liability cases. Unbeknownst to Wendy, he was hired to act as lead trial counsel in the Seegmillers' case against Honda. Wendy says she was introduced to him as an expert only; Setchell says he just assumed she understood his role.
Wendy learned of Setchell's more pivotal role only after she sued S&J for malpractice, when her complaint alleged that no one on the S&J team—including Katz, Siegfried, Jensen and another S&J attorney assigned to the case, Joseph Steele—was competent to try this case. A judge later conditionally dismissed Wendy's claim of incompetent counsel against S&J due to Setchell's role as trial counsel.
Whether as expert or lead counsel, Setchell estimated the likely jury award—especially since death was involved—at least seven figures. In his deposition, he said he thought they could get $1.5 million.
Setchell offered his estimates after three mock trials that S&J conducted. Mock trials are a standard practice in determining the possible outcomes of product-liability cases, where lawyers try out tactics to find what sells best to a jury. The first mock jury, according to court documents, came back with a $7.2 million award, but two others returned with "no cause" verdicts, meaning Wendy would have received no award.
As much as she felt her family deserved to be compensated, even more, Wendy wanted Honda to fix the problem so no one else would have to deal with this kind of tragedy. Setchell believed Honda knew that its product was defective. The alleged defect was simply an unguarded rear axle, according to Setchell. Surrounding the axle with a metal sleeve would have likely kept the straps on Steve's ATV from binding around it.
Larry Setchell's deposition on the Honda defect

The wrongful-death/product-liability suit wound its way to its first mediation Aug. 7, 2008, where, according to court documents, Katz made an opening offer to Honda of $3.1 million. Wendy said that not much happened at that mediation.
Sometime in 2009, court filings show S&J attorney Joseph Steele assumed a more prominent role, and a second mediation was set for Oct.13. That was also when Mitch Jensen showed up, Wendy says, and it was the first time she would deal with him at length.
After the second mediation, Wendy recalls that S&J advised her to settle, telling her that she would never get a good award in Garfield County. "They said people are very conservative down there, and I thought, 'You're telling me now?' " Wendy says.
Two years after settling the case with Honda, Wendy would file a malpractice lawsuit against S&J. Siegfried & Jensen declined to comment for this story. Their attorney, Matthew Evans—with Ray, Quinney & Nebeker—says he instructed his clients not to speak to City Weekly. Comments from S&J or in their defense are taken from public court filings and an e-mail from Evans.
Evans himself would say very little about the case. He wrote in an e-mail: "Experienced counsel at Siegfried & Jensen competently represented the Seegmillers in a very difficult case for several years at a discounted rate." His motion to dismiss the case states that Wendy's malpractice lawsuit is proof that "no good deed goes unpunished."
Evans said his motions "address the lack of merit" of Wendy's claims against S&J.
The Sum of All Fees
Court filings in the malpractice suit show that Steve's medical costs had run more than $497,000. Setchell had run up a bill of $151,000 in costs, and S&J had put down about $70,000 in costs and expenses.
While that adds up to $718,000, S&J's "economic expert" estimated the Seegmillers' losses at $1.8 million—the amount that Steve would have brought to the family had he lived.
According to the complaint, Wendy would find out later that Setchell had advised S&J not to settle for anything less than $750,000.
This was all lost on Wendy as she remained in the dark about the growing expenses. She'd received no detailed accounting from S&J. "All I knew was that I was uncomfortable with a lot of things they did," she says.
As is typical in contingency cases, lawyers will take one-third of the award or settlement plus their costs for depositions, travel and experts.
Wendy participated in a conference call after the second mediation in October 2009—in which Honda made the same offer as before. She remembers Mitch Jensen encouraging her to settle. Setchell, in a deposition for the S&J malpractice case, said he would work to ensure Wendy would net $100,000 from any settlement. But Setchell also said he was ready for trial.
In a more recent (August 2011) e-mail exchange between Setchell and Ferguson (Wendy's attorney for the malpractice case), Setchell says he would be "eternally pissed if, in fact, [Ned Siegfried] or anyone else leaned on [Katz] and therefore Wendy, to settle without going more distance."
Setchell, in his deposition, said he liked the case and especially liked the Seegmiller family. "They were good plaintiffs," he said. "These folks who become quadriplegic are—you know, they're condemned for life. And Steve was a fighter. I met him, and that guy was a fighter. He swore he was going to work his way through it."
Setchell called Steve's life exemplary in a mediation statement to the judge. "Steve's life had not always been so blessed. He had alcohol-abuse problems, which were conquered following a spiritual and religious awakening," he said.
Wendy's malpractice lawsuit noted that with S&J's average of 2,000 pending cases, they probably saw no value in dragging out her wrongful-death lawsuit. "Jensen recommended that Wendy Seegmiller settle the case because the partnership … had over $70,000 in costs advanced, which Jensen did not want to risk going to trial and losing," her malpractice lawsuit states.
Unsettled Feelings
In his motion to get some of the malpractice claims dismissed, S&J attorney Evans said just the opposite, that S&J was averse to settling. "Like all cases, the Seegmillers ran the risk at trial of being 'no caused' and receiving nothing, and attorneys informed the Seegmillers of this risk. In light of the years of work put into the case and the fact that they were working on a contingency-fee basis, attorneys were incentivized to try the case rather than settle for the amounts offered by Honda."
But, he says in court documents, Wendy made the decision to settle with Honda rather than run the risk of getting nothing. That is, of course, true, although Wendy maintains she was pushed to settle without understanding all the implications. So, on Oct. 13, 2009, Wendy accepted the confidential mediation settlement with Honda.

"After the settlement, Wendy Seegmiller learned for the first time that she would have to represent herself against collection agencies and use what remained of her portion of the settlement proceeds to pay off these unpaid expenses," her court filing says, leaving her about $50,000 short.
S&J disputes the idea that its expenses were excessive. Their court documents place the responsibility for any incurred expenses on Wendy and Setchell, saying the expenses were the result of "intervening and/or superseding causes," rather than anything S&J had done.
And, in fact, S&J and Setchell discounted their fees. In court documents, S&J attorney Evans wrote: "As a courtesy to the Seegmillers and for the sole purpose of making sure the Seegmillers received as much settlement money as possible, attorneys and [Setchell's firm] agreed to receive a reduced attorney fee of 18.75 percent of the settlement funds rather than the agreed-upon 33.3 percent. In addition, attorneys only charged the Seegmillers $57,000 in costs rather than $62,907.98. … [Setchell's firm] only charged the Seegmillers $143,000 in costs rather than the $151,251.28."
The savings to the Seegmillers was about $75,000, Evans' motion said. But Wendy said she didn't know she could question costs and wasn't offered a breakdown or explanation. Instead, she received a one-page document with only a subtotal of $200,000 in costs.
In accepting Honda's settlement, Wendy agreed to keep the final amount confidential. However, a court document filed by Ferguson, her malpractice attorney, suggests that S&J retained $300,000 in fees and costs advanced in the case—which was "three-fourths" of the total settlement. That would mean the case settled for $400,000, and even after the "generous" discounts by S&J, Wendy ended up (as Setchell finally predicted) with only $100,000.
Location, Location
Wendy's malpractice lawsuit would allege 14 causes of action against S&J, including ethical violations by placing Wendy Seegmiller's interests in conflict with her children's and by putting S&J's interests above Wendy's.
Wendy claims that S&J advised her "to keep [her children's settlement] below an amount because then we wouldn't have to incur additional expenses and time delays to go before a judge." A judge is required to review a child's settlement in any amount over $10,000 to ensure each child receives a fair share.
And so, Wendy says, she was persuaded to cap off distribution to each of her three children at $10,000—an amount that flew under judicial radar.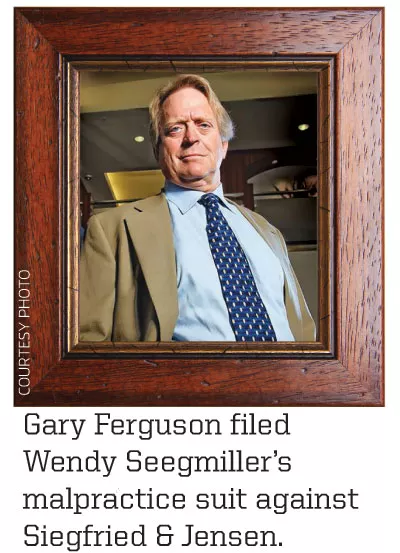 Ferguson believes that S&J hoped to avoid a judge's involvement because "[S&J] knew that the court would want to review all of the facts surrounding the settlement, including the fee agreement, which was not valid, and costs advanced, which were a moving target," the malpractice lawsuit states.
The trial venue also remains a major sticking point of the malpractice lawsuit. Ferguson maintains that Utah law allows lawsuits to be filed in any county of the state where Honda was doing business. Salt Lake County, where the Honda dealer was located, he says, would have been a much better call. In November 2010, for instance, a wrongful-death and personal-injury case resulted in a $4.3 million verdict, according to court documents.
Setchell, in his deposition, said that he relied on local attorneys to determine the venue for the proceedings, since they knew their state best. He was, however, bothered that the Garfield judge had told attorney Katz it was a tough county in terms of verdicts.
Still, Setchell, in his deposition, gave a 50-50 chance of success despite the two no-cause mock trials.
In his motion to dismiss the malpractice suit, S&J attorney Evans maintains that S&J could not file in Salt Lake City—that it would have to be in either Garfield or Utah County. Ferguson points to a part of the law that allows actions to be brought in any county where a corporation has an office or place of business, but, in court documents, Evans counters that dealerships are not places of business.
While Evans declined to discuss S&J's lawsuit directly, he sent an e-mail to City Weekly referencing his motions for summary judgment, saying, "It is important to note that the Seegmillers are being represented by a former employee of Siegfried & Jensen, Gary Ferguson," implying that Ferguson may have had an ax to grind. Ferguson insists he took this case for his client only.
In the same e-mail, Evans raised questions about Ferguson's ethics, referring to a 2009 Supreme Court case in which Ferguson fought allegations of overbilling clients. Ferguson claimed his former law partners (not S&J), who then fired him, later defamed him. A trial court dismissed Ferguson's defamation case, and the dismissal was later upheld by the Utah Supreme Court.
"This just shows how low Matt Evans will go," Ferguson said. He said the high court broke precedence in his case when it ruled against his appeal. "The court turned back the law 60 years by saying you have to show that something is not only false but made intentionally with malice."
I Feel So Betrayed
After she settled her case with Honda and paid her own expenses, Wendy was left in a tight spot. "She "had to employ the services of a new law firm and seek assistance from neighbors and her local state senator to assist her in negotiating and resolving the outstanding debt," her lawsuit says. A friend suggested that she declare bankruptcy, but she couldn't. Before the accident, she and Steve had just been through a painful bankruptcy in which they'd lost their home.
And as difficult as it was to get back on her feet, she did at least have some satisfaction that Honda had fixed that $6 problem in its upcoming TRX 300 Fourtrax ATV models, she says.
Ferguson and Wendy eventually were able to retrieve the Seegmiller files from S&J. Evans says S&J had to "painstakingly" identify documents that were "protected" before giving her some of the files. She got the rest—17 boxes of them—by going to court, but Evans notes that S&J produced them at no cost.
"Once we saw the files, there were Ned and Mitch saying they'd never heard of my case," Wendy says in an interview. "There were 3,000 e-mails going back and forth—and there were e-mails making fun of my dead husband—some calling him a 'MacGyver hunter'. … They were the only voice we had, and that's why I feel so betrayed."
Ferguson says S&J create the impression they are trial lawyers. "They have never done the thing that they're advertising that they're experts at doing. They're taking advantage of a widow while setting themselves out to the community as top lawyers in the state."
Wendy participated in a failed mediation on the malpractice lawsuit with S&J in December 2012.
It looked as though they were headed to court, when, in late January 2013, a settlement appears to have been reached—though neither side will confirm the terms, and nothing has been filed in court as of press time. While the settlement amount will be confidential, it appears that all parties, including the attorneys, will sign a "nondisparagement" agreement, promising not to say bad things about each other.
Just as this labored malpractice suit was about to be settled, Wendy's lawyer, Ferguson, and his law partner, Christian Burridge (also a former S&J attorney), had a falling out that dissolved their partnership. Another attorney, Aaron Tillman, took over Ferguson's role. For reasons unrelated to this case, Ferguson says, he is no longer working with the law firm and was, in fact, locked out of his office and couldn't access Wendy's files. Ferguson did not participate in the latest round of negotiations that resulted in the settlement of the malpractice case.
And he has filed a lien to receive the full one-third of the settlement due attorneys in the case.
In a Good Place
In his television commercial, Ned Siegfried says that personal-injury cases "can paralyze people physically, financially and emotionally."
That's exactly what it did to Wendy Seegmiller.
"I was at the most vulnerable place we've ever been," Wendy says. "Mike Katz came to the funeral, to the private times of our lives, and now I find that they [wanted me to settle] for their interests and not ours."
Tillman calls her a hero. "I think she's in a really good place now," he says. If anything, "a good place" would be out of the grinding legal system that dominated her life for a decade.
She tries to focus on what's important—her three girls, who are now 12, 17 and 19. They still wear their dad's shirts to bed, and they've created a photo album to hold onto his memory. Wendy is self-employed as a salesperson, chipping away at her old bills.
"It sucks that he's not here," she says of her late husband.
"You don't think you have to defend yourself against your own attorneys."
But sometimes you do.

Read some of Gary Ferguson's filings in the malpractice suit against Siegfried & Jensen here