Page 2 of 3
Not in Our Community
The Seegmillers had never dealt with attorneys before, so Wendy says they chose a firm that seemed like "a big deal" in Utah: Siegfried & Jensen.
You may have seen their commercials. They usually begin with a tender musical prelude followed by a heart-rending story of personal injury and restoration. Since 1990, the ads say, Siegfried & Jensen has been "restoring the injured with integrity and compassion." According to court documents, S&J spends more than $300,000 a month for marketing, and their promotional efforts help earn them gross revenues of more than $15 million a year.
In personal-injury cases, "the focus almost always points toward where the company or business has departed from their own safety regulations and policies," Ned Siegfried says. Mitch Jensen adds, "the only way to correct the behavior is by having a jury say: 'Not in our community.' "
Community is the operative word. Steve Seegmiller was injured in Garfield County, population 5,172. Honda Motor Co., a billion-dollar multinational company, has 180,000 employees serving a worldwide population.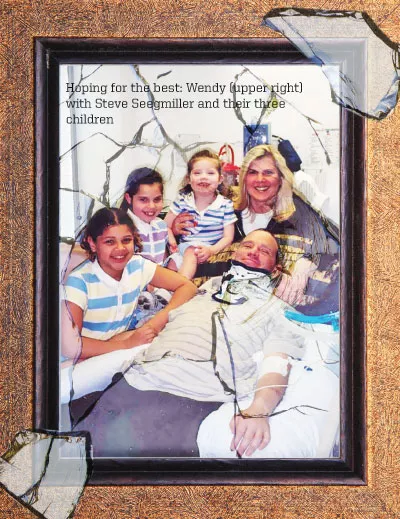 Michael Katz, one of a dozen lawyers at S&J, initially served as the Seegmillers' primary attorney. Neither Steve nor Wendy had occasion to meet the two principals, Siegfried and Jensen, until the case had been pending for two years.
Wendy now thinks the first of several claimed missteps occurred when Katz filed the lawsuit in 2003 in Garfield, a county known for stingy awards, according to court documents. One Garfield jury cited in the lawsuit awarded only $18,000 to the family of a 20-year-old woman killed by a drunken driver.
Meanwhile, Steve was trying to adjust to life as a quadriplegic. He even had a special saddle made so that he might ride again. Still, there were the hospitalizations, inevitable in a quadraplegic's life.
Then, 17 months after the accident, Steve became septic and ended up back in the hospital, where he contracted pneumonia. He just shook his head, and Wendy knew it was the end. Steve died in July 2004, a few weeks before his 38th birthday.
The case against Honda, however, was far from resolved. The product-liability case had grown into a wrongful-death case against Honda.

You're Telling Me Now?
In 2005, S&J contracted with Larry Setchell, a Seattle attorney who specialized in difficult product-liability cases. Unbeknownst to Wendy, he was hired to act as lead trial counsel in the Seegmillers' case against Honda. Wendy says she was introduced to him as an expert only; Setchell says he just assumed she understood his role.
Wendy learned of Setchell's more pivotal role only after she sued S&J for malpractice, when her complaint alleged that no one on the S&J team—including Katz, Siegfried, Jensen and another S&J attorney assigned to the case, Joseph Steele—was competent to try this case. A judge later conditionally dismissed Wendy's claim of incompetent counsel against S&J due to Setchell's role as trial counsel.
Whether as expert or lead counsel, Setchell estimated the likely jury award—especially since death was involved—at least seven figures. In his deposition, he said he thought they could get $1.5 million.
Setchell offered his estimates after three mock trials that S&J conducted. Mock trials are a standard practice in determining the possible outcomes of product-liability cases, where lawyers try out tactics to find what sells best to a jury. The first mock jury, according to court documents, came back with a $7.2 million award, but two others returned with "no cause" verdicts, meaning Wendy would have received no award.
As much as she felt her family deserved to be compensated, even more, Wendy wanted Honda to fix the problem so no one else would have to deal with this kind of tragedy. Setchell believed Honda knew that its product was defective. The alleged defect was simply an unguarded rear axle, according to Setchell. Surrounding the axle with a metal sleeve would have likely kept the straps on Steve's ATV from binding around it.
Larry Setchell's deposition on the Honda defect

The wrongful-death/product-liability suit wound its way to its first mediation Aug. 7, 2008, where, according to court documents, Katz made an opening offer to Honda of $3.1 million. Wendy said that not much happened at that mediation.
Sometime in 2009, court filings show S&J attorney Joseph Steele assumed a more prominent role, and a second mediation was set for Oct.13. That was also when Mitch Jensen showed up, Wendy says, and it was the first time she would deal with him at length.
After the second mediation, Wendy recalls that S&J advised her to settle, telling her that she would never get a good award in Garfield County. "They said people are very conservative down there, and I thought, 'You're telling me now?' " Wendy says.
Two years after settling the case with Honda, Wendy would file a malpractice lawsuit against S&J. Siegfried & Jensen declined to comment for this story. Their attorney, Matthew Evans—with Ray, Quinney & Nebeker—says he instructed his clients not to speak to City Weekly. Comments from S&J or in their defense are taken from public court filings and an e-mail from Evans.
Evans himself would say very little about the case. He wrote in an e-mail: "Experienced counsel at Siegfried & Jensen competently represented the Seegmillers in a very difficult case for several years at a discounted rate." His motion to dismiss the case states that Wendy's malpractice lawsuit is proof that "no good deed goes unpunished."
Evans said his motions "address the lack of merit" of Wendy's claims against S&J.
The Sum of All Fees
Court filings in the malpractice suit show that Steve's medical costs had run more than $497,000. Setchell had run up a bill of $151,000 in costs, and S&J had put down about $70,000 in costs and expenses.
While that adds up to $718,000, S&J's "economic expert" estimated the Seegmillers' losses at $1.8 million—the amount that Steve would have brought to the family had he lived.
According to the complaint, Wendy would find out later that Setchell had advised S&J not to settle for anything less than $750,000.
This was all lost on Wendy as she remained in the dark about the growing expenses. She'd received no detailed accounting from S&J. "All I knew was that I was uncomfortable with a lot of things they did," she says.
As is typical in contingency cases, lawyers will take one-third of the award or settlement plus their costs for depositions, travel and experts.
Wendy participated in a conference call after the second mediation in October 2009—in which Honda made the same offer as before. She remembers Mitch Jensen encouraging her to settle. Setchell, in a deposition for the S&J malpractice case, said he would work to ensure Wendy would net $100,000 from any settlement. But Setchell also said he was ready for trial.
In a more recent (August 2011) e-mail exchange between Setchell and Ferguson (Wendy's attorney for the malpractice case), Setchell says he would be "eternally pissed if, in fact, [Ned Siegfried] or anyone else leaned on [Katz] and therefore Wendy, to settle without going more distance."
Setchell, in his deposition, said he liked the case and especially liked the Seegmiller family. "They were good plaintiffs," he said. "These folks who become quadriplegic are—you know, they're condemned for life. And Steve was a fighter. I met him, and that guy was a fighter. He swore he was going to work his way through it."
Setchell called Steve's life exemplary in a mediation statement to the judge. "Steve's life had not always been so blessed. He had alcohol-abuse problems, which were conquered following a spiritual and religious awakening," he said.
Wendy's malpractice lawsuit noted that with S&J's average of 2,000 pending cases, they probably saw no value in dragging out her wrongful-death lawsuit. "Jensen recommended that Wendy Seegmiller settle the case because the partnership … had over $70,000 in costs advanced, which Jensen did not want to risk going to trial and losing," her malpractice lawsuit states.