Page 3 of 3
Unsettled Feelings
In his motion to get some of the malpractice claims dismissed, S&J attorney Evans said just the opposite, that S&J was averse to settling. "Like all cases, the Seegmillers ran the risk at trial of being 'no caused' and receiving nothing, and attorneys informed the Seegmillers of this risk. In light of the years of work put into the case and the fact that they were working on a contingency-fee basis, attorneys were incentivized to try the case rather than settle for the amounts offered by Honda."
But, he says in court documents, Wendy made the decision to settle with Honda rather than run the risk of getting nothing. That is, of course, true, although Wendy maintains she was pushed to settle without understanding all the implications. So, on Oct. 13, 2009, Wendy accepted the confidential mediation settlement with Honda.

"After the settlement, Wendy Seegmiller learned for the first time that she would have to represent herself against collection agencies and use what remained of her portion of the settlement proceeds to pay off these unpaid expenses," her court filing says, leaving her about $50,000 short.
S&J disputes the idea that its expenses were excessive. Their court documents place the responsibility for any incurred expenses on Wendy and Setchell, saying the expenses were the result of "intervening and/or superseding causes," rather than anything S&J had done.
And, in fact, S&J and Setchell discounted their fees. In court documents, S&J attorney Evans wrote: "As a courtesy to the Seegmillers and for the sole purpose of making sure the Seegmillers received as much settlement money as possible, attorneys and [Setchell's firm] agreed to receive a reduced attorney fee of 18.75 percent of the settlement funds rather than the agreed-upon 33.3 percent. In addition, attorneys only charged the Seegmillers $57,000 in costs rather than $62,907.98. … [Setchell's firm] only charged the Seegmillers $143,000 in costs rather than the $151,251.28."
The savings to the Seegmillers was about $75,000, Evans' motion said. But Wendy said she didn't know she could question costs and wasn't offered a breakdown or explanation. Instead, she received a one-page document with only a subtotal of $200,000 in costs.
In accepting Honda's settlement, Wendy agreed to keep the final amount confidential. However, a court document filed by Ferguson, her malpractice attorney, suggests that S&J retained $300,000 in fees and costs advanced in the case—which was "three-fourths" of the total settlement. That would mean the case settled for $400,000, and even after the "generous" discounts by S&J, Wendy ended up (as Setchell finally predicted) with only $100,000.
Location, Location
Wendy's malpractice lawsuit would allege 14 causes of action against S&J, including ethical violations by placing Wendy Seegmiller's interests in conflict with her children's and by putting S&J's interests above Wendy's.
Wendy claims that S&J advised her "to keep [her children's settlement] below an amount because then we wouldn't have to incur additional expenses and time delays to go before a judge." A judge is required to review a child's settlement in any amount over $10,000 to ensure each child receives a fair share.
And so, Wendy says, she was persuaded to cap off distribution to each of her three children at $10,000—an amount that flew under judicial radar.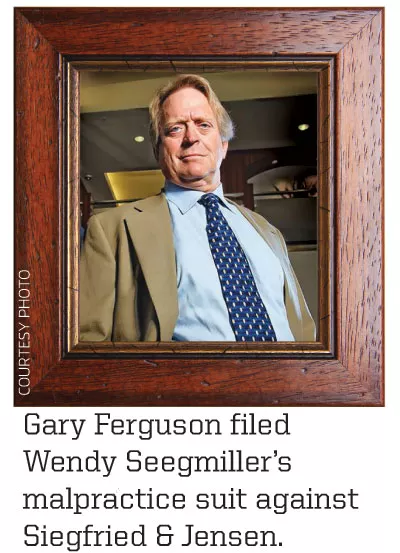 Ferguson believes that S&J hoped to avoid a judge's involvement because "[S&J] knew that the court would want to review all of the facts surrounding the settlement, including the fee agreement, which was not valid, and costs advanced, which were a moving target," the malpractice lawsuit states.
The trial venue also remains a major sticking point of the malpractice lawsuit. Ferguson maintains that Utah law allows lawsuits to be filed in any county of the state where Honda was doing business. Salt Lake County, where the Honda dealer was located, he says, would have been a much better call. In November 2010, for instance, a wrongful-death and personal-injury case resulted in a $4.3 million verdict, according to court documents.
Setchell, in his deposition, said that he relied on local attorneys to determine the venue for the proceedings, since they knew their state best. He was, however, bothered that the Garfield judge had told attorney Katz it was a tough county in terms of verdicts.
Still, Setchell, in his deposition, gave a 50-50 chance of success despite the two no-cause mock trials.
In his motion to dismiss the malpractice suit, S&J attorney Evans maintains that S&J could not file in Salt Lake City—that it would have to be in either Garfield or Utah County. Ferguson points to a part of the law that allows actions to be brought in any county where a corporation has an office or place of business, but, in court documents, Evans counters that dealerships are not places of business.
While Evans declined to discuss S&J's lawsuit directly, he sent an e-mail to City Weekly referencing his motions for summary judgment, saying, "It is important to note that the Seegmillers are being represented by a former employee of Siegfried & Jensen, Gary Ferguson," implying that Ferguson may have had an ax to grind. Ferguson insists he took this case for his client only.
In the same e-mail, Evans raised questions about Ferguson's ethics, referring to a 2009 Supreme Court case in which Ferguson fought allegations of overbilling clients. Ferguson claimed his former law partners (not S&J), who then fired him, later defamed him. A trial court dismissed Ferguson's defamation case, and the dismissal was later upheld by the Utah Supreme Court.
"This just shows how low Matt Evans will go," Ferguson said. He said the high court broke precedence in his case when it ruled against his appeal. "The court turned back the law 60 years by saying you have to show that something is not only false but made intentionally with malice."
I Feel So Betrayed
After she settled her case with Honda and paid her own expenses, Wendy was left in a tight spot. "She "had to employ the services of a new law firm and seek assistance from neighbors and her local state senator to assist her in negotiating and resolving the outstanding debt," her lawsuit says. A friend suggested that she declare bankruptcy, but she couldn't. Before the accident, she and Steve had just been through a painful bankruptcy in which they'd lost their home.
And as difficult as it was to get back on her feet, she did at least have some satisfaction that Honda had fixed that $6 problem in its upcoming TRX 300 Fourtrax ATV models, she says.
Ferguson and Wendy eventually were able to retrieve the Seegmiller files from S&J. Evans says S&J had to "painstakingly" identify documents that were "protected" before giving her some of the files. She got the rest—17 boxes of them—by going to court, but Evans notes that S&J produced them at no cost.
"Once we saw the files, there were Ned and Mitch saying they'd never heard of my case," Wendy says in an interview. "There were 3,000 e-mails going back and forth—and there were e-mails making fun of my dead husband—some calling him a 'MacGyver hunter'. … They were the only voice we had, and that's why I feel so betrayed."
Ferguson says S&J create the impression they are trial lawyers. "They have never done the thing that they're advertising that they're experts at doing. They're taking advantage of a widow while setting themselves out to the community as top lawyers in the state."
Wendy participated in a failed mediation on the malpractice lawsuit with S&J in December 2012.
It looked as though they were headed to court, when, in late January 2013, a settlement appears to have been reached—though neither side will confirm the terms, and nothing has been filed in court as of press time. While the settlement amount will be confidential, it appears that all parties, including the attorneys, will sign a "nondisparagement" agreement, promising not to say bad things about each other.
Just as this labored malpractice suit was about to be settled, Wendy's lawyer, Ferguson, and his law partner, Christian Burridge (also a former S&J attorney), had a falling out that dissolved their partnership. Another attorney, Aaron Tillman, took over Ferguson's role. For reasons unrelated to this case, Ferguson says, he is no longer working with the law firm and was, in fact, locked out of his office and couldn't access Wendy's files. Ferguson did not participate in the latest round of negotiations that resulted in the settlement of the malpractice case.
And he has filed a lien to receive the full one-third of the settlement due attorneys in the case.
In a Good Place
In his television commercial, Ned Siegfried says that personal-injury cases "can paralyze people physically, financially and emotionally."
That's exactly what it did to Wendy Seegmiller.
"I was at the most vulnerable place we've ever been," Wendy says. "Mike Katz came to the funeral, to the private times of our lives, and now I find that they [wanted me to settle] for their interests and not ours."
Tillman calls her a hero. "I think she's in a really good place now," he says. If anything, "a good place" would be out of the grinding legal system that dominated her life for a decade.
She tries to focus on what's important—her three girls, who are now 12, 17 and 19. They still wear their dad's shirts to bed, and they've created a photo album to hold onto his memory. Wendy is self-employed as a salesperson, chipping away at her old bills.
"It sucks that he's not here," she says of her late husband.
"You don't think you have to defend yourself against your own attorneys."
But sometimes you do.

Read some of Gary Ferguson's filings in the malpractice suit against Siegfried & Jensen here