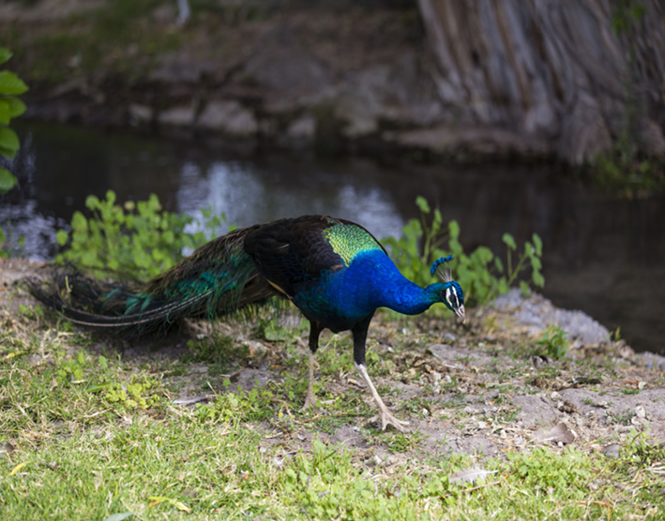 For Zach Roach, nearly every morning starts the same.
He shows up to work just before 8 a.m., Logan's Willow Park Zoo name and logo emblazoned on his shirt, and walks by a large wooden sign near the front entrance that simply reads ZOO in large font. Remaining letters spelling out "Zootah," the zoo's official name since last February, will fill out the empty space once rebranding efforts are completed.
Roach unlocks the door to a large, plain building next to the entrance and is met by the sight of nondescript cinder block walls. He opens another door inside and is bombarded with the familiar cacophony of dozens of birds chirping and singing. The din is jarring when compared to the quiet of the suburb surrounding the grounds.
With expert precision, Roach begins preparing food for the animals—meat for the eagle, hawk and owls is quickly cut into strips, weighed and logged in a record book. Fruits and vegetables are chopped for the other small animals.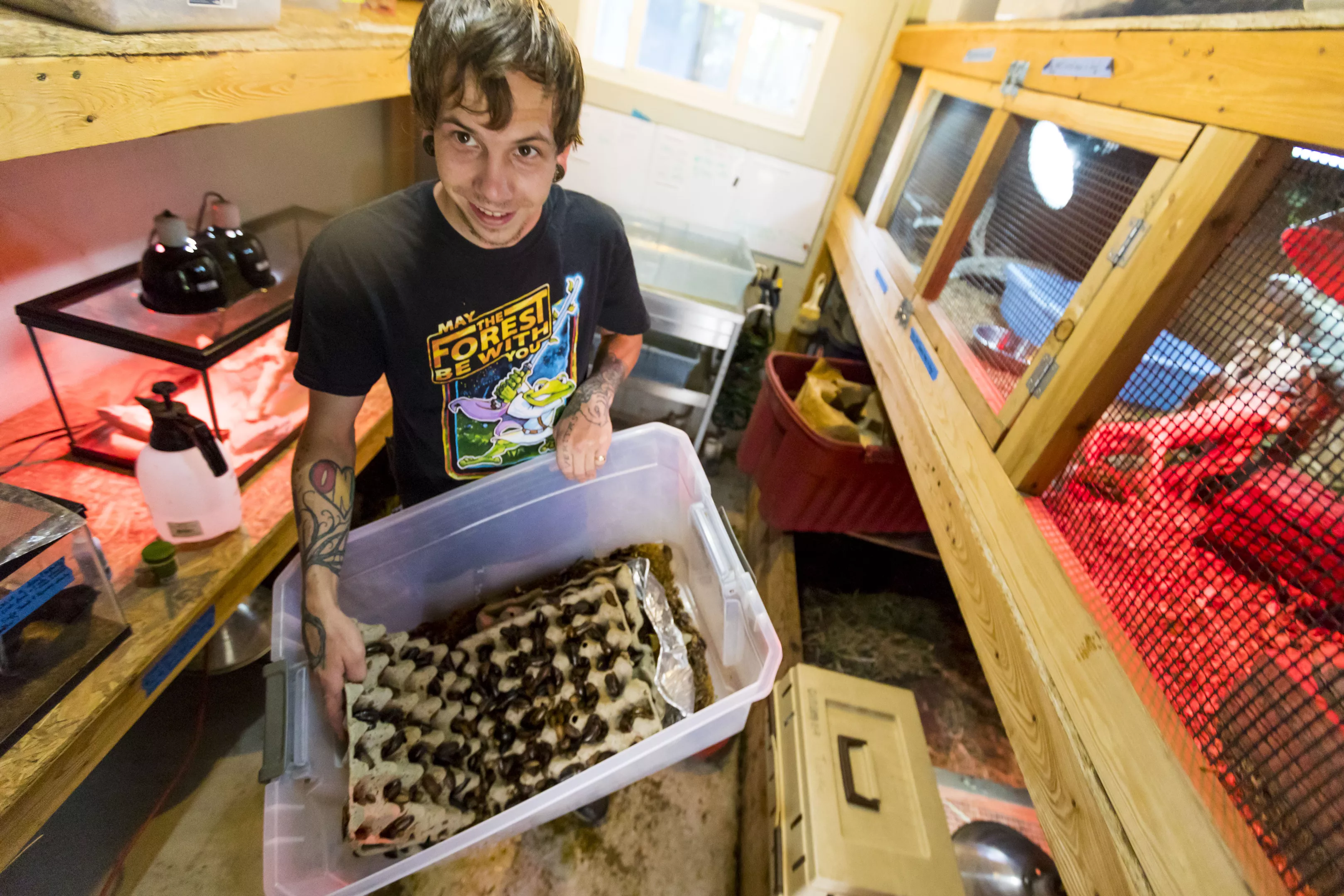 The room is utilitarian, with industrial-sized sinks and concrete floors. It's dimly lit, and only a few pieces of paper—outlining procedures and other reminders—break the visual monotony of the gray-hued walls. Tall enclosures with varying bird species line the perimeter in a half-circle, and a locked gate separates the capuchin monkeys, kinkajou and hyraxes from the birds.
"The doves are loud today," Roach says under his breath, glancing over his shoulder at their enclosure. His hands barely stop moving.
After preparing the meat and vegetables, Roach moves on to construct the enrichment activities. He grabs an old magazine from a stack and begins ripping out pages to wrap around the produce. The balls of paper and food are designed to be toys for the animals—a way to stimulate their brains. The birds will pick at the paper slowly, but the two monkeys know there's a prize on the inside. They will rip the wrapping apart like a kid on Christmas morning to reveal the juicy reward.
The staff will need to create some new puzzles for the monkeys soon, Roach says. The monkeys figure out the enrichment activities too quickly to really be beneficial.
The handler yawns. He takes a momentary respite from food prep to talk to one of the birds. Her name is Madge, a citron-crested cockatoo, and word is she's the queen of the zoo—a nod perhaps to Willow Park Zoo's origins as an aviary back in the 1970s. Madge bobs her head as Roach talks, like she's nodding along with what he's saying. He pulls her out of the cage and sets her on a perch next to the counter where he's working, as if to reinforce her status. Madge has been a park fixture since she arrived here in 1999, and has the distinction of being Zootah's longest-residing tenant.
Madge chirps at Roach and he talks to her intermittently, but mostly he works in silence. He enjoys spending time with the birds and the small mammals in this building, but his passion is the reptiles and amphibians. Still in his early 20s, Roach's dream is to work with large crocodiles in a bigger zoo someday, but the training that would require is beyond what he currently has access to. Part-time jobs don't pay for college degrees.
He looks at Madge and laughs. "Are you happy, pretty girl?" In response, she raises the orange crest on top of her head, contrasting sharply with her white body, and starts to bob again. The keeper smiles.
Another worker joins Roach. Her name is Liz Park. The entire zoo is managed by a small staff—just two full-time employees, 11 part-time workers and a handful of volunteers and interns. Technically, Roach is one of the part-time employees. Realistically, the entire staff volunteers.
"I just get paid for the time I'm in here cleaning and feeding," Roach says. "Pretty much all the time I spend with the animals, I don't get paid for."
Park, officially one of the volunteers, comes in a morning or two per week to handle some of the more menial tasks. She grabs a pail, a scoop and a brush and climbs into one of the bird cages. "If you're working in a zoo," she says, "it's mostly just cleaning poop."
She scrubs the wire netting of the cage sides with the brush, then proceeds to the unenviable task of scraping the end result of feeding time off the ground. The birds hop around on their perches above her, blissfully unaware that they're the reason she's on her hands and knees.
Some of the cages are home to just one or two birds, and are cleaned relatively quickly. Others, like the one housing the doves, host 15-20 animals.
The two workers don't talk much. The bird chatter only increases at feeding time.
Finally, after more than two hours, food preparation is done. Roach puts Madge back in her cage, then dumps a bowl of fruits and veggies on a tray and offers it to the monkeys. They swing across the enclosure and start eating, but stare at Roach suspiciously as they pick up their food.
"The monkeys are jerks," Roach says.
Now, for the first time since he arrived at work, it's time to go outside. Roach grabs a coat, checks his boots, picks up the plastic containers of meat and opens the door. The feathered symphony is suddenly drowned out by the sound of a heavy morning rainstorm. He laughs ironically, then pulls up the hood on his jacket, glances at Park for encouragement and runs out.
The job of running a small zoo can be monotonous, uncomfortable and exhausting, but it's more than just a job to these two. For the employees and volunteers at Zootah, they believe they are impacting the world, one animal and one visitor at a time.
GETTING THEIR BEARINGS
It's spring break for the K-12 school districts in Cache Valley and Troy Cooper is taking advantage. Cooper, Zootah's director, has a friendly smile and a personality to match. His geniality is on full display as he takes money from parents and stamps childrens' hands.
"Which animal are you excited to see?" Cooper asks one of the kids. The answer gets buried as all the children listening respond at the same time. Cooper laughs and tells them to make sure they visit the muntjac deer, one of the smallest and oldest species in the deer world.
The process repeats on a loop. "Swing by Appa before you leave, he's our yak and he's a ton of fun," Cooper tells one group. "Bob and Tabitha are our bobcats, they'd love for you to stop by and say hi," he tells another, reaching out the window with his hand stamp.
Peacocks freely wander the grounds, much to the children's delight. The colorful birds, it turns out, have proven themselves to be good mousers. The plaintive cry of one rings out and the response from another can be heard across the park. The warbles of the sandhill cranes join the staccato clucks of the ducks in the stream as other birds join in. The sound of the natural orchestra rises and falls, but never completely fades.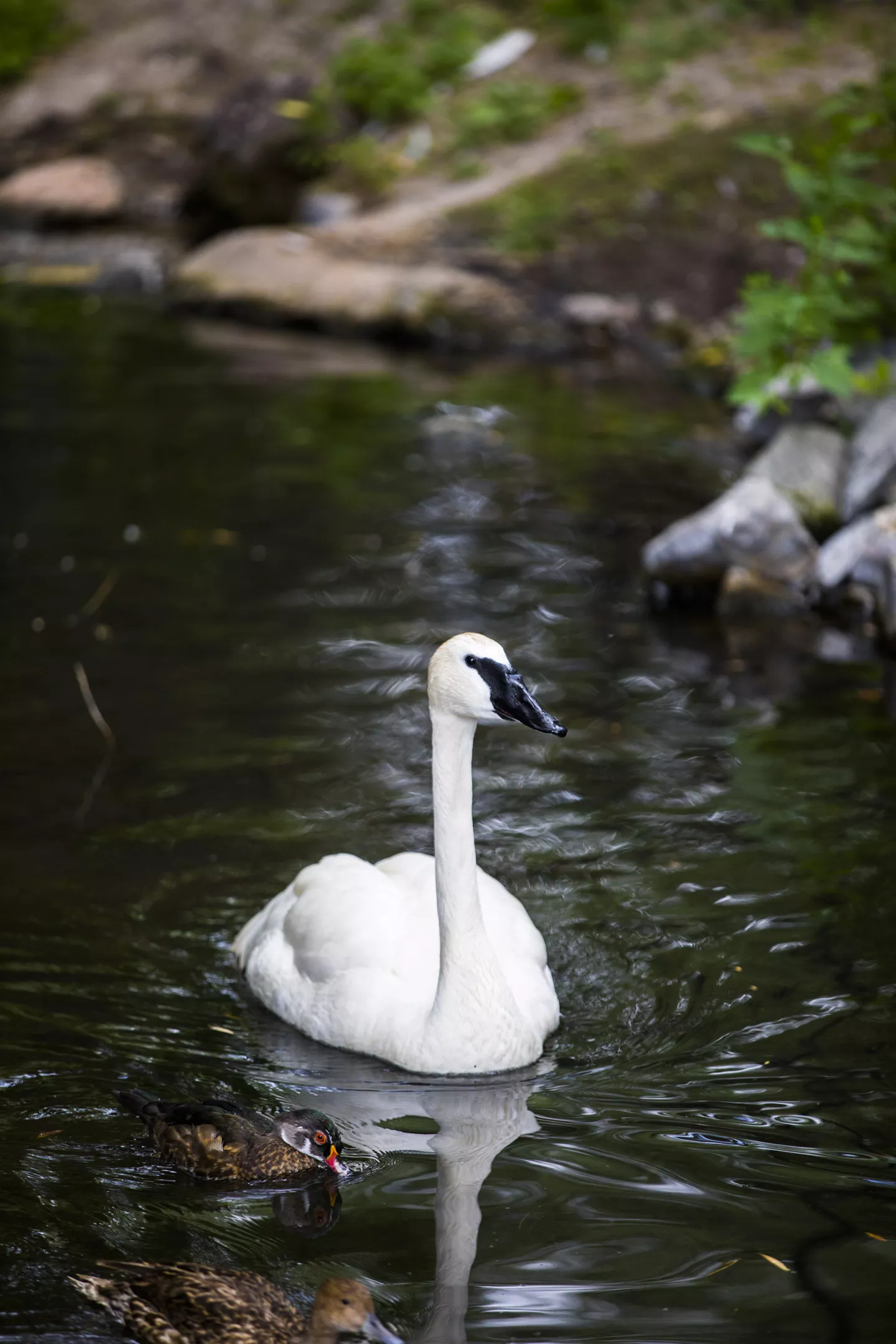 The trumpeter swan and the pelican, perhaps showing off for the visitors, gather in the stream near the intersection of two walking paths. A small crowd quickly forms. A young girl, with a pink jacket and curly blond hair, laughs and points at the birds, then grabs her dad's hand and smiles up at him. He crouches down to give her a hug and talk about the birds. Another boy, wearing a raccoon sweatshirt with small ears on the hood, giggles as the swan cries out. "He's talking to you!" the boy's mom says. He laughs again. A third boy, running toward the birds, trips and skins his knee in the dirt next to the exhibit. He looks like he's about to cry, then remembers the animals and starts running again. "Mom!" he yells. "Look at that one!"
Thanks to a special event that weekend, Cooper estimates the zoo received more than 500 visitors—a number in keeping with his lofty expectations.
Cooper has been director for four years now, and was tasked with expanding and improving the zoo. The rebranding, the gift shop and many of the new animal species are all part of that effort. The zoo already operates on a very thin margin, however, making further financial investments difficult. Renaming the zoo is part of a larger goal to become more attractive to the region, rather than only bringing in visitors from the Cache Valley community.
There have been discussions about relocating the zoo to a place with room for expansion elsewhere, but no specific location has been selected and there are currently no plans, timetable or budget. Zootah needs to become self-sustaining before it can take such a drastic step. Instead, Cooper is focused on changes he can make at the current location to increase revenue.
"I'd love a bear," he says. "A bear would be a draw. A jaguar, a wolverine. Some other types of kudu or an eland."
Part of the zoo's struggles, Cooper says, is that it's only open during the late spring and summer. Building better infrastructure could bring in more visitors.
Those are long-term goals, though. This year, he's more worried about the now. Last winter, veterinary bills and other zoo expenses stretched an already tight budget to the breaking point.
"This is a pivotal year for us," Cooper says. "We've got to find a way to cover what we have and carry us through the wintertime."
On a whiteboard inside his office, Cooper keeps a list of ideas to bring in donations, including the names of people who might be willing to help. Without additional cash flow this year, the zoo will struggle to make it till next spring.
Even if those donations come through, the zoo needs to become self-sustaining to continue operating into the future, Cooper admits. Recent improvements during his tenure have all been focused on the same goal—helping visitors create enduring memories.
"If they can have an experience, then they'll tell people," Cooper says. "We want people to have experiences."
The initiative, he is swift to point out, is designed to enrich the zoo, not the people behind it.
"We're not doing this to pad our own pockets," he says. "We're not doing this so the staff can all live in really fancy houses or that I can drive a really fancy zoo car. That's not what we're doing this for."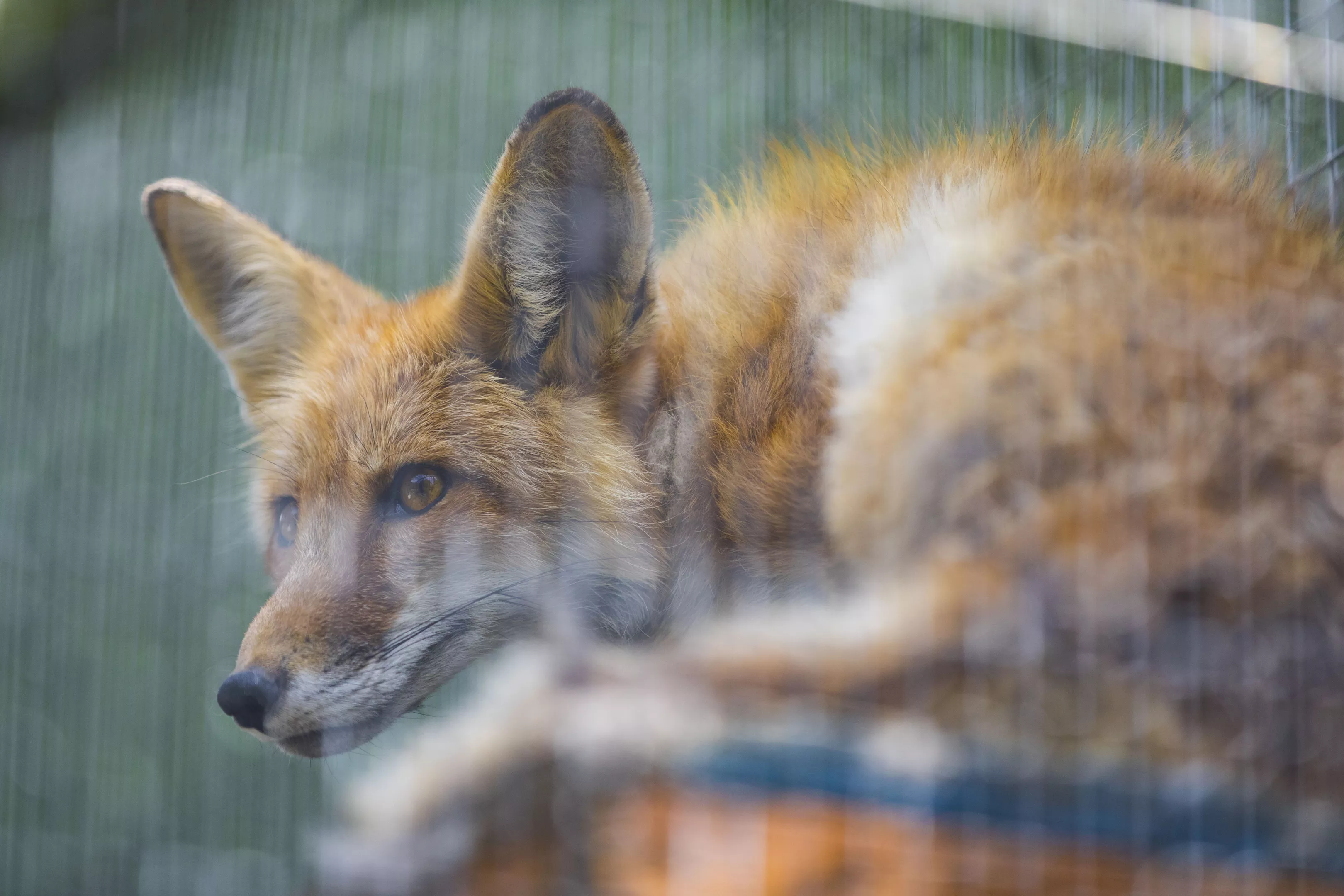 RIGHTING WRONGS
Inside the Wildlife Learning Center, in the southwest corner of the zoo, there's a piece of paper next to a desk. Across the top it reads, "Mission Statement." The text is simple: "At Willow Park Zoo, we strive to affect positive change in people's lives, one animal at a time."
While the new name hasn't yet made its way into the letterhead, the sentiment can be felt throughout Zootah.
Education Director Barbara Tew is talking to a class of second-graders in the learning center. They stare at her, enthralled, as she tells them the story of a bird who, through evolution over millions of years, came to be the ostriches that we know today. She then shows the children different animals—a tortoise, a parrot, a salamander—and talks about their own adaptations.
Her presentation is arresting. She crouches down to draw the kids in, gesturing with her hands as she moves from point to point. The children are fascinated by the animals as Tew walks down the aisles with them. The tortoise elicits particular excitement from the kids.
Soon, the classes rotate and another group comes in to hear Tew's words. She gives the same presentation, with the same excitement from herself and the same interest from the children. The process will repeat itself one more time before the morning is over.
As part of her role, Tew has made an effort to bring school groups in. And given Zootah's regional focus, she's tried to invite schools from outside the valley, with some success. For Tew, the excursions are more than just field trips to see animals.
"As environmental educators, we've been doing it wrong," she says. "It's about changing lives. We're different than other zoos because other zoos are all about the animals, all about conservation. We're about human beings."
Tew believes that personal interactions with animals is what will inspire children to care about climate and environmental issues as they grow older. Her concern is that much of the education today is built around "scare tactics and with crap science," rather than giving people a personal reason to care.
"Like those kids today," she says, "you see those kids light up and you go, 'This is all worth it, this is what we want to see.'"
BEAK GEEKS
Back inside the gift shop, Cooper is bragging about some of the other animals under his care. At the moment, he's talking to a family about Zootah's blue-throated macaw, known simply as Blue.
"I love that macaw—he is so cool," Cooper says. His voice changes speeds as he talks, slowing down for the things he wants to emphasize. "He's really friendly and he loves to be loved."
Cooper draws the family in with general conversation about the bird, then shifts focus, telling them about a breeding program he wants to get Blue into.
"You know how estimates go," Cooper says, "but they estimate there's only 300-500 of those birds left in the wild."
"That's it?" the father asks, surprised.
Cooper nods. These are the conversations he hopes for because they allow the zoo's mission to ring true. "Yup. He's an endangered species," Cooper adds. "I want to be on a program where they reintroduce them back into their native habitat."
Even in casual conversation, Cooper is looking for an opportunity to educate. Still, the animals aren't merely a tool to spread the message; they're important to the Zootah staff.
Many of the animals under the zoo's care ended up there because they couldn't survive in the wild. Bix, the Canada lynx, was taken in by a family as a kitten and essentially raised as a housecat. It got to the point where the family could no longer care for him, but releasing him into the wild would have been a death sentence. He has lived at Willow Park ever since.
Like Bix, the birds of prey look like specimens that should be allowed to freely live in the wild. Indiana, the majestic bald eagle, spends his days sitting on a perch in his enclosure. It's a particularly cruel twist of fate that this American symbol of freedom is destined to spend its life in a cage.
But Indiana was injured in the wild and part of his wing was amputated. A flightless eagle would not survive very long on its own. Now he resides at Zootah, having traded the gift of flight for that of life. Some would argue that's not a fair trade.
Cheyne Warren, one of the volunteer zookeepers, says she understands people who question the morality of zoos.
"There are good zoos, there are bad zoos and there are zoos in between," she says. "It depends on the quality of the zoo, and how well the zoo cares for the animals."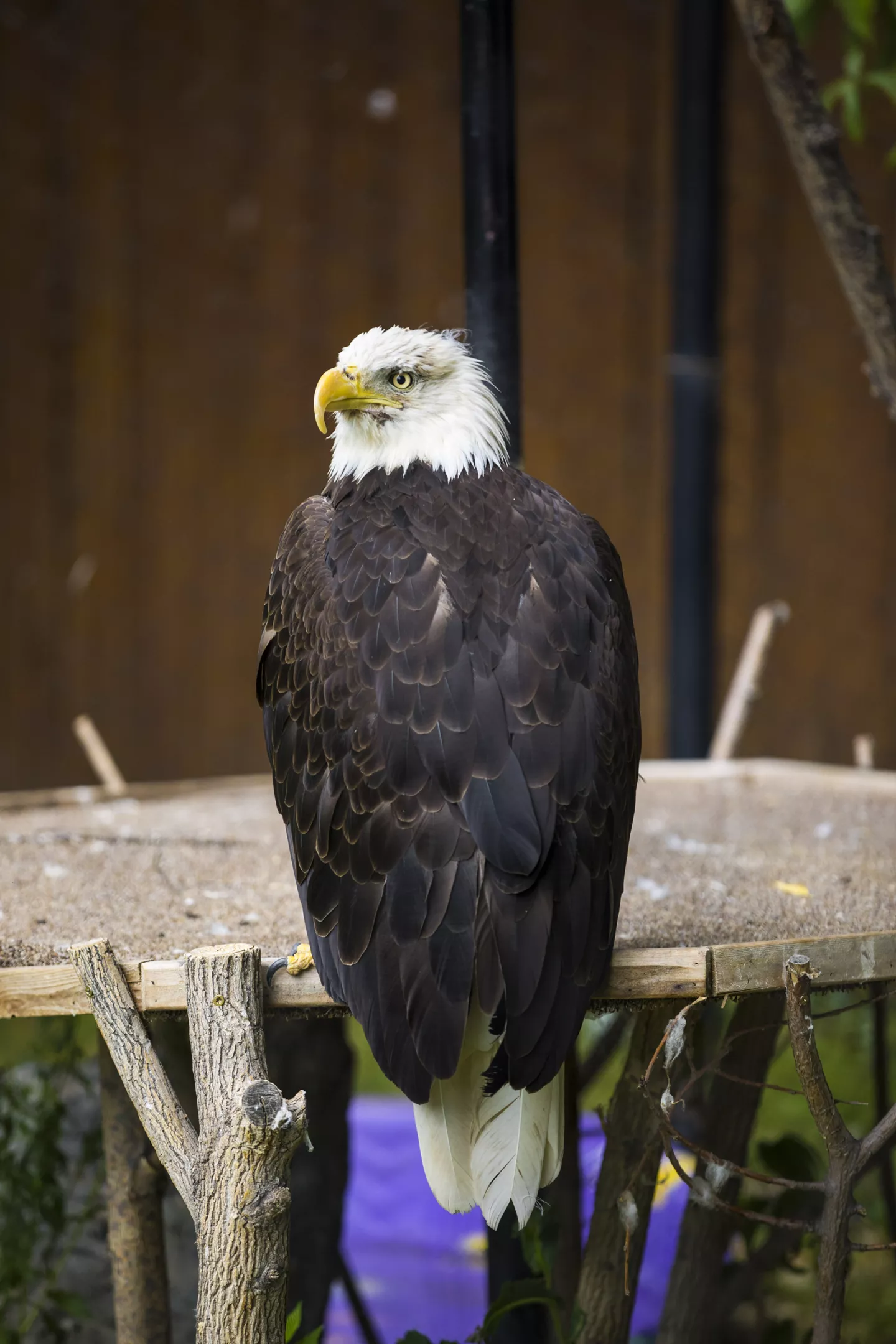 For their part, staff has sought to provide a comfortable home for Indiana. Because of the eagle's vision, he struggled to see the mesh netting around his enclosure and would frequently cut himself by running into it. The staff has hung colorful streamers on the outside of the exhibit to help the eagle better gauge the distance.
The streamers don't visually fit the rest of the exhibit and noticeably stand out, but they seem to be working as it's been awhile since he hurt himself in the netting.
The keepers have taken other steps to help Indiana feel more at home. After Roach finishes his duties, he'll often clock out and spend an hour reading a book in the eagle's enclosure to help him adjust to having humans around.
There are other animals living in the zoo because they wouldn't survive life on the outside. Appa, the yak, is blind. Kiss, the Senegal parrot, was also a pet. And all but one of the birds of prey arrived at Zootah after an injury.
One of them, Houdini the screech owl, is a staff favorite. At 16 years old, she has more than tripled the average age of a screech owl in the wild. She spends most of her time in a box in her enclosure, sometimes poking her head out of a hole to gawk at passersby.
During one of Roach's morning shifts, he stops by Houdini's exhibit to feed her. He peeks in the hole to make sure she's OK, then coos at her and says hello. With a laugh, he scratches her neck. The dance then starts. She ducks her head, hunches her shoulders and closes her eyes, then slowly rolls her head back and opens her beak, almost like a smile. When he stops, she whips her head around and stares at him, as if asking for more.
Nearby, one of the visiting families is approaching the birds of prey. Suddenly, one of the boys sees Indiana's enclosure.
He has already started to run as he yells over his shoulder, "The best animal's over here—an eagle!"
He and his siblings stare in amazement as the bird watches them. In spite of the injuries and the cage, the bald eagle still somehow looks dignified and majestic. The family stands by the exhibit, talking about the eagle for a minute or two, before moving on. They don't mention the colored streamers.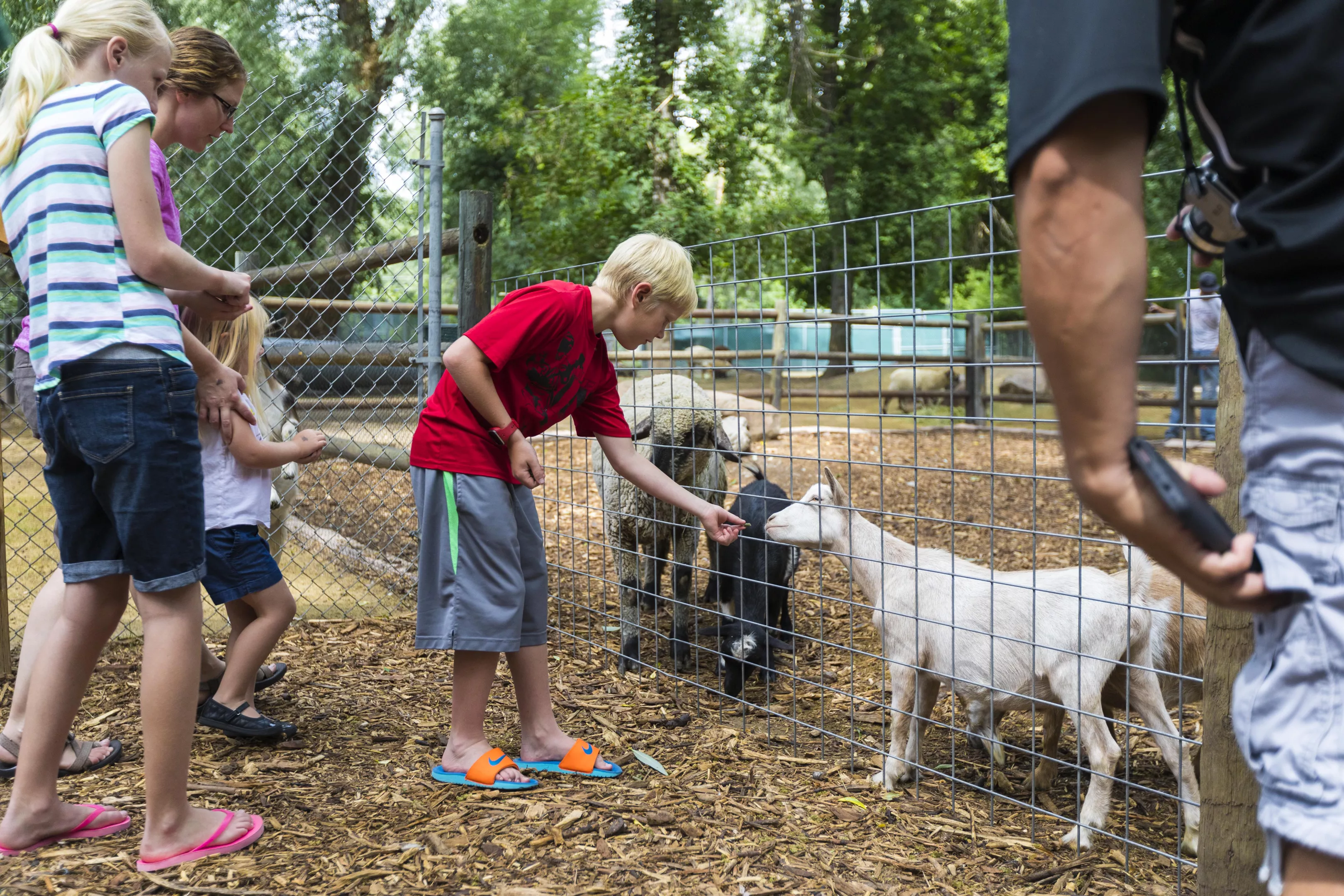 MEANINGFUL CONNECTIONS
There was an experience they had last year, Cooper and Tew say, that they can't explain.
A guest came to the zoo who was deaf and blind and had developmental disabilities. Cooper was holding Madge, the cockatoo, and showing her to some other visitors. When the bird saw this man, Cooper and Tew agree, it was like her entire demeanor changed.
The man was 10-15 feet away when the bird began to bob her head and dance. He was blind and deaf and had no way of knowing she was there, but he began to smile.
"And the closer I got," Cooper recalls, "the more frantic her dance and the wider he grinned and he was just giggling. He couldn't see her. He couldn't hear her."
Neither Cooper nor Tew can offer an explanation, other than to say it's evidence of the special connection between humans and animals. That connection, they believe, is crucial.
"Look at the world," Cooper says. "We just need to be a little nicer, a little more patient, a little bit more giving than we have been. And animals have a way of doing that for a lot of people."
Zootah can have a larger social impact as well, Cooper says. People don't spend as much time interacting with each other as they used to, but maybe the zoo can help build a sense of community. Children and their parents creating lasting memories, friends sharing a laugh—it can all further that feeling of togetherness. "My hope is that Zootah can be a type of community for people," he says.
That takes effort and time to build, however. Cooper and Tew are the only full-time employees, and each spend far more time at the zoo than their salary would suggest. Even if she were to work standard full-time hours, Tew says, she would earn less than $15 per hour. Still, she says she's not at Zootah for the money.
Tew sits down on a bench to rest for a moment as she talks. There was no sign of fatigue as she presented to the children earlier in the morning, but now her energetic nature and the 60-hour work weeks are catching up to her.
"My grandma was an artist, and when she was asked why she painted so much, she said, 'It's an illness. I can't help it,'" Tew says. She pauses for a moment, then continues. "I hate this job, but I love this job."
Suddenly, Tew's face lights up as she starts to tell another story.
She had been attending to some of the animals on the zoo grounds one day when she noticed a woman crying next to an exhibit.
"I started thinking, 'What did we do? We must have done something bad,'" she recalls. Tew approached the woman and realized she was staring at the grey crowned cranes. When the guest regained composure, Tew asked if everything was all right. The visitor was from Uganda, in East Africa, she said, and this was her country's national bird.
"It just makes me so thankful for my home country," the woman said. About as far away from Africa as she could possibly be, for just a moment, the visitor felt at home.
"We made a change in her life that day," Tew says.
She looks out over the zoo with a contemplative look. The sun is shining and the temperature has risen enough for the monkeys to come outside. A peacock walks by as another one cries out in the distance. A goose honks in response. Nearby, the hyraxes are wrestling and chasing each other around their exhibit. Tew smiles, enjoying the respite. After a few seconds, she stands up, ready to head back inside. She has more work to do.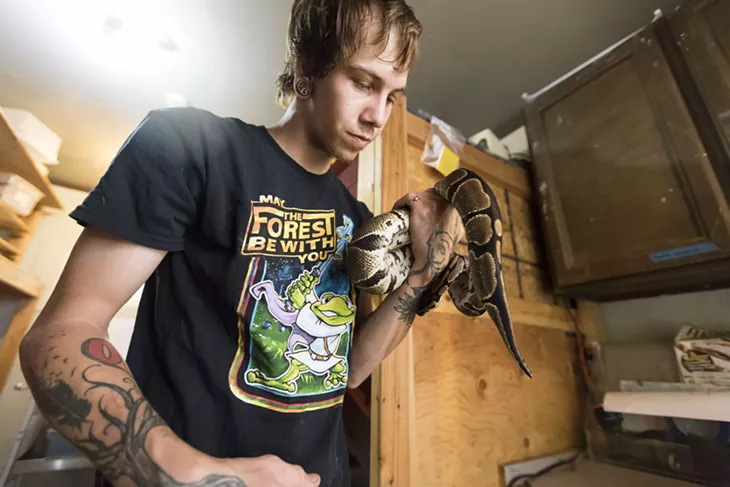 35 slides