"The horse is gone."
My eyes draw open. Hazy light from the east is filtering through the lodgepole pines, and Ben, my husband, the man whose proclamation has just woken me, is propped up on one arm looking desperately out through the mesh wall of our tent as if staring more intently will materialize what's not there. In a moment, he's up, pulling suspender straps over bare shoulders.
All night I suffered the clanging of the horse's bell as he stepped nervously in circles on his highline. Now the meadow is silent. I'm annoyed. My face is puffy from dehydration, I haven't had coffee yet and I'm not in any hurry to join the chase. It's the first morning of our eight-day backpacking trip through Utah's High Uinta Wilderness and the one wild-card factor is already playing itself out in opposition to my dream of completing the Highline Trail. Ben's pack animal, Cooper, is not cooperating. This whole trip could be over before it's even begun.
Before I really knew anything about this piece of Utah tucked into the corner against Colorado and Wyoming, I'd heard of the Highline Trail from a Forest Service co-worker who hoped, he said, to one day cross the Uintas in winter on skis. That particular journey sounds absolutely crazy now that I've spent more time in these mountains, but the idea of following the Highline, a perfectly reasonable idea, stuck with me.
To picture the Uinta basin and range composition—the structure that makes it one of the most difficult long-distance trails to tackle—imagine two people standing on either side of a long table, each pushing the tablecloth in toward the center. Envision the ripples and folds in the fabric. The troughs are the north and south running basins and drainages—strewn with glacier-tumbled boulders, filled with 1,000 lakes and ponds and 100 miles of streams that give birth to the Provo, Weber, Duchesne and Bear rivers. All this comes to a head along a centerline, the east-west running spine of the Uinta Range. Up here, one finds the Highline Trail. In 83 miles, at an average elevation of 10,000 feet, the Highline Trail traverses 460,000 acres of High Uinta Wilderness. It is the largest continuous piece of wilderness in Utah. From Mirror Lake (near Kamas) to Leidy Peak (near Vernal), the trail crosses seven mountain passes and rounds the base of 13,527-foot King's Peak, Utah's tallest mountain.
Unlike the Appalachian or Pacific Crest trails, it doesn't take three months to cross the Highline. At a good walking pace, it's achievable in 8-10 days, and some have done it in four. But, as with those longer trails, traveling the Highline creates an intimate relationship with a unique landscape. If you want to know Utah wilderness, not in the sense of a place without cell phone signals, though that is part of the experience, but in the sense of talus slopes, 12,000-foot passes, elk, tundra and lightning storms—a world where nature has the final say on everything—this is the place.
Blowing black exhaust out the back of an old Dodge diesel truck, we climbed up the Mirror Lake Highway and over Bald Mountain Pass. The truck chugged like it was gasping for its last breaths as we rose above the tree-line and curved around the gravely summit. To the east swept the green-gray ground we would be traveling.
Being a Friday afternoon, dozens of day hikers were still coming and going from the popular trailhead near Butterfly Lake. I surveyed our gear as Ben settled a packsaddle on Cooper's broad tawny back. The horse had been a gift from Ben's mother with whom he shares an equine fascination. And, though he'd grown up riding—guiding trail rides for the family business—Cooper was his first horse. Over the past two years, the animal had proved his trail worthiness and become my husband's best hunting partner, having once carried a bull elk kill out of the same mountains.
I'd asked Ben to come along knowing an eight-day backpacking trip was just his kind of adventure and, I'll admit, I was scared to go alone. Cooper became part of the deal. He'll carry our food, Ben said.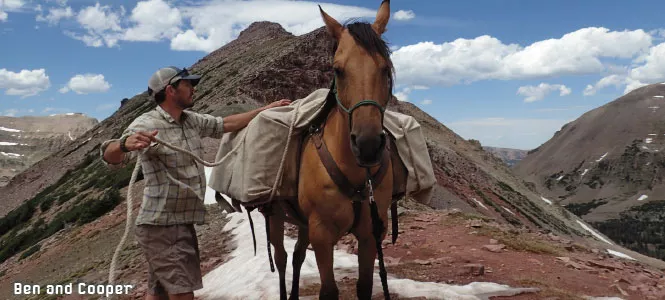 Between the two of us, we had 40 pounds of food to carry—enough for 10 days. We tried our best to stay light with freeze-dried backpacker food, dried cheddar broccoli soup containing four times the daily recommended amount of sodium, and packets of tuna for dinners. Lunches were sparse—dried fruit, a pretzel/nut mix and energy bars—while granola, dehydrated milk and coffee crystals made an adequate breakfast. Chocolate bars, four of them, were a must. And even after we splurged with a 2-pound bar of cheese and a few packets of palak paneer for variety, it was weight we could have easily carried ourselves. Except that Ben wanted his horse.
I could tell that eight months out to pasture had turned Cooper into a chip-munching couch potato. His fitness for the trip was more than questionable. His job wouldn't be easy. Besides our food, he would be carrying 20 pounds of grain (to substitute the grass he'd munch along the way) and 70 pounds of his own gear, from horse medicine to hobbles. I capitulated, agreed to a horse-packing trip, but not without some lingering doubt.
At dusk our first night, we made camp 7 miles in, near Olga Lake, whose waters we found bubbling with jumping fish. The dipping sun turned the trees red, and a young buck walked close, undisturbed by our presence. "This place is magical," Ben whispered as we watched the deer twitch his ears and prance away.
In my sleeping bag that night, I gave thanks to the quiet. No music, no traffic, no Pokémon Go for eight days. It felt good to leave it all behind. And yet, I had to admit that I was still scared. I knew what lay ahead on paper. I'd looked at the maps over and over again, but I knew that I wouldn't understand what we had committed to until we stood on each section of ground.
The runaway horse escapade that started our first full day on the trail was more than just an irritation. I could hardly contain my embarrassment when I wandered into another hiker's camp, rope in hand, and asked if they'd seen a horse with a bell around its neck. They hadn't. Luckily within a half hour we had Cooper safely back in camp. He'd been munching grass a mile back down the trail, and Ben announced happily, "I had a good feeling about that." I forced myself to bite my tongue.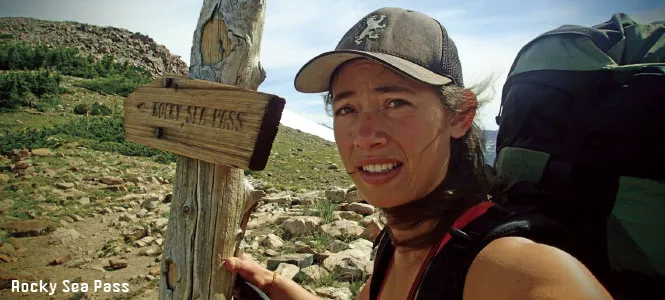 We'd camped near the base of Rocky Sea Pass in order to have fresh legs for our first climb to 11,350 feet. It would be our only big elevation for the day, with the remaining hours spent pre-positioning to the far side of a 6-mile-wide basin in preparation for a double-pass summit, over the eerily named Dead Horse Pass and Red Knob Pass, early the following day.
Soon after leaving camp, we broke above tree-line. The trail dug a deep, winding groove up mountain steps of thick grassy tundra. The green and rocky landscape was still damp and marshy in many places from pooling snowmelt. The soaked earth sprung wildflowers, not in blankets but in modest sweeps of color. The cotton-ball tops of bistort bobbed above the stunted red Indian paintbrush and purple elephant heads. Wisps of cottonseed clung to slick, shiny green leaves of the calf-high dwarf alpine willow. Near the ridgeline, in a shallow seep of water, sparkled a fairytale landscape of mountain dryads, their creamy-white arctic-alpine petals perched atop matted mounds of their own woody stems. With all this beauty, we hardly noticed the elevation falling away behind us.
The name Uinta, from the Ute word Yoov-we-teuh, means pine tree or pine forest. Today, the Uintah and Ouray Ute Indian Reservation covers much of the land around the base of these mountains where, 600 years ago, Ute and Goshute tribes made their homes. In the mid-1800s, heavy and unregulated land use—logging, grazing, trapping and mining—across the West quickly depleted forest resources, including those long enjoyed by the Utes and Goshutes. In 1897, recognizing that federal protection was necessary, Congress created the Forest Reserves. In 1908, President Theodore Roosevelt signed the proclamation that turned the Uinta Forest Reserve into the Ashley National Forest.
Since 1997, the Uintas have been considered part of an "urban national forest" because they're within a one-hour drive of a million or more people. Such forests are a special resource for nearby populations, but they also need special protection through wilderness legislation. In wilderness, human presence is meant to be temporary and without a lasting trace.
"Go faster!" was the command I heard from behind me as we cut the first switchback off the backside of Rocky Sea Pass. Then, with more urgency: "Get out of the way."
I jumped onto a small boulder above the trail and watched as Ben, lead rope in hand, ran past in a desperate attempt to keep out from under the four hooves clattering close behind. Under the weight of 140 pounds, Cooper's footing across the loose shards of talus was obviously compromised. Scared and trying to maintain his balance, the horse had picked up speed dramatically and Ben had no choice but to run.
Ten minutes later, I rejoined husband and horse at the bottom of the pass. We examined our maps for the best route across the open basin and found that of the many trails looping through the upper reaches of Rock Creek and Fall Creek the designated Highline route marked the straightest line across the drainages. It also required the most elevation gain. It plunged straight down into the depths of Rock Creek before rallying back up the other side. A more roundabout journey to Jack and Jill Lakes would keep us atop the basin shelf and, we decided, despite the additional 2-3 miles, would minimize wear and tear.
The trail to Jack and Jill turned out to be as well marked and foot-worn as any other in the basin and we followed it easily north past lakes and ponds, named and unnamed. Our most important junction took us around the top of Black Lake and turned us finally back on an eastward trajectory. We were starting to feel pretty good again about the trip. The weather was perfect. The bugs weren't bad. We hadn't lost the trail. And we'd only run into two other people since crossing the pass that morning (both single male hikers, one traveling ultra-light with nothing but a day-pack, running shoes, shorts and massive bronze thighs).
Coming off a small hill and stepping around a bend in the trail, a pile of white caught my eye. A cache of bones. Almost the entire animal was laid out in order: ribs and spinal column and legs, all bare and bleached as ocean driftwood. And at the top of that skeletal line nested a skull, long and narrow. A moose, I thought. I scanned the ground for moose paddles, but what I saw instead jolted me. This was not a woodland animal. Within arm's reach of the trail a leg stuck up toward the path. On its end extended a dark hoof capped with a rusted horseshoe.
I was in a fighting mood by the time we made it to camp that night. Despite a mid-afternoon dip in a pristine high mountain stream, the day's 13-mile-long journey and the stiff soles of my La Sportiva mountaineering boots were beating my feet to a pulp. I had blisters boring pits the size of Kennecott Copper Mine in both my heels. Another one had already popped and rubbed a heavy layer of skin off the top of one of my toes. My hipbones were raw and scratched from continually tightening my pack belt, and I was seriously hangry. The next mosquito bite was bound to make me cry. Where was my yoga/hot springs retreat? Where was my vacation?
In an effort to lift my spirits, Ben told me we were making camp in the most beautiful field he had ever seen, and led me off the trail and down into a meadow he'd scouted while I sat pouting. It was breathtaking. Big enough for five 18-hole golf courses, we joked.
That night, we discussed the plan for the following morning. Rocky Sea Pass had given Ben a good scare, and we wanted to be prepared. Safety was our top priority, and getting across Dead Horse Pass without incident (the pile of horse bones was still fresh in our memory) would be the deciding factor in whether our hike could continue.
We both agreed that Cooper needed to be lighter on his feet. In order to make it safely over Dead Horse, he couldn't have extra weight pulling him down the side of the mountain. We would have to carry the 40 pounds of food that we'd put on his back, though he would have to carry the remaining 90 of horse gear (picket line and stake, grain, medicine, etc.). Ben would go first over the pass and I would follow behind.
"Keep Cooper off your back and stay uphill of him," I told Ben. If the horse went over and couldn't recover, I knew the only thing I would really care about was making sure he didn't take my husband with him.
The next day's climb began immediately from our meadow campsite. At first it rose gradually, looking much like the route up to Rocky Sea, and I prayed that the backside would be as kind. That hope died as we reached the arete. As a determined wind tried to push me back from where I'd come, I peered over the 1,000-foot drop. I searched left and right for any trail down but I couldn't find even the faintest cliff line.
When we found our point of descent, it was not with relief. Barely 10 feet from where the path left the relative safety of the saddle, a thrust of rocks—one piece pushing out into the void, the other creating a jagged ramp—made a precarious corner that forced travelers to lean away from the uphill side of the slope. Ben and I looked at the horse. His stiff saddlebags made him twice as wide as normal, and even on flat trail he was constantly bumping them into trees and stumbling to regain his balance. "I'll look around the corner and see if it gets any worse," I said. Ben nodded his approval.
Once across the rock corner, the trail beneath my feet narrowed further until it was little more than an indistinct track of displaced dirt, with no plants or rocks to hold it from sloughing away under my steps. It continued on for 80 feet more before cutting back. The next switchback seemed more secure.
Back on the ridge, I gave Ben the size-up of our situation. "We could unload his bags here," I suggested, and shuttle them down to him once he's past the worst of it. But, after his own scouting mission, Ben decided that Cooper could handle it.
Ben stepped out first with Cooper behind him as planned. I waited and watched. Just as expected, Cooper stopped abruptly at the rocky corner and shied away from the stone. Ben talked to his animal. He pulled gently on the lead rope. Cooper placed a hoof and, a little too fast for comfort, made it around the first obstacle. We continued past the first switchback, and then the second. Then, I heard Ben swear. Ahead of us, the third switchback lay hidden beneath snow.
"I can't take him through that," Ben said. "I'll have to cut the trail." Ten feet directly below us, the trail led back in the opposite direction. Ben started off the edge.
"Don't get under the horse," I said almost to myself. Cooper didn't move. Ben, leaning forward to balance his own heavy load, gave a tug and a command. Cooper lurched forward but not in Ben's direction. Following where the trail should have been, the 1,000-pound beast stepped out onto the melting snow. Immediately the horse slipped. Panicked, it thrashed at the end of the line that Ben still held firmly in his grasp. Sliding and picking up speed, the terrified animal miraculously managed to turn around and face the direction of the next switchback, but the momentum carrying him downhill was too great. His hind legs came out of the snow bank and off the edge. His hind hooves struggled to find something to hold on to. I could sense the weight of the pack carrying him backward. Ben still held the lead and was shouting encouragement. In a final burst of effort, Cooper planted his front hooves and shoved uphill with all his strength pulling himself up toward Ben, but again it was too much too fast. Now Cooper had passed the trail and was trying to charge straight uphill, threatening to tip over yet again and into a freefall for the next 600 feet. Ben, at this point, had scrambled around to the front of the animal and firmly brought him around until all four hooves stood solidly on the trail. The two of them faced each other, shaking. Ben reached out and held his horse's head in his arms.
I didn't say anything for a moment, and then a shift came over Cooper. His eyes closed a little and the muscles on his haunches stopped twitching. "You're OK," I said. I decided to save what else was going through my head until we were down and resting in the meadow. If this was what the other passes looked like, it wasn't worth dying over. I was ready to cut the trip short.
The ordeal on Dead Horse Pass was an important reality-check. Normally, I found walking into the wilderness a restorative event. Far from my normal routine, the mountains are where I attain a perfect state of non-attachment that's impossible to achieve when faced by the small failures and petty demands of everyday life. I was surrounded by beauty. At moments, when I stopped walking and admired the sky and land, I was serene.
But it's good to be reminded that the mountains are also dangerous and demand respect. Moving through them is a physical struggle, and there is always fear. By not turning away, I proved my own strength. I am as capable, I told myself, as the mountain men who also passed here.
After the bitter lesson of Dead Horse Pass, doubt took over. Mountain men, I scoffed, didn't climb these goddamned passes. If they wanted to get from one side of the Uintas to the other, they went around them like a sane person.
Even William Henry Ashley, the man for whom the Ashley National Forest (which administers most of the Uinta Mountains) is named, only spent two summers crawling though these brutal drainages. Fifty years after the Spanish explorer Silvestre Vélez de Escalante became the first known white man to enter the Uintas, Ashley floated down the Green River on the eastern end of the range—an overlooked piece of the West, where he hoped to find an abundance of animals. He did, and in the summer of 1825, the part owner of the Rocky Mountain Fur Co. brought a team of men with him to trap muskrat, mink, beaver, elk and raccoon. While there, Ashley met and employed other mountain men who would also give their names to the West, including Etienne Provost (from whom Provo takes its name), Jedediah Strong Smith, John H. Weber and William Sublette.
After Dead Horse, Red Knob Pass was a great relief. Its wide trail was protected on the downhill by manzanita bushes. Buoyed by the relative ease of our second ascent and judging by our map, Porcupine Pass, the next obstacle 11 miles away, looked in-the-bag. So, with spirits high on the morning of our fourth day, I pulled out my journal.
"Watching sun hit top of Red Butte this morning and work its way down," I scribbled in broken half sentences. My thoughts required organizing, my mood contemplation, but I didn't want to miss a beautiful morning sitting with my notebook. "Can hear small stream nearby. Body has acclimated, despite tough travel yesterday (12 miles and two passes). Feet good. Back and shoulders a bit sore from extra weight. Expect today should be easy."
We took our time getting ready. I wandered up into the meadow where we'd slept and found that it extended back much farther than it appeared from our camp. I hear a small group of animals, likely elk, racing away from me through the dense trees and brush. A handful of little high alpine streams threaded and braided through the grass, seeping out into marshy patches where the land spread flat, and collecting again into streams where it folded. By the time we set out late in the morning, I could see gray clouds forming to the south. It was the first sight on the trip of darkening skies. I decided not to give it much thought.
By 1 p.m., our trio was just dropping into the wide treeless tundra of Oweep Basin headed for a towering cirque. My mind was making calculations. The clouds from the morning had only continued to grow more dense and dark. Now they came from the south and followed us from behind to the west. The ring of mountains before us blocked any good view of the sky over the next basin, but I could tell something was brewing there, too.
Without saying anything, Ben and I picked up the pace. The last tree was already a mile behind us, and the base of the pass was still 2 miles away. Nothing within a few square-miles stood above our own heads.
As we raced the growing storm, I found myself becoming irritated at my shortness of breath. Oweep Basin looked like a gentle romp through rolling hills, but at 11,400 feet, even a slight incline was a sucker-punch to my lungs. The basin dead-ended into a wall of rock rising to peaks of 12,900 feet between which saddles of varying elevation made small windows in the sky. On the approach, two different saddles both seemed our likely destination. The pass to the left looked like a low, benign climb. The pass to the right looked half as high, but steep. Rocky flashbacks of Dead Horse played through my mind. I laughed bitterly to myself at the fact that anyone would dare call these notches in the mountains "passes."
I became more uncomfortable with every passing minute. It felt like we had been crossing the open meadow for an eternity, and now, standing out in the middle of it, I could see no blue break in the clouds. The wind kicked up and the temperature dropped. It was becoming increasingly clear that our path over the mountains would be the one that neither of us wanted.
Finally, we stopped. Squinting at Porcupine Pass and re-studying the map, I screamed in frustration. Glaring back at the talus slope, I could barely make out a hint of trail as it threaded a cliff band two thirds of the way up the steep face. "That can't be it," I yelled, knowing fully well it was. "This was supposed to be easy."
I felt the same cold fear that had come over me as I looked over the knife-ridge of Dead Horse, searching desperately for a track down the other side. This was not a trail, I told myself. This is a crazy man's attempt to string together things that shouldn't be strung together. "I can't do this," I said aloud to Ben. "I just can't handle this right now."
When we turned back, we were both running. The tree-line felt so dangerously far away. That night, after the storm passed without a single drop of rain or bolt of lightning, we messaged home from our satellite device and asked Ben's mother to contact the local Forest Service office. We needed confirmation that Porcupine was impassable with livestock. The message we got back was confusing. "Rockslide at Lambert," it said. We'd passed Lambert the previous night and had seen nothing. Was the rockslide on Porcupine? If so, we would be more than foolish to try it, even without a horse.
Before embarking on the Highline Trail, I'd happened to pick up Alfred Lansing's non-fiction epic, Endurance, about the explorer Ernest Shackleton. Setting sail in 1914, Shackleton strove to become the first man to cross the Antarctic continent. Six days after leaving the last inhabited whaling post on South Georgia Island, his ship, the Endurance, and its crew became lodged in an ice-pack. They spent the next year and a half trying to get home. They never touched foot on the Antarctic mainland, but every man on the expedition returned home alive.
When someone enters wilderness, even someone capable and prepared, anything is possible. Usually, what happens is unexpected.
Like Shackleton, the famous American mountaineer Conrad Anker sought to conquer places man had never before touched. His Antarctica was Meru Peak in the Himalayas. It was a mountain that had turned back countless climbers. Anker's first failed attempt on Meru came in 2003, and his second in 2008. Only on his third attempt in 2011 did he reach the summit.
These are not stories of failure. Something more constructive than success can come from unfinished journeys. They become stories of human survival and perseverance and the awesome and wonderful power of nature.
I sat for a long time that night after the clouds cleared away, looking up at Porcupine Pass. The hollow ring of Cooper's bell sounded from camp where Ben was brushing him down. We would all make it out just fine. The only thing that really hurt was my pride.
I was almost inconsolably disappointed. The Highline Trail would have to wait for another year (sans horse). In the morning, we would turn back, looping for the next four days down into Ottoson Basin, over Cleveland Pass and into Squaw Basin, up to the Grandaddy Lakes and back to our truck and trailer. Eight days in the wilderness, 86 miles. Safe and sore and satisfied.