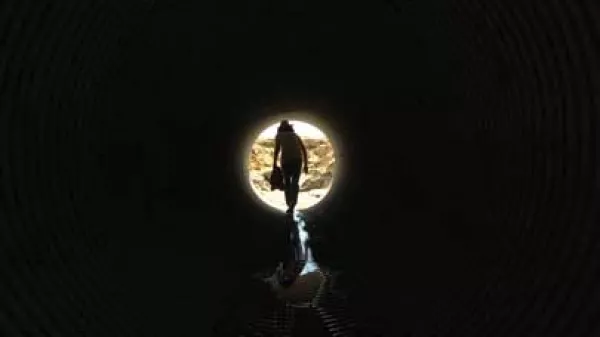 Intro is not a documentary. It was, however, nominated for the Best International Documentary at the 2011 Torino Film Festival—a surprise to director Brandon Cahoon and the movie's protagonist, local singer-songwriter David Williams.
While Williams is identified as "David Williams" in the film, the viewer never comes to know the character, mainly due to a lack of dialogue. There are few important instances where Williams speaks: once to an audience, the other to his bandmate. He is, though, portrayed as a troubadour archetype, one trying to connect with himself and to people, at large, through his music. Lacking a spoon-fed narrative and with a Vincent Gallo-esque emphasis on stunning landscape shots, the film is challenging and decidedly a drama—an art flick.
Intro is also not not a documentary. The film follows "the artist" on a real-life road trip from Salt Lake City, stopping to gig in towns along the way, to the Huichica Music Festival in California—the biggest opportunity of his career.
During this venture, Cahoon captures the challenges and virtues of road life and, even more so, of the artistic path. Scenes where Williams must manually pull up the window of his Subaru Outback—which plays a supporting role, along with the landscape—makes one ponder the compromises of choosing a musician's life. Cahoon films a variety of venues, from packed concert halls to a subway entryway where not one person stops to listen. During one performance at a patio bar, the troubadour, mid-song, asks, "Can we do just one verse really quiet? Just one?"
It's moments like that that demonstrate Cahoon's ethos: authenticity and sincerity at all costs.
For this art-film-meets-quasi-doc, it had to be Williams as the lead. For one, Cahoon and Williams first collaborated on Cahoon's 2011 Salt Lake City Film Festival entry, Parade, which Williams scored. Williams' story of once moving to the Utah desert (Torrey) to find himself and perfect his musical craft—portrayed with clips of Williams in the desert sewn into the narrative—is enigmatic and provocative. But his evocative songs take center stage in Intro—music filled with ghosts and grappling with demons, says Cahoon.
For years, Cahoon has found himself trying to come to terms and understand the power of Williams' music. That questioning, that searching, is at the film's core.
"[Filming and directing Intro] really helped me make sense of the hold his music had on me," Cahoon says. "David's music is kind of like my mistress: I can't understand it, I can't break away from it, I can't rationalize its effect on me."
INTRO
Salt Lake City Film Festival
Tower Theatre
876 E. 900 South
Saturday, Sept. 22, 7 p.m.
$5-$10 single screening, $50 festival pass
SaltLakeCityFilmFestival.com, Intro-Movie.com