"Don't they find dead bodies in that river?"
This is the most common question I was asked after telling people I planned to kayak the Jordan River.
"Yeah. They do," I'd say.
This dead-body reflex is exactly why I wanted to see the Jordan River for myself, from river level—the only perspective from which a river can be appreciated for being a river.
I, too, hear about an occasional body pulled from the murky water. Stories pop up about pollution in the river, or some political fistfight over how close homes should be built to the riverbank, or how various municipalities are going to connect and expand trails that run alongside it, or how there's an organized litter cleanup.
The river in all of these stories is secondary—a supporting character to the real news.
We discharge treated sewage water into the river, use it to grow crops and irrigate our lawns, and someday certain residents of the Salt Lake Valley may even drink the Jordan River's water. Many Salt Lakers exercise along its banks on the Jordan River Parkway Trail. Yet, from my perch, the Jordan River—though intensely used—seems vastly underappreciated as a possible recreational and environmental resource.
The only explanation I can think of has to do with the river's grisly reputation as a disposal site for dead people. I reasoned, though, that this can't be the whole story. The river is not lined with dead bodies. The flotillas of trash visible from road bridges as I travel east to west across the valley can't run its entire length. No, there must be something else to this river that my lack of curiosity has concealed.
So I set out to paddle the river—from its start at the northern tip of Utah Lake to its termination in the Great Salt Lake. At worst, I could stumble upon a dead body and soak my kayaking gear in polluted water. But I aimed to, no matter what, learn something new about my home.
Queries of Salt Lake City, Salt Lake County and state of Utah officials made me quickly aware of the fact that the Jordan River is a jurisdictional jigsaw puzzle. While maps of the river's trail systems abound and committees and commissions discuss its future, no one could be certain how many potentially life-threatening hazards existed on the water.
Puzzling over the drought of solid information, I fantasized that paddling the Jordan River might be one of the last great adventures. Like John Wesley Powell's exploration of the Colorado River, I might just have to blindly enter the Jordan River and see what came my way.
In my searches for information on the river, one name kept coming up: Adriaan Boogaard, who I was told floats the river all the time.
I dialed Adriaan up. We met on a Friday—payday—at a bar.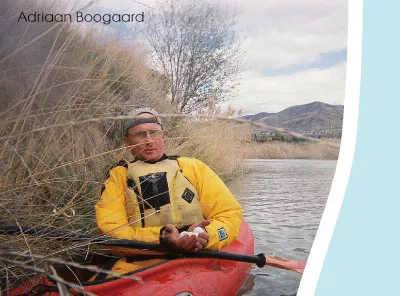 Adriaan stands just over 6 feet tall, with a mop of reddish-blond hair. He wears work shirts with his name embroidered on one pocket, and he speaks at a steady and inexhaustible pace. The barely legible words on his faded baseball cap say, "I love the Jordan River."
From the cab of his rusty Ford pickup, he produced a pair of displays with an array of photographs neatly and precisely placed. Every picture was of the river, its many bridges, its scenic views, its wildlife and its people.
He pointed to one picture of a bridge, saying kids sometimes leap from its upper deck, "which is stupid because people throw washers and dryers off it."
A photo of a sickly bird: "He might have had West Nile. I don't know what was wrong with him."
On a photo of houses near the river: "People are really abusing the river. They're building too close to it. … Because you make more money on houses than you do on a field."
Adriaan and I had a few beers and drank some whiskey. His talk never ceased. Every bridge, every house, every river bend, every dam and every canal is charted in his brain.
I debated going it alone, reasoning that Adriaan's views of the river might warp the views I had yet to see. But the more Adriaan talked about the river, the more it became clear that the primary threads of this man's entire life had woven into it; a story about the Jordan River wouldn't be a story at all without Adriaan.
Sunday, April 27
We arrive late to Adriaan's house. The three boats, paddles and gear barely fit on my car's roof. The situation inside the car is just as cramped, with my wife, daughter, my pal Tim, Adriaan and me all jammed inside. We drop Adriaan's truck behind some houses around 4800 South, a distance we think can easily be covered in a day.
Adriaan talks shop as we drive, pointing out Salt Lake County's open space along the river and a bridge that was built too low to the water. He insists we stop at a hardware store so he can buy a folding saw, just in case we run into serious debris, like trees and other wood, on the river. He returns to the car with the saw and a package of M&M's for my daughter; she and my wife are stuck with shuttle duty, driving us to the put-in just west of Lehi in Utah Lake.
"Best damn 24 bucks you'll ever spend," he says, explaining that the saw can chop through a branch the size of a man's arm with ease, along with a finger if you're not careful.
The sun breaks through gray clouds as we drive. Spring is in full swing, but the temperatures remain low, feeling no higher than 50 degrees.
At the edge of Utah Lake, the Jordan River flows wide and fat through a small dam. Salt Lake City Public Utilities Director Jeff Niermeyer says the Jordan River is like a backward river: To feed irrigation canals, it flows at odd times of the year, when other rivers are slow or dry. During peak runoff, he says, much of the water is held back in Utah Lake, leaving the Jordan River low on water when other rivers are gushing.
We begin the journey with abundant water. The Wasatch Mountains, dominated by Mount Timpanogos, are covered in a veil of clouds. Phragmites, an invasive reed, crowd the riverbanks, climbing into the sky. Waterfowl and birds are abundant. Barn swallows, pelicans, ducks and Canada geese are splashing and honking.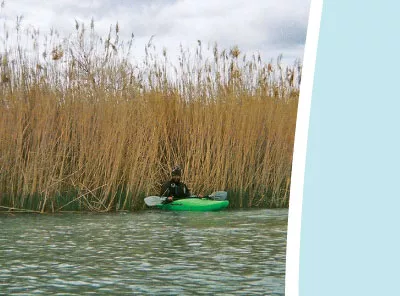 The river here isn't easy to paddle. Stagnant like the lake, it makes for tough work that a periodic headwind makes even tougher. At the point of the mountain, the river narrows into a mild canyon, crunched next to the right-of-way for the Utah Transit Authority's FrontRunner train.
The first obstacle to be negotiated is Turner Dam. We take out of the water just above the dam's buoys. Adriaan insists the distance we'll have to pack our boats is not more than 100 yards. But as we hike, the aching in my arms and shoulders indicates it's much farther.
The river at this junction splits in four directions: Some is shot into the East Jordan canal, some goes west into a different canal and a third portion goes into a canal that, oddly, flows back into Utah County. The remainder goes into the Jordan River, shooting it through a section known as the Jordan Narrows.
We relax under the train bridge. Not only are we without beer, but neither Adriaan nor Tim brought lunch. The three peanut butter & jelly sandwiches and granola bars I brought along will have to feed us all. A flask of whiskey is the only beverage we have besides water.
The volume of water in the river after Turner Dam is a fraction—I'd guess around a quarter—of the water we started out with.
Even so, on the roughly 50-mile stretch of river, the narrows has the best potential for whitewater. Even though it is a greatly reduced flow, we re-enter the river with hopes of swifter travel.
And swift it is. We make good time. As we negotiate a path through a flat section of water where the river spiderwebs in multiple directions, we hear a man's voice, amplified over speakers. It's difficult to make out the words. Adriaan speculates the voice has something to do with a polygamist compound nearby. Must be holding church outside. Why not?
The water begins to slow as we near our second obstacle, the Joint Dam.
A pack of roughnecks fish from the dam's deck. My hopes are high that these men will have beer. No luck. Despite the fact that many of them are chewing away on tobacco, they are dry. Most of them are too young for booze.
They offer to drive us to where there is more water. I decline, focused on my desire to paddle the entire river, and I soon regret my decision.
At this dam, river water is once again stolen; one canal goes east, another west. Niermeyer says the east canal goes all the way into downtown, tying in with City Creek. The South Jordan canal carries water to the west.
The Jordan River is left with a trickle. We re-enter the water, but after a few paddle strokes, are forced to exit our boats and carefully hike through the murky water over invisible rocks and whatever else might be hidden under the surface.
It makes for tough work. At first, Tim and I are optimistic: This will get better. It could rain. Somehow the river will once again become a river.
But it does not get better. We make snail's time, traveling a mere two miles in four hours. It is exhausting. Realizing we won't make it anywhere near 4800 South, I call my wife to tell her she'll have to rescue us at about 9000 South.
The river has turned into a joke of a stream. I curse it, and I curse the illegal horse pastures that have been built out into its water, stinking of cow and horse shit.
I lag far behind Adriaan and Tim. Only a few days before this trip, I lost a toenail. Already tender, each time it smashes against a rock, I cringe. Adriaan tells me I'm going to want to soak the entire toe, and any other open wound, in hydrogen peroxide when I get home due to the water's unknown filth quotient.
Around a bend in the river and out of sight, I can hear Tim's helpless, frustrated laugh each time he has to exit his boat and tow it over the rocks. I, too, am overcome by this hopeless laughter.
Two hours later, after 10 hours on the river, I call my wife from 14600 South.
"Where are you?" she asks.
"Somewhere over by the prison. A goddamn stone's throw from where we started. Can you pick us up? And can you bring a case of beer?"
Yes and yes.
As we wait, Adriaan sounds off on what we've seen.
"It's just depleted," he says of the river, noting that many homeowners and businesses "treat it like a backyard storm drain."