Page 2 of 2
Monday, April 29
The first day on the river beat me up. I went to bed feeling terrible, and awoke not feeling much better.
I take the day off.
As I drive my daughter to school and maneuver through the streets and stoplights, the adventure of the day before, hard and poignant as it still is, feels like a dream. Running rivers always feels this way, and I am relieved to find that the Jordan can cast this spell.
This dreamlike state, I believe, comes from having a pure, undisturbed goal—a rarity in "real life." On Sunday, my mind never strayed from the task at hand, which was either one paddle stroke after another, or one foot in front of the other. Today it is housework, helping at my daughter's school, running errands, going to the grocery store—all of life's stuff.
Of course, I also read the newspaper, which informs me that on Sunday morning, around the time I began the trip, authorities pulled the body of a 24-year-old man from the river near 10000 South.
A day off in the world is enough to kick my ass back out to the river.
Wednesday, April 30
No Tim or Adriaan today. Just me.
I have my wife drop me off in a fancy housing development just east of where she'd picked me up the day before. By cutting off a few hundred feet of river, Adriaan says, I can avoid some serious hiking, and there might be more water here.
I hope for rain, but none falls. As the river pushes farther into the Salt Lake Valley, though, it picks up water—and a lot of other things—from 193 sources that the Utah Department of Water Quality permit to be discharged into the river.
These entities range in diversity from storm-water runoff permits from cities, counties and other government agencies, to Cytozyme Laboratories, Inc., Bimbo Bakeries, USA, Inc., and the Magna Fire Station.
My first dose of new water comes quickly, from the Jordan Basin Wastewater Reclamation Facility. The water discharged from this building is crystal-clear, providing a puzzling contrast as it collides and mixes with the filthy-looking water in the river. Treated sewage water or not, the additional flow is welcome.
At 11 a.m., I come upon the Riverbend Golf Course. Since there are no golfers out yet, I take my lunch and drink a beer on a fairway near the river's edge. Streaks of snow blow off the peaks of the mountains. I am far enough south that I have a clear view of Mount Timpanogos.
I float on abundant water until 9000 South, the site of another dam, which to my eyes, splits the river in half again, carrying much of the water I want to float on west to the Kennecott copper mine.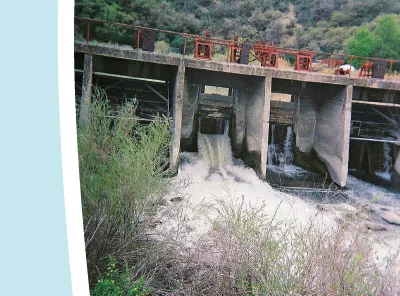 When I resume my float, I find myself hiking again. I paddle more than I hike, though, which I consider a joyous success.
A stiff headwind rises up in the afternoon. I fight it through business parks and suburbs as water blows back into my face. Construction at the midsection of the valley is clearly colliding with the river, with apartment buildings and office complexes bumping up against the banks.
Where there isn't development, though, there is a veil of rugged beauty. In many places, the riverbanks are lined with fat, healthy cottonwood trees—much the way it must have been when American Indians were the lone residents here. Rarely is there a person, and despite being in the middle of the city's sprawl, the river is quiet and peaceful.
As the river goes under Winchester Street in Murray, another obstacle blocks my progress. A sewer line crosses the river and creates what looks like a low-head dam—basically a line of concrete across a river that creates a waterfall-like pour-over. Even on a low-volume river like the Jordan, this can be deadly. The recirculating motion of the water on the downstream side of a low-head dam has a tendency to pull whatever goes over it back in, recycling it and beating it to oblivion.
Signs clearly mark the obstacle at Winchester, telling me, not in so many words, to get the hell out of the water.
I oblige and use the opportunity to stretch my legs and drink yet another beer in the fair city of Murray.
Back in the water, I chase down a pack of pelicans—the first I've seen since the early hours near Utah Lake. This bunch is up to something. As I approach, one pelican refuses to fly away. The lone bird has its massive beak buried in the water, fidgeting with something. At last it, too, takes flight. Moments later, I spot a fat, pink dead carp floating down the river—a pelican lunch. I try to lift the sucker with my paddle and take it for a little ride, but it is too heavy.
I float through groves of cottonwoods and healthy but invasive Russian olive trees. Much of the land between 5800 South and 4800 South is void of development, courtesy of Salt Lake County's efforts to maintain open space along the river.
Little Cottonwood Creek enters the Jordan at 4800 South, and a short distance later, the Brighton Dam—a river-wide low-head dam—forces an exit. There are no signs marking this obstacle, but a quick inspection of the dam makes clear it is not an option to float on.
There is no good place to exit my boat. I pick a spot along a steep embankment, near a slab of concrete with rebar poking into the air. Spending too much energy trying to stay dry, I plop waist-deep into the water. Huffing and puffing, I pull the boat up the slope and down the paved Jordan River Parkway Trail, and move around the dam.
I notice a man nearby staring in my direction. We greet and shake hands. His name is Dan and, until this week, he was homeless.
He says he camped out for a year in the mountains, braving the elements outside. Recently, though, he made it into an apartment—his first in years. He says he's excited to have his own mailbox, explaining that as a homeless man, it's difficult to track down mail and read it in the rain. He jangles his new set of apartment keys.


I offer Dan a beer, and he accepts. As we sip, he tells me about being homeless. After his daughter died a few years back, he says he lost all hope and gave up on everything. Before she died, though, she gave him a tobacco pipe, which he grips tight and puffs on. I use the word "sentimental," but he's quick to correct me. "It's more than that," he says. "It's all I have from her."
I climb back into my boat, and Dan is nice enough to give me a shove into the water. "Smooth!" he yells as I slide off the side of the riverbank.
The sun begins to sink. I paddle hard and steady. I call my wife at 7 p.m. to tell her I'll meet her near 2100 South. But before I make it that far, I spot boaters in the distance, training for a crew-rowing race. As I approach, just past where Millcreek enters the Jordan, I come upon a small dock, anchored to the riverbank.
I contemplate paddling on, but take the easy exit onto the dock as a sign that this is where I should end the day.
I hike my boat over the steep bank and emerge into the parking lot of an industrial complex.
Sunday, May 4
I had hoped this journey would take only two days. But after the slow suffering of Day 1, I realize I need to pare back my goals. For this story, at least, I may not see the waters of the Great Salt Lake.
For Day 3, I set my sights on the final road that crosses the river, Center Street in North Salt Lake.
My wife and daughter drop me off in the same industrial complex they'd picked me up at days before.
I don't make it far before the first portage. At 2100 South, a dam splits the river again, taking much of the water into what's called an overflow canal. This canal was created to draw water out of the river to prevent flooding.
Not surprisingly, there is another golf course here, and on the pathway, I spot a small snake. I move the little guy out of the path and proceed over a steel catwalk, which offers a great view of the dangers of a low-head dam. Tree branches and an array of litter recycles in the water, getting beaten and drowned.
From where I enter the river, I can see the water slides of the Seven Peaks water park on 1700 South. The city stretches out beyond that.
After the dam, the river is immediately smaller, and the banks are occupied by the rear ends of semi trailers, rusted tanks and other refuse.
I cross under bridges often, streets I recognize: 1300 South and 800 South. Every once in a while, I catch the scent of a Sunday barbecue. I float past the backside of the International Peace Gardens, and from somewhere out of sight, up on the banks, I hear drumming.
Between 400 South and North Temple, I encounter the most intense industrialism on the river. The homeless encampments just north of 200 South, across the river from the towering steam stacks of Rocky Mountain Power's Gadsby power plant, are depressing and robust. I recognize the green canvas of one of the tents as a Springbar, made but a few miles away at Kirkham's on State Street.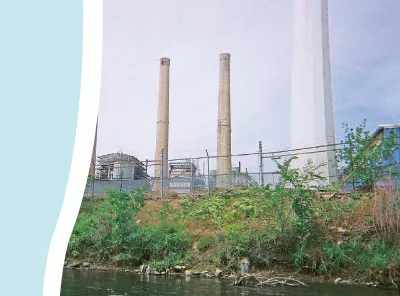 There is a low-head dam just before North Temple, but Adriaan has informed me a canoe chute was installed so that boaters don't have to portage. I saddle up to this obstacle slowly, checking to see if the chute is clear of debris. It is. I reverse a few feet to pick up some speed and then race toward the shoot. The slot is narrow, maybe only 3-feet wide. I scrape my paddle on the wall as I glide through, unscathed.
At 500 North, beneath a graffiti-covered underpass, I exit the river and walk up to the street. On Redwood Road, there's a 7-Eleven. I trot across the street. A lady who spotted me on the water tells me it's a great day for a kayak, and she asks if I see a lot of hobos under the bridges.
"Some," I say.
"They were having a great time under that one there the other night," she says. "Had a bonfire going down there."
It does sound like a good time.
The store clerk doesn't seem to mind that I'm wearing a spray skirt (which keeps water out of my boat), a helmet and a life jacket. I peruse the beer selection, and go with a 24-ounce PBR.
I run back to the privacy of the underpass and, probably just as the hobos did a few nights before, drink my beer. I give Adriaan an update on my progress, and he seems happy that I found a beverage.
Back on the river, I set my sights on the finish line.
A few minutes later, though, I float past what I'm pretty sure is the Jordan River Par 3 Golf Course. A group of golf-club-wielding men call out to me, asking what on earth I'm doing. I call out to them, asking if they have any spare beer. They do, and they toss me down a Natural Light.
The river bends away from the city, arching toward the duck clubs, a nature preserve and the lake.
Before I know it, I come upon a man standing beneath the Legacy Parkway underpass, two dogs in tow. It's Adriaan.
"I just wanted to make sure you didn't go too far," he yells at me. "You'll see my truck at the take-out."
I paddle along through farmland. In one spot, a tractor is running, its engine turning a pump that is drawing water out of the river for irrigation.
I glide under the Center Street bridge, drag my boat to the road and take a long hard look back at the valley I've just crossed: The craggy peaks of the Wasatch Mountains, the soft rolls of the Oquirrh Mountains and the city's glass office towers are as familiar to me as my own bed.
Yet, nearly everything I've seen for three full days is new to me. And I now know this much: The river is not simply a polluted wasteland; there is much worth saving, and even improving.
To me, the Jordan River is now much more than just a vague idea snaking its way through town. It is a real river—a river that deserves my attention and respect as much as any other river. Maybe much more.
Postscript
I have not yet made it to the Great Salt Lake, though plans are afoot to do so. Beyond Center Street in North Salt Lake, the river fragments into a patchwork of canals and wetlands. The lake can be found, though. The real quandary is what to do once you broach the lake's waters. On maps, the paddle southwest to the Great Salt Lake Marina is a long haul. Likewise, so is the float out to Antelope Island or any other point from which a car or truck could pick me up.
Not even Adriaan has done this section. Maybe this will be the John Wesley Powell-esque adventure that's been hiding in plain sight forever.