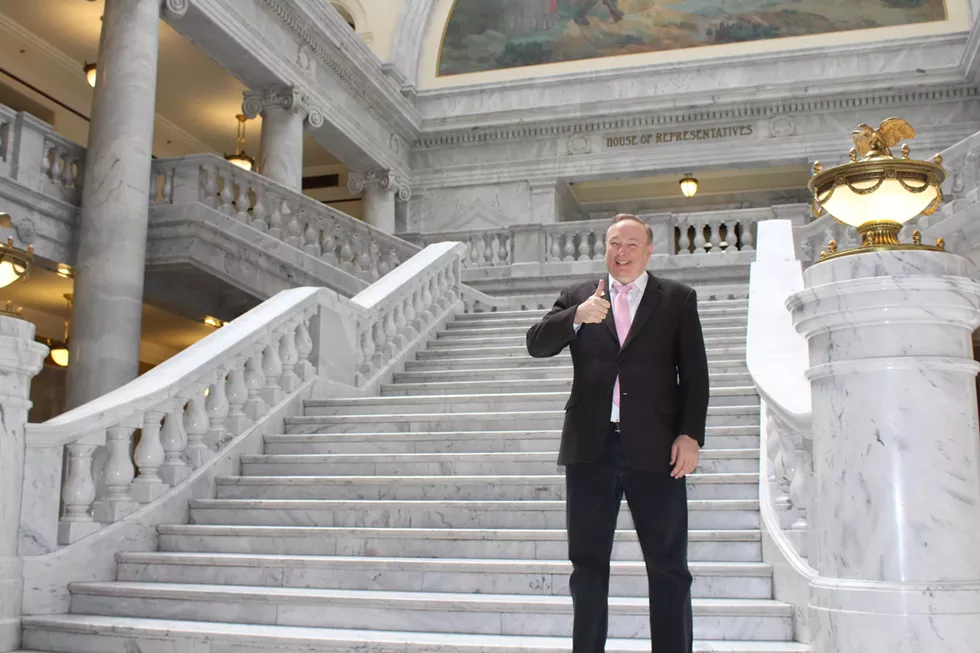 It's 9:30 a.m. on a Monday, and Jim Dabakis is hunched over an iPad, a yellow legal pad and an empty to-go coffee cup on a cramped table inside a 9th and 9th neighborhood café. He just released a poll showing voters would support him if he joined the Salt Lake City mayoral race. But he's not sure he wants to throw his hat into the ring and dedicate the next year of his life—or four—to the mayor's office.
"You're seeing a tortured guy. I'm not normally like this," he says through a thin smile. "Normally, I'm happy and fun."
For months, Dabakis had been waffling on whether to jump into the fray. A couple of weeks from the new year and the official end of his tenure representing Utah's 2nd Senate District, he's close to getting his life back. Perhaps he could finish the degree he started at BYU; bring his art knowledge to the masses with his own Bob Ross-style public-access TV show; or, given the sold-out attendance at a trio of one-man shows he starred in earlier this year, take to the Eccles Theater stage. "There's just a lot of things on my list that being mayor would get in the way of," he says. Then, again, becoming a private citizen means he won't get to leave his mark on the city he's called home since 1978. The indecision has consumed him, he says, so he's set a cutoff date—he'll make an announcement the next day. "As good a deadline as any," he says.
People have asked Dabakis why he's dithering. "My answer to that is, look, 'What kind of a serious person would not have a thoughtful discussion with themselves and their family before they do it?'" he's responded. "For me, it's not about a poll. If the poll would have come back really bad, then I probably would have said, 'OK, I'm out of here.' But a great poll like that doesn't solve an issue about who I am and what I want to do."
When City Weekly left Dabakis that morning, things were very much up in the air. Reached by phone that evening, the agonized politico was unwinding in a hot tub, celebrating he'd made a decision: not to run. "I feel as if I haven't left anything on the table, and so it's probably time for me to move on to the next phase, which will be my passion for Utah Progressives, and my passion for helping a lot of nonprofits," he boasted, "and just going and having a life."
The next morning, Dabakis stood outside Rose Park Elementary School and outlined the qualities he feels are important in a mayor in an impromptu Facebook live broadcast. In the 17 hours between his hot tub soak and classroom visit, the 64-year old had dropped by each of the Salt Lake City houses he'd lived in over his four decades here, and had observed students play and learn; a reminder of what the city had done for him, and a suggestion for how he could give back.
"How could this have happened to you, a total stranger to the community?" he asked himself, reflecting on his climb to the state Legislature.
The series of events, it appears, had inspired him.
"I'm in," he told his more than 33,000 followers, after emphasizing the importance of education for students of color who live in low-income neighborhoods. "I'm running for my vision, and for my view of the city. I hope that we'll be seeing a lot of each other," he said.
The ruminating was all a part of figuring out what he'd wanted. "It takes as long as it takes to make sure you're fully committed," Dabakis tells City Weekly shortly after the candidacy announcement. "As somebody who's thinking about making a run for an office, it's OK to talk about what the process is and how you're feeling. It's not as easy as some people might think."
His candidacy announced, Dabakis' fence-straddling has been replaced by a clear-eyed vision. "I just think we could be greater than we are," he says, hinting of a platform that emphasizes expanding public transportation, cutting down pollution, addressing economic inequality and making sure city dwellers earn a livable wage. "I would fly across the country in a red-eye, in coach, in a middle seat, to talk to somebody who could bring livable, sustainable jobs to Utah," he adds.
Dabakis is known for his zany hijinks on Capitol Hill. Once, he drank two mimosas before arguing that setting the legal blood-alcohol concentration limit at .05 needlessly restricts drinkers from driving when they're not yet impaired. "Overall, I'm pleased I wasn't impeached," Dabakis says, reflecting on his time in the Legislature. "I feel like time and time again, even if the vote was 28-1 or 26-3, I feel like I was never afraid to stand up and say my truth, and I think the truth for a lot of people across the state."
His absence will leave a void that many political observers believe will prove difficult to fill. "Grow some cojones, be bold," Dabakis says when asked for his frank, no-bullshit advice to his beloved Democratic colleagues. "Democrats need to light their hair on fire occasionally on issues that are really important."
Two-term former Salt Lake City Mayor Rocky Anderson says Dabakis will have to change his ways if he beats current Mayor Jackie Biskupski in her reelection bid. "Jim's antics sometimes can be very amusing, but mostly plays well only to his choir," Anderson says. "And I include myself in that choir; I get a chuckle out of a lot of things he does, too. But being mayor is an incredible amount of work—and I don't know that Jim really wants to do that."
The executive gig, Anderson continues, "really requires that you be open to hearing everybody out and gaining the respect of everyone who ought to be at the table." It also demands the mayor put aside partisan ideology in order to find ways to address problems like climate change, air quality and the city's role in the new Inland Port Authority. "Certainly, one's values are important," he says, "but political party affiliation should have nothing to do with Salt Lake City's mayor."
It's a challenge Dabakis says he's up for. Despite his role as the loyal oppositionist to the state's entrenched Republican power, Dabakis formed strong relationships with people across the aisle during his six years in the Senate. "I always have to smile when he gets up to oppose one of the Republican bills," outgoing Republican Senate President Wayne Niederhauser told City Weekly in an April cover story. "A lot of people, I think, interpret that to be pure conflict but I've never seen it that way. He's become a dear friend of mine, and I always appreciated his point of view."
Dabakis says the Senate version of himself was a little foreign even to him. At the Capitol, he'd had a responsibility to speak for the hordes of Democrats and progressives who don't feel like they're represented at the state level. For their sake, he says, he needed to be boisterous and outspoken. But leading Salt Lake City would be different. "The mayor loves everybody. The mayor is a lot more like you and me. I'm an optimistic, friendly person," he says, eyeing what could be his second act. "I'm really looking forward to that, because that's much more of who I am."
The confidence and reverie are a stark contrast to the agonized soul who'd been fretting over his future the day before announcing his candidacy. Slumped over his coffee and the remnants of a breakfast pastry, Dabakis had eulogized his senatorial career as he pondered over what to do with his life. "He's a citizen who went up to the Legislature," Dabakis said, as if he were reading off his political gravestone. "He banged his head, he opened his mouth and he did the best he could."